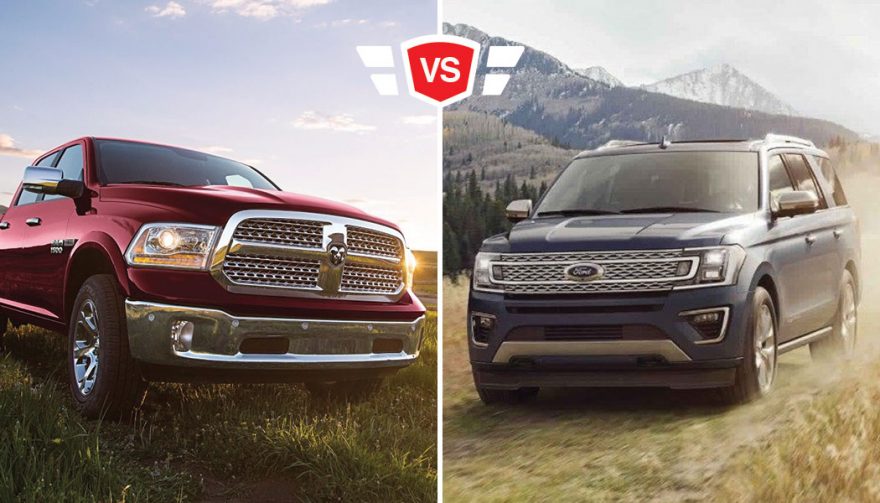 Is a SUV or a Pick-Up Truck in your future?
Truck Vs SUV: Which One Fits Your Lifestyle Better?
So you're considering a new vehicle, or a new-to-you vehicle, and you're debating a truck vs SUV. Though the two types of vehicles seem drastically different, it's a tough decision a lot of people face.
Should you trade up the Honda CR-V for the Honda Ridgeline or the Chevrolet Equinox for the Silverado? Maybe you want to take a pass on the Nissan Murano for the Titan XD .
In the end, the decision between a truck or an SUV comes down to the best vehicle for the job – whatever job it is you need it to perform. Here are eight criteria that can help you decide on a truck vs SUV.
Truck vs SUV: Can It Tow?
You probably have an active lifestyle if you're looking at both trucks and SUVs. Boating, ATVs and camping with a popup trailer all require light-duty towing of 3,500 pounds or less. Virtually all trucks and SUVs – heck, even minivans – can do the light stuff. If that's your big determining factor, you probably don't need a truck.
But if you're doing more than that, the story changes. If you think you're going to tow a trailer to pick up two or three yards of crushed limestone, you're going to kill your SUV. At 2,700 pounds per yard, you need a vehicle that can pull. The Nissan Titan can tow up to 9,440 pounds and the Ford F-250 can tow 21,000 pounds. Comparatively, the Jeep Wrangler can pull up to 3,500 pounds until its Dana axle is prepared to burst out.
If heavy-duty towing is necessary, choose the truck.
Truck vs SUV: Creature Capacity
Standard seating is for five people in most compact and midsize SUVs while trucks are typically five people. Is that all you need? It comes out in a wash.
But if you're trying to win the war on minivans with seating for seven or eight, count out the truck segment all together. That's taking you into midsize and full-size SUV territory. It's the likes of the Ford Explorer or Expedition, the Honda Pilot, the VW Atlas, and Mazda CX-9. Not a single truck, but a whole bunch of SUVs with a third row can contain up to eight people.
Truck vs SUV: Creature Comforts
The bells and whistles. The tech features. If being pampered by your vehicle is at the top of your priorities, the search won't be brief. At the top of virtually every truck and SUV model, you'll get the premium features you want.
Whether it's driver assist features like adaptive cruise control or lane departure warning, or if it's heated and ventilated leather seats, or if you want crazy premium audio, it's available on virtually every model. Exclusive features like a head-up display are more likely to be found in SUVs like the CX-9 and the Volvo XC90. But overall, you'll find what you need in both segments. It's a wash.
Truck vs SUV: What About Off-Road?
Blazing trails is one of your beloved pastimes, so which should you choose: truck vs SUV? That's going to depend on why you're in the back country. If you're a hunter, you don't want bloody carcasses draining in the cargo area or backseat of your SUV. A truck bed does a better job. But if you are an off-road enthusiast, it's a no-brainer: go with an SUV.
Look what's around you on the trails. It's predominantly short-wheelbase SUVs like Wranglers or FJ Cruisers. The short wheelbase keeps you from getting hung up on climbs and in ruts. Granted, midsize trucks can fit the bill, but the SUV is better.
Truck vs SUV: Payload Problems?
Cargo can get heavy. If you've driven a car with even a couple hundred pounds of weight in the trunk, you'll realize how different it handles. That's an effect of payload capacity. Many SUVs can handle large volumes, like the Expedition EL with 130.8 cubic feet of cargo volume inside. But the suspension isn't built to withstand the weight placed so close to the rear.
A truck, on the other hand, is built to haul cargo. Some trucks like the EcoDiesel-equipped Ram 1500 can carry up to 1,880 pounds in the truck bed without breaking a sweat.
If it's bulky yet light, an SUV will do. If you plan to haul heavy stuff, always go with the truck option.
Truck vs SUV: How to Handle Parking
Here's a big thing you don't think about when you shop for a vehicle: the average crew cab pickup like the Chevy Silverado 1500 is 230 inches in length. A standard 20-foot garage space can fit the truck, but only with a few inches to spare, with zero clearance to walk around the truck. You can't park in the garage effectively. Virtually every midsize SUV or compact crossover will fit with ease.
Outdoor parking changes the game completely. But a truck is still going to be longer and bulkier, and more difficult to park both parallel and perpendicular.
SUVs win the parking battle by a healthy margin.
Truck vs SUV: How Does Durability Compare?
You might think a truck is built more heavy-duty so it's more durable. That can be the case if you're driving it exactly like you would an SUV. But if you're using a truck to its full potential, you're risking more maintenance and repairs.
An SUV might seem like the "softer" choice, with more potential to break when you use it. However, you'd be surprised how resilient the AWD powertrains can be, especially among the import brands.
Assuming your driving style is the same whether you choose an SUV or a truck, the truck will likely be the more reliable choice. And there are plenty of reliable trucks out there.
Truck vs SUV: Paying at the Pump
If the determining factor comes down to fuel costs, there are lessons to be learned. Trucks were once thought to be pigs at the pump, sloppily drinking gallon after gallon of gas. But now with technology changing, the playing field has leveled.
There are lots of trucks with good fuel efficiency. The Ford F-150 with 2.7-liter EcoBoost engine and 10-speed auto transmission gets up to 21 miles per gallon combined city and highway driving. The EcoDiesel Ram 1500 achieves up to 22 mpg combined. That's quite good compared to just a few years back.
The Honda CR-V gets 28 mpg combined while the Pilot is rated at 22 mpg combined. The Jeep Wrangler tanks at just 18 mpg combined and the Chevrolet Traverse manages around 24 mpg combined.
If fuel efficiency rules the day, it can go either way for you, but a compact SUV is going to be the best. If you need something more capable, then you need to do your due diligence to find the right truck or SUV another way. Fuel efficiency can be argued for both.