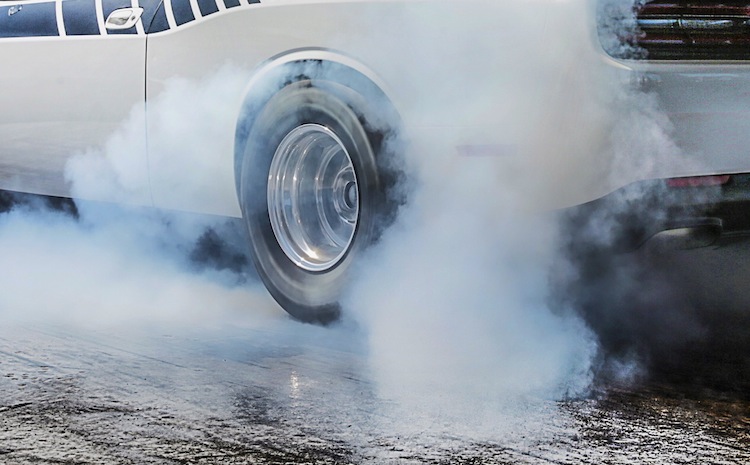 There are lots cars under $50K, but not too many with that raw, guttural power you crave.
10 Most Powerful Cars You Can Buy Under $50,000
So you've got a bit of extra cash floating around and you want to get yourself a car. But not just any car. You want something that's going to be fun to drive. You want to feel that exhilaration when you lay into the throttle. You need to hear that raspy growl that spools into a high-pitch howl. You're after high-horsepower, powerful cars.
Good News: Powerful Cars Are Affordable!
But if you didn't strike it rich on the Powerball lottery, you don't have a fortune to spend on your new car. The selection of cars available under $50,000 is vast, but there aren't many that have that raw, guttural power you're looking for. To help you narrow down your search, here are the ten most powerful cars you can buy if you have up to fifty large.
2016 Dodge Challenger R/T Hemi Scat Pack
One of the most badass and powerful cars on the road is the Challenger, and it comes in a range of models from the poser's V-6 to the monstrous SRT Hellcat with 707 horsepower. Alas, $50K won't get you a Hellcat, but it will get you the Challenger R/T Scat Pack. It has the 6.4-liter Hemi V-8, good enough for 485 horsepower from 392 cubic inches. You'll scoot to 60 miles per hour from a standstill in just 4.3 seconds. Choose either the 6-speed manual or the Torqueflite 8-speed auto for a fun ride. It comes in at $38,995 with the manual transmission.
2016 Dodge Charger R/T Hemi Scat Pack
Like its coupe-styled cousin, the Charger R/T Scat Pack looks mean, sounds devilish, and eats subcompacts for breakfast. An eight-speed Torqueflite automatic transmission can be controlled with paddle shifters. That way, you can keep your hands on the steering wheel as you smoke the tires with its 485 ponies. Hold on tight as you scream up to 180 miles per hour. Your budget will have a little extra, too. The Dodge Charger R/T Scat Pack rings in at $39,995 base price.
2016 Chevy Camaro 1SS
If you're a Bowtie fan, you're likely leaning towards the Camaro SS. A naturally-aspirated 6.2-liter V-8 pushes out 455 horsepower and 455 lb-ft of torque, A 6-speed manual transmission comes standard, giving the Camaro an edge for the true driving enthusiast. A "track" setting is available on the Driver Selection Modes, allowing you to push the Camaro to its limits. Estimated top speed is 165 mph and o-60 is 4.3 seconds with the standard transmission, or 4 seconds flat with the automatic. Get into the driver's seat for only $37,200. And if you want a convertible, you can still manage the same performance in a drop-top for just $44,900.
2017 Ford Mustang GT
You don't get into a GT350 for under $50 grand, but you can get into the GT for well under. With a 5.0-liter V-8 under the hood, the GT pumps its pistons to produce 435 horsepower. Play with the 6-speed manual or a six-speed auto – your choice. Now stomp the gas pedal and gallop to 60 mph in 4.8 seconds. It's a bit slower than others, but by no means is it sluggish. The best part is you'll have a little extra to play with. The Mustang GT cashes in at only $33,545, while the GT Premium convertible is $42,145. As powerful cars go, that is lots of bang for your buck!
Honorable Mention: 2016 Lebanon Ford Supercharged Mustang GT
Stretching the playing field is the Lebanon Ford 727 HP Mustang. It's a standard GT 'Stang with a Stage 2 Roush supercharger kit added on. While you can't get the car directly from the factory like this, it's worth the honorable mention. It's a throwback to the 1960s, when performance-minded dealers built their own unique faster-than-factory muscle cars for their customers. Roush backs the supercharger kit with a 3-year parts-only warranty. If you choose a less powerful, 670 HP Stage 1 package, you'll get 3 years of full coverage on the powertrain as well as Ford's original warranty on everything else. Best of all, it's only $39,995 for either version from Lebanon Ford in Ohio.
2017 Chevy SS
It's the long-awaited return of the SS nameplate on a sedan. The same 6.2-liter engine from the Camaro is in this Australian-sourced sport sedan, tuned for slightly less power. Its 415 horsepower sets it apart in its class. A firm stomp on the gas pedal races the well-equipped SS sedan to 60 mph in 4.7 seconds. That's faster than a Mustang GT! Dual mode exhaust lets you sound like a sleeper until it's time to show the kids who's boss. And ride in comfort on the magnetic ride suspension. This classy sports sedan sneaks in under the $50K ceiling at $46,575 whether you choose the 6-speed manual or 6-speed automatic. Powerful cars don't get much stealthier than this!
2016 Infiniti Q50 Red Sport
Our first non-V-8 on the list is from Infiniti. The 2016 Infiniti Q50 Red Sport is powered by a twin-turbo 3.0-liter V-6 blowing an astounding 400 horsepower. It's a premium model, so great performance is expected. This model does better than you'd think, accelerating to 60 mph in 4.8 seconds. That's in part from its 7-speed automatic with manual mode. The bonus with the Q50 Red Sport is its gorgeous, refined interior. Who says you can't have both performance and comfort? You'll cough up $47,950 for the rear-wheel drive version. Tack on another $2,000 if you want AWD.
Mercedes-Benz AMG CLA45 Coupe
Bet you didn't expect to see a 4-cylinder on the list. This CLA45 has a specially-tuned four-banger from AMG. A turbo force-feeds the powerplant for a drool-inducing 375 horsepower. And, with the CLA-Class occupying the compact sedan class, its 4.1 seconds 0-60mph is impressive to say the least. It's able to do so with 4MATIC AWD and a 7-speed DCT tranny. You won't be able to add any extras because the AMG CLA45 is $49,950 base price.
2017 Nissan 370Z NISMO
If a two-seater coupe is more your style, the 370Z NISMO fits the bill. Its 3.7-liter V-6 slings the car to a top speed of 160 miles per hour with 350 horsepower and 276 lb-ft of torque. It comes in at 4.9 seconds 0-60 mph which is still respectable considering the company it keeps. You choose – the 6-speed manual or the 7-speed auto. It's NISMO-tuned suspension means you're going to feel like you're going fast because you'll feel every bump. The 2017 Nissan 370Z NISMO is $41,990 with standard equipment.
2016 Audi S4
The Audi S4 looks like it's all business. When it's time to loosen your tie, it's ready to play as well. Its V-6 is supercharged, making the German sedan wind up tightly when you lay into the throttle. What's more, the S4 is equipped with Quattro all-wheel drive, so all that power makes its way to the pavement. The top speed is limited to 155 mph. It takes just five seconds to get from a full stop to 60 mph. It's price tag also manages to come in under budget – barely – at $49,200 with the 6-speed manual. A strict $50K budget doesn't allow for the upgrade to 7-speed S Tronic DCT automatic transmission, sorry.
2017 BMW M240i
Rounding out the top ten most powerful cars under $50,000 is the BMW M240i. It's everything you expect in a Bimmer. The classic BMW design, sexy body lines, and a well-equipped interior. The M240i uses a Performance TwinPower Turbo 3.0-liter V-6 with a thoroughly usable 335 horsepower. While not the one of the most powerful cars on the list, its curb weight is only 3,499 pounds with the six speed manual trans. That equalizes the power-to-weight ratio, compared to higher horsepower models that are also heavier. An 8-speed Sport Automatic gearbox with paddle shifters is also available. The combination of luxury and performance makes it noteworthy. Like the Audi S4, it's electronically limited to 155 mph and speeds to 60 mph in around 5 seconds. The rear-wheel drive version is just $44,450. Or, you can get under the $50K threshold with the convertible at $49,050.
You May Also Enjoy:
All American Muscle: 2018 Dodge Challenger vs Charger