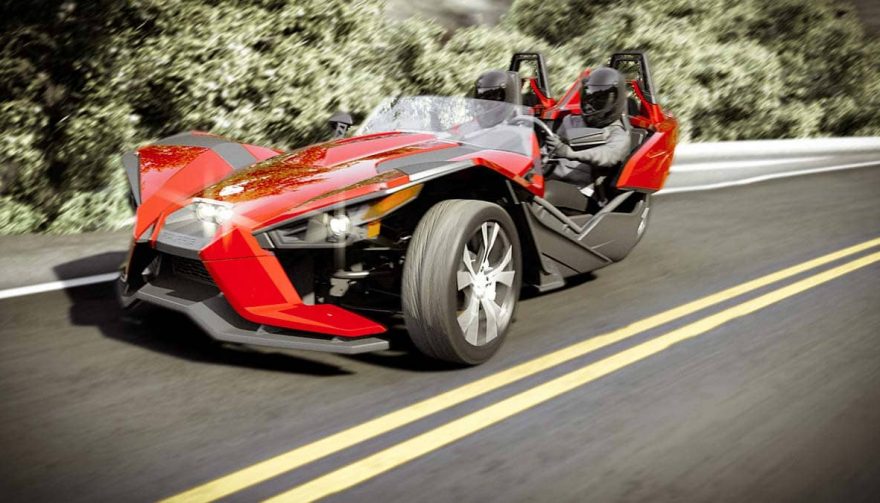 Not since Big Wheels has three wheels been so fun.
This Reverse Trike Is the Most Fun You Can Have With Three Wheels
Sort of like a reverse trike, the Slingshot three-wheeler by Polaris is in a class of its own. Seriously.
It's not classified as a car even though it has a steering wheel and side by side seating. It is more likely to be classified as a motorcycle and driving one requires a motorcycle license. Except in Texas, more on this below.
The Slingshot is an awesome-looking ride that definitely draws a crowd. It's a reversed trike (two wheels up front, one in the back), but with serious deviations from the trikes which are clearly motorcycles.
For starters, you drive this thing, you don't ride it. There are two bucket seats, side by side, a steering wheel and a 5-speed manual transmission. You don't lean into a curve, you steer through it.
Not a Bike, Not a Car
So what is it?
What it is, is $20,000 worth of entertainment. Owning a Slingshot is like having your own personal amusement park ride.
It has no practical transportation application. It exists purely for the fun of racing down the road in a strange-looking contraption that also provides its share of thrills.
When you first step into the Slingshot's cockpit (and you do step in, there are no doors) you might think you just boarded a speed boat. Most everything in this vehicle is fiberglass, meaning waterproof or water resistant. That's a good thing as, just like a motorcycle, the whole vehicle is open to the elements.
The view from the driver's seat in the base model is unfiltered by a windshield (demi-windshields are available on the SL and SLR trims). Two big tires flank a longish hood. Sitting just inches above the pavement, the feeling is more "roadster" than anything else.
You May Also Enjoy:
The Best Electric Motorcycles and Why You Should Pay Attention to EV Bikes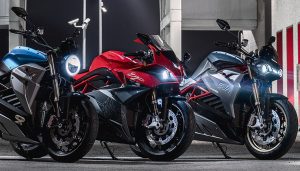 In Texas you can't register one of these things. A car has to have four or more wheels in the Lone Star State, and a motorcycle has to have a "saddle" (gitty-up pard).
Unpacking the Slingshot
Lots of the parts on board have been around for a while. Nobody has packaged them together quite like they have on this three-wheeler though.
The engine, for example, is GM's DOHC 16-valve inline-4, aluminum block and head, port fuel injection last seen under the hood of a Pontiac Solstice. At 173 hp and 166 lb-ft of torque, you might think the engine a bit underpowered.
However, when you consider the Slingshot only weighs about 1,700 pounds, and all that horsepower is focused on a single rear drive wheel, 173 horses will give you a ride for your money.
The reverse trike utilizes Kenda Slingshot rubber for its tires, specifically developed for the ride.
A 5-speed transmission directs the power to the rear drive wheel via a carbon fiber reinforced drive belt. This thing even has reverse.
Now for the fun part. The Slingshot is shorter than a Miata and wider than a Lamborghini Huracán. Even without lowering yourself into the go-cart style bucket seat, it is obvious that this vehicle was created to carve up curves.
The Reverse Trike Looks Fast But Is It?
Polaris won't give an official 0-to 60-time but Car and Driver clocked a little less than five seconds. Now that's stepping right out for a car but not that big of a deal for a motorcycle. Top speed for the Slingshot is 130 mph- again not a speed demon compared to some bikes.
And then there is that unique sensation of having the power being pushed from the center of the vehicle. With traction and stability control on (you can turn them off if you want to rip the tires like a Hellcat), you've got a stable source of propulsion with a no weight rear end. It takes some getting used to.
Upgrades? Yes, There's Upgrades
This is first and foremost a machine designed to have fun in. Consequently you will not see it loaded down with all the technology that is packed into even the smallest cars these days.
You will find significantly more safety features than say a motorcycle, and while Polaris hasn't had the Slingshot tested by IIHS they claim it will perform well.
What is available includes:
Traction and stability control
ABS
Rear mounted camera
Electronically assisted power steering
Throttle by wire
Projector beam headlights, LED brake and marker lights
A marine-grade six-speaker audio system that incorporates AM/FM, USB and Bluetooth connections.
Two helmet storage spaces
Two roll bars and three point seat belts
The real question has to be is it worth $20,000 to $23,000 to have this kind of fun driving? That's a personal judgment.
For the cheapskates who are waiting for the three-wheel automobile from Elio for $8,000 to become a reality, you could be waiting a good long time. The latest financial advice to investors from Elio says that if production financing cannot be secured this year they are going to close shop.
In the meantime, the Slingshot is the closest thing to driving an open-wheel Formula car you can get without calling up Mr. Penske or one of the other teams.