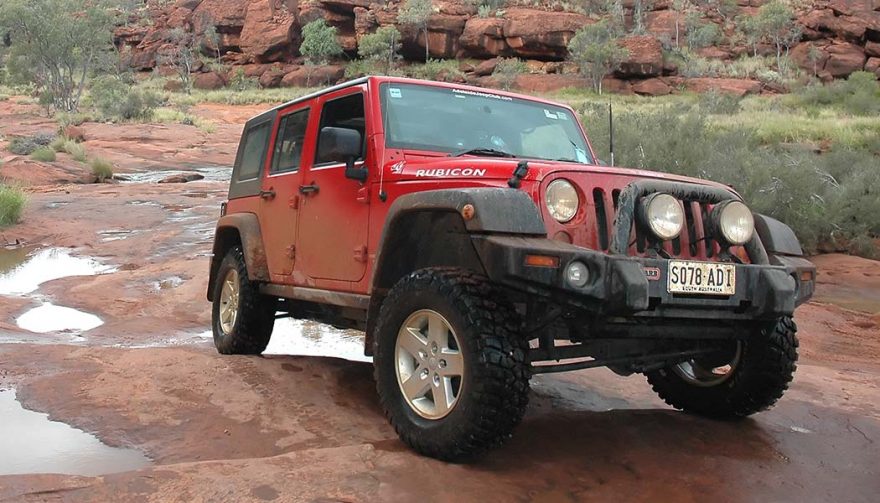 The Jeep Wrangler is one of many great SUVs for outdoor living
8 Great SUVs for a Connected Outdoors Lifestyle
The outdoors is calling again.
It seems these days, nearly every generation and demographic group are becoming reacquainted with the great outdoors. From hiking and fishing to hunting and skiing, there is a push to enjoy the nature and beauty that surrounds us.
There is a massive difference in how that happens now, as opposed to the secluded, off-the-grid nature experience of previous generations. Now, kids and adults alike need to stay connected. They need to be comfortable. It is now an experience, not a lifestyle for most.
Vehicles are now catering to the experience-based nature lover. With optional equipment that includes WiFi hotspots and luxurious amenities, the outdoors-capable vehicles have much more than a sturdy frame and four-wheel drive.
Here are some great SUVs for an outdoors lifestyle:
Jeep Wrangler
It seems almost cheesy to mention the Wrangler. It fits on every list of capable SUVs. With a rock-solid four-wheel drive and a rugged appearance, weather-resistant interior, and basic features, it's a go-to vehicle for outdoor enthusiasts. It has an available 285-horsepower engine that provides propulsion the optional Rock-Trac 4×4 system and Tru-Loc locking differentials, making it more than able to go places most others can't. For the diehards a Jeep Wrangler is a formidable option, though millennials and hipsters may not find enough comfort and convenience options to be attractive.
Chevrolet Tahoe
You can combine rugged durability and feature comforts to get you in and out of nature without losing touch with the rest of the world. Tahoe is a full-size SUV with loads of interior space for cargo without compromising on elbow room for passengers. Luxury features like an available 8-inch touchscreen infotainment display and heated leather seating surfaces make getting into the bush comfortable while the 355-horsepower V-8 engine pushes the Autotrac 4WD over even the roughest terrain. And let's not forget the most important feature for the connected generations: a 4G LTE Wi-Fi hotspot courtesy of OnStar.
Toyota 4Runner
You've got a legend in the making with the 4Runner. One of the last SUVs built with a body-on-frame design for extreme ruggedness and dependability, 4Runner is available with Bilstein shocks and TRD-tuned springs to even out the rough bumps you'll be traversing. It's equipped with Active Traction Control (A-TRAC) for optimal control in all driving conditions (even mud) and the CRAWL Control modulates the throttle and brakes on that uneven terrain. The interior is chock full of goodies like Entune App Suite for Pandora radio, SiriusXM, and more, and object detection sensors keep you and your additional six passengers from encountering damaging obstacles.
Nissan XTerra
Perhaps the most utilitarian of the bunch is the XTerra. It goes everywhere you want it to go courtesy of the 261-horsepower V6 under the hood, and the drivetrain is so rugged and direct, it's even available in a 6-speed manual version. It's claim to fame in the outdoors category is all of the versatility. There is a roof-mounted cargo basket, tie-down channels in the rear cargo area, and roof-mounted fog lights. You also get a liftgate-mounted first aid kit, and not to mention an available hatch tent to integrate your vehicle into your sleeping quarters.
Honda Pilot
Maybe not an option you'd expect to see in the outdoors category is the Pilot. As more of a pavement-pounder in previous years, it is now equipped to handle more than ever. With an Intelligent Traction Management system, the all-new all-wheel drive system is capable of traversing wet, snowy, and yes, even muddy terrain within reason. The engine bay is blessed with a powerful 280-horsepower engine to power you through those sticky situations. While not a true 4WD model, it can handle towing the boat to the lake or camping trips with ease. And if the weather turns for the worse, pop a DVD into the 9-inch rear entertainment system and watch a flick while the rain passes
Acura MDX
Another vehicle you wouldn't expect on the list is an Acura of any sort. The MDX is a mean machine with 290 horsepower. That's not the feature that makes it relevant here, however. It's the Super Handling All Wheel Control (SH-AWD) with the surefootedness of a wildcat and the extremely versatile 4-wheel independent suspension. That combo will push you through terrain you never thought possible with a luxury SUV. Yes, the MDX is luxurious. For the more discerning traveler, you will not be left in want of anything in the MDX. From leather seats in all three rows to AcuraLink safety suite and ELS Premium Surround Sound, you'll be comfortable no matter where the outdoors takes you.
BMW X5
While X5 drivers may not typically be headed off the grid, they could if they wanted. With the TwinPower Turbo 4-cylinder engine, there is surprisingly never a lack of power on demand. Also, the xDrive all-wheel drive adds a functionality that one may not associate with a Bimmer in the first place. It's totally capable of handling rough terrain, though most likely will not. The X5 can carry just as much cargo as some of the larger SUVs due to its versatile 40/20/40 split rear seat and easy access hatch area. The comforts and conveniences abound as you would expect from BMW, with a massive driver information center and available rear seat entertainment.
Land Rover Range Rover Sport
Not your typical choice for an outdoors lifestyle, is it? While not accessible to every economic class, the Range Rover Sport it an excellent option for the upscale traveler. Should you want to travel long distances to an elite, remote retreat spa or just go hiking in the foothills, Range Rover Sport can take you there. It's equipped with up to 510 horsepower in the supercharged models for more power than you could need in tough terrain, and the adjustable air suspension system is easily controlled with a selector on the console to adjust ride height and traction requirements. Comforts are never lacking, with available heated and cooled seats for all passengers, a 19-speaker audio system, and navigation to get you to and from your destination with ease.
Some of the options listed here are more capable and versatile than connected, like the Jeep Wrangler and the Nissan XTerra. Others, such as Acura MDX and Range Rover Sport are elite and luxurious while extremely functional. Don't forget the Tahoe if connectivity is most important to you and your fellow travelers. Nevertheless, get out and enjoy the great outdoors!
You May Also Enjoy:
2018 Chevrolet Tahoe: Built Like a Truck, but With More Interior Space