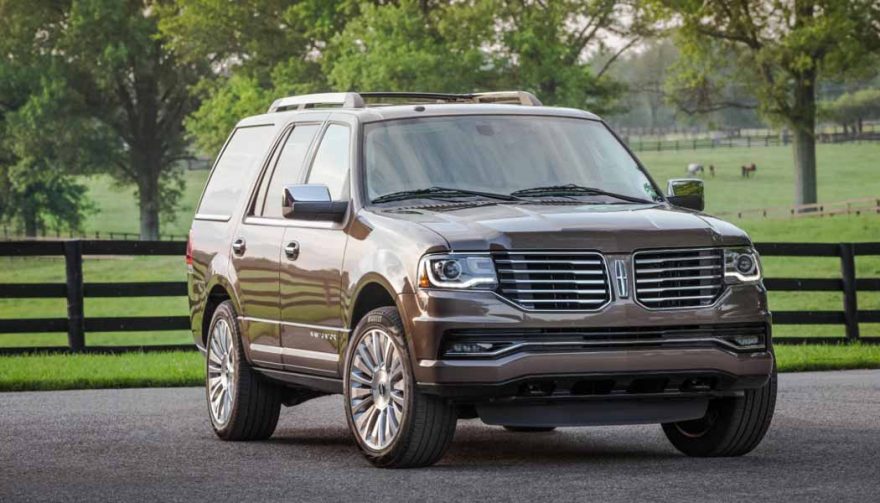 The Lincoln Navigator powered by the 3.5-liter EcoBoost engine shared with the F-150, so it hauls well too
SUVs with Third Row Seating: Because You Don't Want a Minivan
With the exception of a few good choices, the minivan segment has all but dried up. Instead, those van customers have turned to a different vehicle category altogether,  one that isn't embarrassing to be seen driving. SUVs with third row seating are a hit for a number of reasons.
They have nearly as much as space as a minivan.You can easily fold down the third row, or remove it, to make room for cargo. SUVs are usually more capable and versatile than a minivan. Most importantly, they don't bed to be mocked.
Whether it's a crossover or a midsize SUV or a full-size SUV on a truck platform, there are plenty to choose from. Here are just 10 SUVs with third row seating that we think are pretty great.
2017 Lincoln Navigator
One large SUV that does a great job as a three-row vehicle is the 2017 Navigator. It has a bold, stylish interior that emphasizes occupant comfort. That even goes for the third-row seat with plenty of leg space for small to medium adults, not to mention kids of all shapes. If you get the 2017 Lincoln Navigator L, there's even more leg space in the second and third rows, and added space for cargo also.
The price tag is a little restrictive at $63,515 and up, but the quality is there. It's powered by the 3.5-liter EcoBoost engine shared with the F-150, so it hauls well too. But when the highly anticipated 2018 Navigator comes out, this one will be completely forgotten…
2017 Acura MDX
The 2017 Acura MDX is more manageable than a full-size SUV without giving up any of the good stuff. It's fun to drive with 290 horsepower (321 horsepower in the hybrid version) and it's chock full of goodies. We're talking natural wood accents, fine leather surfaces, available widescreen rear-seat entertainment and much more.
The 2017 MDX has decent passenger space for all three rows, and pays special attention to entry and exit from the third-row seating. The second and third rows can be tucked away if they're not in use, which is great for most people. Best of all, it doesn't look like a minivan. Definitely one of the best SUVs with third row seating.
2017 Toyota Highlander
It could've been the Sequoia we selected, but the Highlander is just more popular. It's undergone a recent redesign to make it more attractive, less boxy, and it performs better on and off the road. The Highlander goes with a 295-horsepower 3.5-liter V6 in most cases, which is the better choice than the 185-horsepower four-cylinder option.
Space-wise, the Highlander is pretty impressive. The second row handles adults with ease and the third row has space for slightly smaller occupants. Other vehicles have a useless jumper seat tossed in as an afterthought – this is not one of those. It's a great choice for SUVs with third row seating, especially for active families.
2017 Ford Explorer
One of the modern SUV pioneers is the Explorer, and the 2017 version is an excellent option. With renowned 4WD capabilities and performance options that include a 365-horsepower 3.5-liter EcoBoost 6-cylinder, the Explorer is a choice that can actually tackle on- and off-road enjoyment.
The interior development was a little less refined off the start. But recent years have seen marked improvement between the doors. There's now comfort at all three rows, including seating for seven and more than 33 inches of legroom in the rearmost seat.
2017 Hyundai Santa Fe
Right now, you can't go wrong with a Hyundai. The 2017 Santa Fe is a solid performer, especially on a budget, and capable of comfortable street travel or light off-road use. With 290 horsepower available and optional features that include an All-Around View Monitor, it's hard to find a flaw in the Santa Fe's value.
Setting the Santa Fe apart from many others is the available captain's chairs in the second row. It drops passenger capacity from 7 to 6 if you choose it, although how many people use the third row on a consistent basis? Not many.
2017 Honda Pilot
The 2017 Honda Pilot is a recent redesign as well. Again, it trims down on the squarish appearance and puts more emphasis on comfort. You'd think that means it's less capable off the beaten path, but not so. The Honda i-VTM4 all-wheel-drive system keeps traction on most surfaces and its 5,000-pound towing capacity is plenty for most weekend warriors.
The Pilot also has available second-row bucket seats. But because the third row has space for three smaller passengers, the total seating only drops from eight to seven with that option. If you're in the market for one of the best SUVs with third row seating, take a hard look at the Honda.
2017 Mazda CX-9
Some may be less than enthusiastic about a Mazda thanks to a history of underpowered vehicles. The 2017 Mazda CX-9 might change that for you. Its 250-horsepower SKYACTIV-G engine begins to earn the "zoom-zoom" motto again. Attention to detail is just as important here, earning the CX-9 high marks all around for quality materials, innovative designs, and excellent standard and available equipment.
Yes, the Mazda CX-9 has a third-row seat. It falls short on the legroom with only 29.7 inches for the backseat riders. And while the third-row space is a little cramped, we love everything else about the 2017 CX-9.
2017 Kia Sorento
There's a great competitor that's often overlooked: the 2017 Kia Sorento. It's quite a vehicle, especially dressed up in the fancy trim levels like the SX and SXL V6. You'll find a 290-horsepower V6 under the hood there, instead of the standard-equipment 185-horsepower 4-cylinder, and an optional AWD system that's truly capable too. Who knew?
A couple of the trim levels only come in five-passenger configurations: the Sorento L and the Sorento EX. All others are equipped with seating for seven. Third-row legroom is respectable too, measuring up to 31.7 inches. Long drives won't be cozy but it's probably all rightfor short jaunts.
2018 Volkswagen Atlas
Volkswagen showed up on the scene with a good choice of their own, the 2018 VW Atlas. Aside from its cool name, it's looking like one of the better SUVs with third row seating. The tall SUV cabin gives tons of space to everyone. Neat features include a monstrous panoramic roof, and a completely digital and customizable instrument cluster. Plus, it's powered by a 3.6-liter V6 with 276 horsepower, and a late-availability 2.0-liter turbo.
The 2018 Volkswagen Atlas boasts class-leading third-row legroom. It seems to be true – 33.7 inches of space for third-row legs. It's an excellent attempt to recover their former glory, offering a six-year, 72,000-mile comprehensive warranty. Pay special attention to this one too.
2017 Mitsubishi Outlander
Kidding. The 2017 Mitsubishi Outlander can't be called a three-row SUV with that tiny jumper seat in the back. Rip it out and throw it away. Better yet, don't buy it in the first place. Take it from me, I own one.
Related Video:
You May Also Enjoy:
Ford Explorer: Pretty Good At Everything