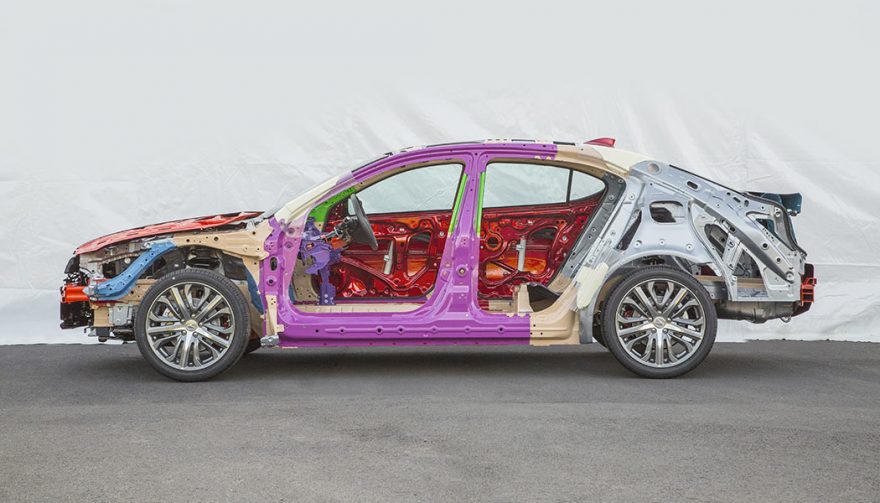 Whether you're interested in a performance sedan or a family car, today's midsize sedans are anything but bland.
Top 10 Best-Selling Midsize Sedans
A few years ago, a list of midsize sedans would be a yawner. You probably wouldn't even read past the headline, because midsize sedans were all one and the same. They were boring, sluggish, and soft in every category that warms a car enthusiast's heart. One look at the current midsize sedans, and you'll know – these are a different breed.
Today's Midsize Sedans Offer More
Whether you're interested in a performance sedan or a family car, today's midsize sedans are anything but bland. Some have available V-6 engines, others lean toward the fuel efficiency end of the spectrum, and a few are competitors in the luxury realm.
Check out the top 10 midsize sedans you should consider, ranked in reverse order of sales.
10th Place – Mazda 6
The Mazda brand has had tunnel vision in recent years, and in terms of midsize sedans, that's a good thing. Their focus is on developing fun-to-drive cars, though not necessarily the most powerful. The Mazda 6 slots right into their plans with an acceptable 2.5-liter 4-cylinder engine, pushing a modest 184 hp. Their SKYACTIV Vehicle Dynamics with G-Vectoring Control assists you to handle the car like you're headed to the track. Well, without the high horsepower.
Where the Mazda 6 stands out in the crowd is the manual rower. Unlike most other brands, Mazda understands that some drivers simply want a manual transmission because they're more fun to drive. The six-speed manual transmission lets you play around a little more without compromising on the functionality of a family sedan.
9th Place – Subaru Legacy
The Subaru brand is thought to be a niche brand, but mistakenly so. Take a look at the Legacy, and you'll have a hard time figuring out why it doesn't sell better. The Subaru Legacy is stuffed with high-tech convenience options like Push Button Start, STARLINK Multimedia, and the full complement of power features. And it's another performance-based sedan, with very capable 4-cylinder and 6-cylinder boxer engine choices (just like Porsche!) for up to 256 horsepower.
While safety is a highlight, the feature that stands out on the Subaru Legacy is the Symmetrical All-Wheel Drive system as standard equipment. The only time you'll lose traction is when you burn off the tires.
8th Place – Volkswagen Passat
This German brand has been under fire for a while now, but there are plenty of good things to come from its stable. The Passat, for example, is among the top 10 best-selling midsize sedans. Engineered for safety and designed for comfort, the Passat is incredibly well-built. Even the base model has the power features most drivers want.
What makes the Passat special is the top-of-the-line V-6 models. When you get behind the wheel of the V-6 Passat, you're in for a treat… a 280-hp treat. Das auto is fast.
7th Place – Kia Optima
Perhaps the most surprising midsize sedan is the Kia Optima. It makes the list on merit, not just on its price. The former bargain brand has manufactured one of the best bang-for-your-buck sedans on the market. Slide inside, and you'll immediately see why. All the tech features and conveniences, from the panoramic sunroof to the Harmon Kardon sound system, are accented by chrome bits and available quilted leather seats. It's fun and sexy.
That fun factor carries into the engine bay too. The Optima has a 245-hp, 2.0-liter turbo option paired with a 7-speed DCT transmission that really plays to the race car driver in everyone.
6th Place – Hyundai Sonata
The Optima's sister car, the Sonata, fittingly makes the top-10 list as well. You can get everything you want in your family midsize sedan in the Sonata, from basic power equipment in the SE trim to the mind-blowing features available in the Limited 2.0T model. Dynamic Bending HID headlights, available touchscreen navigation, and an Infiniti sound system are tucked into the Sonata Limited 2.0T.
Also like the Kia Optima, the Hyundai Sonata 2.0T has that turbo engine under the hood. 245 ponies of playful power turn this family car into a sports sedan.
5th Place – Chevrolet Malibu
The Malibu has been named the J.D. Power "Most Dependable Midsize Car", contributing to its high-ranking sales. Compared to its predecessor from a decade ago, this Malibu is astounding. The sleek, sexy interior is very refined, even in the base model. Its powertrain choices make it configurable for everyone, including its own 250-hp 2.0-liter turbocharged 4-cylinder and a 9-speed auto gearbox.
High technology is applied throughout the vehicle, from MyLink infotainment to Teen Driver Monitoring Technology to an available Hybrid model with almost 50 mpg.
4th Place – Ford Fusion
The Ford Fusion has a handful of innovations including MyKey programmable driver settings, SYNC 3 infotainment, and available voice-activated navigation. It's overwhelming to decipher the options to choose from, especially when there are 12 trim levels! Base models are well-stocked on power features, while a Fusion hybrid model achieves great economy. The Energi trims are EV cars, tackling affordable electric car technology head-on.
If you want a little extra fun from your Fusion, choose the new Fusion Sport. Its 325-horsepower 2.7-liter Ecoboost V-6 and Intelligent AWD make this Fusion akin to a Mustang in performance, but with 4 doors and a roomy backseat.
3rd Place – Nissan Altima
You're probably not going to find one specific thing that drives the Nissan Altima near the top of the 10-best midsize cars. It's a modest car in appearance and performance, doing nothing in particular to stand out in a crowd. Sure, the Altima does the CVT transmission well, after some initial trials. And the available 270-hp 3.5-liter engine is enjoyable to drive, though not quite class-leading.
What gets Altima in the top three is a good blend of everything. Its comfy interior, intuitive controls, reliable powertrain, and above average looks do the trick!
2nd Place – Honda Accord
Always at the cutting edge of technology and affordable performance, the Honda Accord is consistently a class leader. One of the few to still include an optional stick-shift, the Accord Sport prides itself on a driving experience. Efficiency is enhanced with the CVT tranny, but it's not always about the best fuel economy for car enthusiasts.
For a real treat, you'll choose the EX-L V-6, equipped with a 278-hp 3.5-liter engine. It smokes the tires with its simple 6-speed automatic. Or, choose the Accord Coupe V-6 with an available six-speed manual for raw thrills and some extra sportiness.
1st Place – Toyota Camry
The Toyota Camry does a great job of everything. Its refreshed exterior brings in a sporty aspect that's been a long time coming. The driver-focused interior is elegant and strangely calming. That is, until you start driving. The sport handling and rather responsive electric power steering make for an incredible experience every time you get behind the wheel.
An edge for the Camry is its versatility in configuration. Some makes like to put their most powerful engine in the highest trim levels right away, though unnecessarily. The Camry's top trim, the XSE, comes fully decked out inside and has the choice of Toyota's 178-hp 2.5-liter 4-cylinder or the spunky 3.5-liter V-6 with 268 hp.
While always neck-and-neck with the Accord, the Camry has earned top spot among midsize sedans.
You May Also Enjoy:
Toyota Camry Vs. Kia Optima: Hybrid Edition