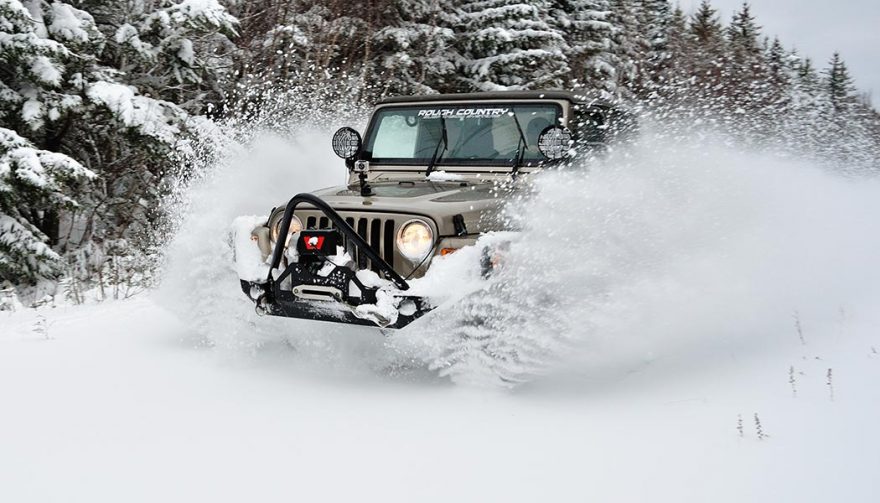 Driving in snowy conditions? It's a Jeep thing.
Top 10 Winter SUVs for Snowy Weather
If you normally get the white stuff where you live, the first few flakes have probably fallen already. You've taken your first drive in the slush and snow, slipping and sliding on the streets among some truly awful drivers. 'Tis the season…
Maybe it's time to get into a vehicle that can handle the blustery winter conditions that grip your city for several months every year. If you need a few ideas, you're in luck. Here's our list of the top 10 winter SUVs to have for driving in snowy conditions SUVs.
Kia Sportage
The Kia Sportage is all-new for 2017. It's sharp and attractive and a great bang for your buck. But more importantly, the Kia Sportage is incredibly capable in the snow. On all Sportage trims, Dynamax All-Wheel Drive, including locking center differential, is available for surefooted trailblazing. Alright, maybe not trailblazing. But definitely great for highway driving in slush and snow.
Dual climate control and heated seats are also available on all Sportage trims. And for all this wintry goodness, expect to pay around $27,385. I'd say that's good value.
Acura MDX
We're tipping into the upper echelon of mainstream SUVs here, but the 2017 Acura MDX simply has to make the list. I mean, who doesn't want to drive a vehicle with 290 horsepower, slaloming through traffic on the freeway despite a fresh dump of snow? Acura's renowned Super Handling All Wheel Drive is optional, however, which is a bit of a sore spot.
Heated front seats are standard equipment, as they should be in a luxury SUV. Heated rear seats are available on upper trims too, and even a heated steering wheel. With SH-AWD, the 2017 Acura MDX starts out at $45,950.
Honda Pilot
The 2017 Honda Pilot abandoned its prudish exterior in favor of more style. Its underpinnings, though, are focused on function. On all trim levels, Honda's iVTM-4 is available, a masterful torque-vectoring all-wheel-drive system that has impressive qualities.
Heated front seats, heated rear seats and remote engine start are all available depending on your choice of trim level. But if all that's necessary is AWD, the 2017 Pilot will get you there for $32,395.
Audi Q3
Surprisingly, Audi has an offering that doesn't break the bank. The 2017 Audi Q3 fits neatly into the cute ute segment but there's no mistaking its versatility. It's available in both front-wheel drive and Quattro AWD, and the turbocharged 2.0-liter is plenty.
Heated front seats are an extra bonus but an extra cost. And although the Audi Q3 seems pretty basic for its namesake, the German engineering is obvious in every touch. Plus, you can get into a Q3 with Quattro AWD for a paltry $33,900.
Toyota RAV4
The first of two great Toyota options is the 2017 RAV4. It's a little mousey if you're looking for a go-everywhere, do-anything kind of vehicle. You won't be plowing through snowdrifts with reckless abandon. But if your intent is a great commuter with reliable traction, the RAV4 is it. All trim levels can be equipped with some type of AWD system, and the entry-level LE offers Dynamic Torque-Control AWD. You'll go where you need, even if the roads aren't plowed yet.
Heated mirrors, a heated steering wheel, and yes, heated front seats are all available options. As well, remote engine start is a winter must-have the 2017 RAV4 offers. Our RAV4 LE rings in at $27,250 for starters.
Jeep Grand Cherokee
It's the most awarded SUV ever, and with good reason. In its tenure, the Grand Cherokee has been one of the most accessible premium SUVs on the cutting edge of technology. The current Grand Cherokee uses the 3.6-liter V-6 and QuadraTrac 1 Active AWD. If you need dependable winter transportation, this is your meat-and-potatoes Jeep SUV.
What addons do you get with the Grand Cherokee? With the Laredo trim, the answer is easy: nothing. If you want the fun stuff and the comforts, prepare to pay up in the Limited, Trailhawk and so on. But the Grand Cherokee Laredo is reasonably priced at $32,595.
Toyota 4Runner
The 4Runner is a Best Buy award winner, and it's easy to see why. There are few SUVs out there that have the offroad focus of the 4Runner, especially with a comfort and convenience twist when you're seated inside. This one plays with the big boys, offering optional 4WD, not AWD.
You can keep your 4Runner with part-time 4WD and Active Traction Control rough and tumble for just $36,670, or you can doll it up with all the extras. Heated seats, wheel, remote start – you name it. All available at extra cost.
Land Rover Discovery Sport
Surprised to see a Land Rover on the list? Don't be! Luxurious capability is where Land Rover stakes their claim. As such, you can bet your boots this little SUV will dazzle you with comfort while you dance through the drifts. Like its much bigger brothers, the Discovery Sport has 4WD, along with the Terrain Response selector that adapts to your conditions.
Heated mirrors are standard equipment, but you'll want the Cold Climate Pack as well. That adds heated front and rear seats, heated steering wheel, and even a heated windshield for quick defrosting. All in all, $39,990 before taxes and fees seals the deal for the Discovery Sport SE.
Subaru Outback
The best thing about the 2017 Subaru Outback is its standard features. You don't pay any extra for Subaru's Symmetrical All-Wheel Drive – it's standard equipment on every one. Ground clearance is 8.7 inches, so icy ruts are no match. Matched with Vehicle Dynamics Control, the Outback is the master of bad road conditions and is virtually unstoppable. It's why Subaru does so well on the rally circuit.
On upper level trims, the Outback comes with heated front and even heated rear seats. The 2017 Subaru Outback starts out at just $25,645.
Jeep Wrangler
If you want an icon, choose the Jeep Wrangler. Shift-on-the-fly Part Time 4WD is standard equipment, and that's really all that matters. Under the hood is the 3.6-liter V6, plenty to get you hopping the bunny hills, and you can pick an automatic or 6-speed manual transmission.
If you're looking for the heated comforts you've seen in the other models, pull out your wallet. It's going to cost extra by several thousand. As it is, the Jeep Wrangler Sport with manual transmission is one of the most competitively priced as well – only $24,990. That's hard to beat.
You May Also Enjoy:
Jeep Grand Cherokee Trackhawk Is a Hellcat SUV