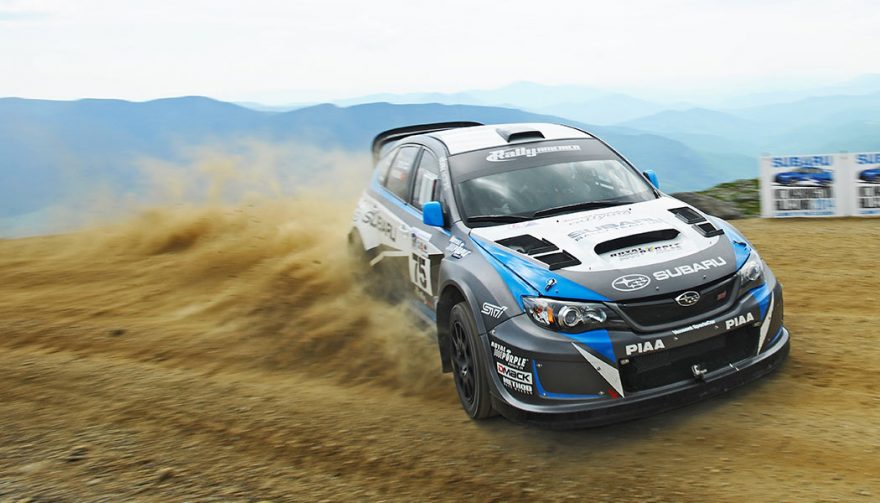 For the serious enthusiast looking at compact cars, the Subaru Impreza WRX STI is the holy grail.
Top Compact Cars For Enthusiasts
Life doesn't stand still just because you love to drive. Your youthful days driving a two-seater sports car, a classic muscle car, or a tough and rugged pickup truck might be behind you. Or, you might be a young up-and-comer who wants something fun to drive without breaking the bank. Compact cars make perfect sense.
Compact Cars Have Enthusiasts Covered
While it's not the most elegant of categories, compact cars have come a long way. You're no longer relegated to puddle-jumper status with boring, uninspired looks. Nay, compact cars have become a great choice for stylin' and profilin'. And performance-wise, there's plenty to get you excited – even if you're a certifiable car nut.
Check out these top compact cars for enthusiasts to see what all the fuss is about. Each one hits a price point between $20,000 and $40,000, so there should be a fun-to-drive compact car here for every budget.
Ford Focus RS & ST
Ford has given us good reason to get amped up to drive compact cars. Just look at the options they have given us! Their Focus hatchback lineup has the Focus RS on top, with an absolutely mean appearance backed by incredibly aggressive performance. It's a 6-speed manual transmission mated to a whopping 350-hp 2.3-liter EcoBoost four-banger. Tag on the Ford Performance All-Wheel-Drive System and you've got a streetable rally car for just under $36,000.
Or, you can scale it back a touch with the Focus ST. Looking just slightly tamer than the RS, the Focus ST still has the goods with a 252-hp 2.0-liter EcoBoost engine. You still get a 6-speed rower, but without the all-wheel drive. If you choose the Recaro seat upgrade, you'll still feel like you're driving a rally car. Base price hovers around the $22,000 mark.
Kia Forte Koup Turbo
If a sexy little Asian coupe (or Koup) is more your style in compact cars, you can't overlook the Kia Forte Koup Turbo. Not only is the Kia Forte Koup sporty on the outside, it's spacious on the inside so you don't have to feel guilty about sacrificing family space. One of its distinguishing features is Flexsteer, a switchable steering control with Normal, Comfort, and Sport modes. Enthusiasts will likely just leave it in the more responsive Sport mode. Up front, a 1.6-liter turbocharged engine makes 201 horsepower for an enjoyable driving experience, and you can choose either a 6-speed manual gearbox or a 6-speed auto. Entry-level pricing barely breaches the $20,000 barrier.
If one desires more cargo space and utility, the Forte5 five-door hatch is also available with the 6-speed manual and turbo engine combo. To this five-door turbo manual Kia, you can also add sunroof, leather and all the tech package goodies and it still only rings in at $26,335. Unfortunately, you can't get all those bells and whistles in the 6-speed Koup – only in the auto.
Subaru Impreza WRX & WRX/STI
For the serious enthusiast looking at compact cars, the Subaru Impreza WRX STI is the holy grail. Its longstanding history as a top-ranked rally model carries into the street version with the comfort features everyone asks for. But let's be honest here – no one cares about the blind-spot monitoring or STARLINK Safety and Security, nor does the premium audio matter. It's about the 305-horsepower, 290 lb-ft turbocharged boxer engine, the Symmetrical AWD, Brembo brakes, and track-tuned suspension. Some may want the auto gearbox with paddle shifters, but the 6-speed manual will suit enthusiasts just fine.
If the STI is a little out of reach, the Subaru WRX may be the cure for what ails you. Mildly scaled back, it still has Symmetrical AWD, the same transmission options, and similar available features. The main difference is the spoiler, and a modest decrease in power to 268 horsepower and 258 lb-ft of torque. You'll get into a WRX for $26,695 and the WRX STI will set you back at least $35,195.
Mini John Cooper Works
The name is a mouthful, but you won't be talking while you drive. You'll just be grinning. The Mini Cooper is a European icon of compact cars, and this model takes it to the next level.
The John Cooper Works pushes the tiny compact's performance specs to 228 horsepower and 236 lb-ft from a turbo'd 2.0-liter engine. The car feels like a rocket on rails thanks to Dynamic Damper Control. You can tame down the JCW's responsiveness and performance if you want at the flick of a switch, but that option will probably remain largely unused on most John Cooper Works models. JCW models start at $30,900.
VW GTI & Golf R
The Germans seem to know how to build performance into compact cars, as evidenced by the Volkswagen GTI. In its recognizable Golf hatch styling, the GTI turns the highway into a playground. Powered by a quick-spooling turbocharged 2.0-liter engine, it pumps out 210 horsepower. Those who want just a little bit more can pick the Autobahn edition (aptly named, isn't it?), jacking power to 220 ponies. What's cool about the GTI – aside from a torque-sensing LSD and Dynamic Chassis Control, and Car-Net App Connect infotainment – is its performance computer. An in-dash digital monitor shows configurable options like boost pressure, oil temperature, and G-force for an enhanced experience. The VW GTI starts out at $25,595.
Need a little more zip in the doodah? The Golf R might be just what the doctor ordered. The high-performance turbocharged 2.0-liter TSI engine cranks up 292 horsepower and 280 lb-ft of torque. For under $40K, you can get the manual transmission but not the DSG. It sticks to the road courtesy of all-wheel drive, but this one will set you back a few more bucks. Okay, a lot more — $39,375 to be precise.
Acura ILX
A different class of compact – the Acura ILX. When you want a compact car with performance-based bones, yet you'd rather not give up the finer things in life, look at the ILX.
It's fun to drive, even though there's no standard transmission option. The 8-speed dual clutch transmission pounds through the gears crisply if you want it to, or smoothly if you'd prefer. The naturally-aspirated 2.4-liter four-banger is good enough for 201 horsepower and 180 lb-ft of torque. It won't be winning races at the track, but you'll love driving a sporty luxury-class car without breaking the bank. Base price is just $27,990.
Mazda3 Touring 2.5 5-door
Along the lines of a bargain in the compact segment is the Mazda3. You might find it a stretch calling the Mazda3 an enthusiast's car at first glance, but the specs don't tell the whole story.
Mazda's motto, "Zoom Zoom", should tell you they are committed to building fun-to-drive cars in the Miata tradition. The Mazda3 Touring wholeheartedly embraces that sentiment. It's 2.5-liter NA 4-cylinder engine makes 184 horsepower and 185 lb-ft of torque, but what makes it a thrill is the G-Vectoring control and the available 6-speed manual transmission. It's crisp and sporty to drive, which is what it's all about, right? Pricing begins at $22,395.
Honda Civic Coupe EX-T
The Honda Civic SI would normally slot in here, but it's not currently available. The next best thing from Honda is the Civic Coupe EX-T, with the "T" indicating turbocharged.
Compact car enthusiasts love Honda because of the substantial bang for your buck combined with a decent amount of power. There are also a ton of aftermarket mods available, letting you enhance the appearance and performance even further. As it's equipped from the factory, the Civic Coupe EX-T has 174 horsepower from a 1.5-liter 4-cyl turbo, and it can be mated to a 6-speed manual or a CVT automatic. But since you're an enthusiast, the manual will probably win out. Its appearance is meaner-looking than ever, but that's not all that is aggressive. The pricing starts at just $21,600 for the Civic Coupe EX-T.
BMW 230i
It might not seem to fit the bill at first, but I assure you, it truly does. The BMW 230i is in the compact segment and is a sports coupe to boot.
It's powered by BMW's versatile 2.0-liter TwinPower Turbo four-cylinder, producing a thrilling 248 horsepower in the smallest, lightest vehicle it comes in. Keep in mind that this same engine powers the 5 Series! A short-throw six-speed manual or six-speed auto can be had for the same price. You can't ask for a better equipped car in the category. Driving Dynamics Control, enhanced stability control features, luxurious interior, iDrive system – the list goes on and on. For what it has inside and what it does on the road, you'll have a hard time beating it. It starts at $33,150.
Related Video: