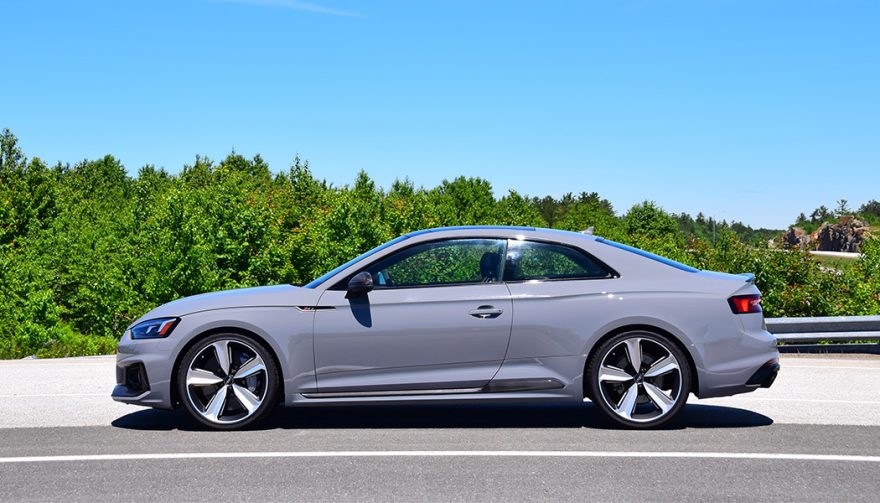 Replacing the screaming V8 from the previous car is a V6 of 2.9 liters displacement, twin turbocharged to pin horsepower and torque in the mid 440's.
2018 Audi RS5 Review: A Symphony Of Sound
Test Drive: 2018 Audi RS5
You are the boss of the 2018 Audi RS5.
With some of the industry's latest technology applied to its steering, suspension, transmission, drive-line, and more, a simple button tap on the Audi Drive Select system allows this twin-turbo posh-rocket to be set to various modes that alter its persona, on the fly.
Fancy a relaxed cruise? Select COMFORT mode, and the engine quiets down, the transmission shifts, the ride softens, and the steering relaxes. Here, the RS5 is little more haywire and hardcore than a Toyota Camry. Heck, the revs barely crack 2,000 RPM, the engine barely makes a peep, and you're clear for hours of laid-back cruising.
If you like going fast, select DYNAMIC mode. It firms the shocks, heavies and quickens the steering, opens special flaps in the exhaust to make it louder, and makes the entire drive-line (and the throttle), go hair-trigger sensitive. In this mode, a slight press on the throttle instantly triggers numerous downshifts and a leap forward. The ride goes track-car hardcore. The rear differential is even optimized to help drivers steer via the throttle, if desired.
There's also an INDIVIDUAL mode, which is like the full-manual on a digital camera. It allows drivers to choose specific attributes for each system. Finally, the ADAPTIVE drive mode works like a camera's full-auto setting, where the shots are called automatically in real time.
All said, this high-performing luxury powerhouse is engineered for speed and fun, but can also morph into just about any car you feel like driving at the touch of a button press. A single click transforms it from a leisurely highway cruiser into a fire-breathing road missile, and back again.
Since the 2018 Audi RS5 performs as well as it looks, drivers are advised to have a good traffic lawyer on standby before their purchase. My tester rolled on Peak Design wheels, came finished in Nardo Grey paint, and was decorated with gorgeous, nearly sinister sculpting and proportions to help set things off. The look caused numerous passersby to swear.
They've nailed the styling on this thing: as a package, the appearance easily generates a sense of lust.
There are also watermelon-sized exhausts, which are sweet. These expel spent fuel from the RS5's new engine. Replacing the screaming V8 from the previous car is a V6 of 2.9 liters displacement, twin turbocharged to pin horsepower and torque side-by-side in the mid 440s. The engineers are feeding these horses something pretty good, if there really are only 444 of them.
The Drive
Power is sent to all four wheels by an 8-speed automatic with a paddle shift. On one hand, there's no manual available, which makes enthusiasts like myself want to have a bubble bath with a high-voltage kitchen appliance. On the other hand, the automatic is exceptional. It shifts faster than a human driver can, and does so with absolutely perfect precision every single time. I'd pick the manual transmission if it were available, but it would just slow this car down.
Look for 0-60 in 3.9 seconds. It's a remarkable figure considering it takes the first moment for the RS5 to get its turbochargers into their game, and really start firing things along.
Full throttle inputs are met with an exotic howl that soaks the cabin, dotted with random burps, pops, and beating from the tailpipes when drivers summon an aggressive downshift, or lift the throttle at certain revs. Get it right, and it sounds like someone's randomly hammering away at a bass drum in the back seat. The RS5's exhaust puts on a hell of a show.
Driven hard, the response to your inputs is extraordinary. Everything happens now. Steering inputs immediately trigger a change in direction. Gears shift in little more time than it takes to click the paddles. Every change in throttle pedal pressure is met immediately by a change to forward momentum, and the shape and sound of the shrill, exotic howl from out back. You never come close to feeling like you're running out of grip, stability, or stopping power.
This car is right there with you, as hard as you feel like driving it. And, as a good performance car should, there is little you could do from the driver's seat to cause it to break its composure.
The 2018 Audi RS5 never feels bothered.
"Oh, you want to go around that corner this fast? Sure, we can do that," the RS5 says. "You want a downshift that'll redline the engine? Sure—and listen to this!"
Or, you can turn all of the hooliganism off. Remember, just a click re-engages COMFORT mode, where the RS5 relaxes, quiets down, smooths out, and goes pure chill-zone. The exhaust is even reduced in volume by about 90 percent.
The Interior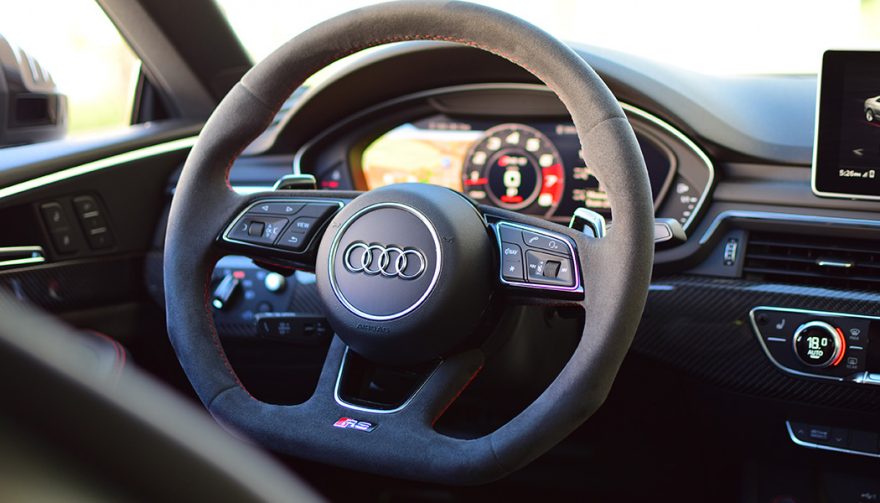 My tester featured massaging seats, in case you'd like to take in a level 3 "Activating Massage" while your speeding ticket gets filled out.
The cabin is part luxury, part tech, and part futuristic spacecraft. There's an interesting atmosphere on offer, where craftsmanship, swanky stitching, and materials combine with digital screens, aluminum switches, and fully-digital instrumentation for some vivid scenery.
It's adequately spacious by sports coupe standards, with front seats easily boarded and exited, adequate nearby storage for smaller items, and rear seats that can physically fit an adult, provided they're not much taller than 5"10.
Our Complaints
First, my tester's optional ceramic brakes gives shoppers a bit of high-priced motorsports tech overkill when it comes time to stop, though they're massively expensive. Worse, since this type of braking system is designed for severe use by race-car drivers (rather than the average person who might redline it a few times on the way to Costco), there are compromises. As ceramic brakes tend to do, these work best when they're very hot, and if they aren't (which is usually the case), the pedal feel can be vague and inconsistent, making it hard to work smoothly. If you won't go racing in your RS5, you're better off saving your money.
Second, in exchange for the RS5's thrilling handling, ride quality can degrade dramatically on rougher roads. Though it's a relatively comfortable highway cruiser, badly deteriorated roadways can see the ride become downright jarring at times. I'd advise shoppers to visit the roughest possible stretch of road for themselves on a test drive to assess ride quality for themselves.
Ultimately, the 2018 Audi RS5 amounts to money well spent on a gorgeous looking coupe that's thrilling, long-distance driving ready, and overkill-fast.