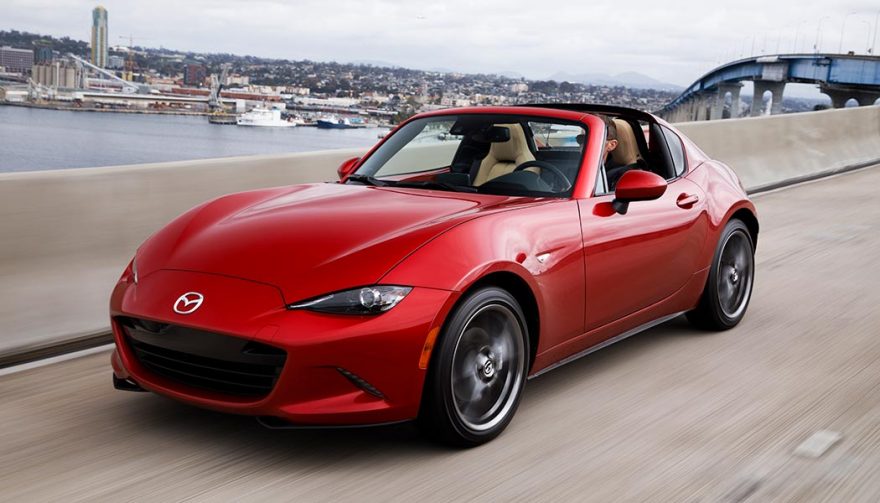 155 horsepower goes a long way when a car only ways 2,381 pounds
Get Your Grin On with the 8 Most Fun Cars to Drive for 2018
There are fast cars to drive, and then there are the most fun cars to drive. There's a big difference. Most people just assume that the more power a car makes, the more fun it is to drive. That's certainly not a constant.
Being fun to drive has as much to do with a car's design and nature. But having a massive power plant under the hood never hurts. And as you'll see in the eight most fun cars to drive listed here, some have less power than that ol' jalopy parked in your driveway.
2018 Mazda MX-5 Miata
The Mazda Miata is – and has always been – a purist's car. It isn't packed full of gadgets, electronics or unnecessary junk. It has a smallish 2.0-liter SKYACTIV 4-cylinder that makes just 155 horsepower and 148 lb-ft of torque. But oh my, you'd be hard-pressed to find a car more fun to drive around a few slalom corners.
Mazda balances the 2018 MX-5 Miata considering an average driver in the seat, accomplishing 50/50 distribution. Available with either a six-speed manual or a six-speed auto with paddle shifters, it's a sports car lover's delight. Plus, it's only 2,381 pounds with the auto transmission, even less with the manual.
2018 Fiat 124 Spider
No clear-cut competitor exists for the Miata other than the 2018 Fiat 124 Spider. It's the Italian version of a compact rear-wheel-drive sports car, and it's easily one of the most fun cars to drive. Like the Miata, the soft-top two-seater is unadulterated by distractions in the cockpit. It decidedly focuses on the enjoyment on road.
If you want to win drag races, look further down the list. But the Fiat 124 Spider is incredibly fun. You get 160 horsepower and 184 lb-ft of torque from the first turbocharged 1.4-liter engine in its class. Not only is the turbo spool-up great to hear, it definitely adds to the magic.
View on One Page