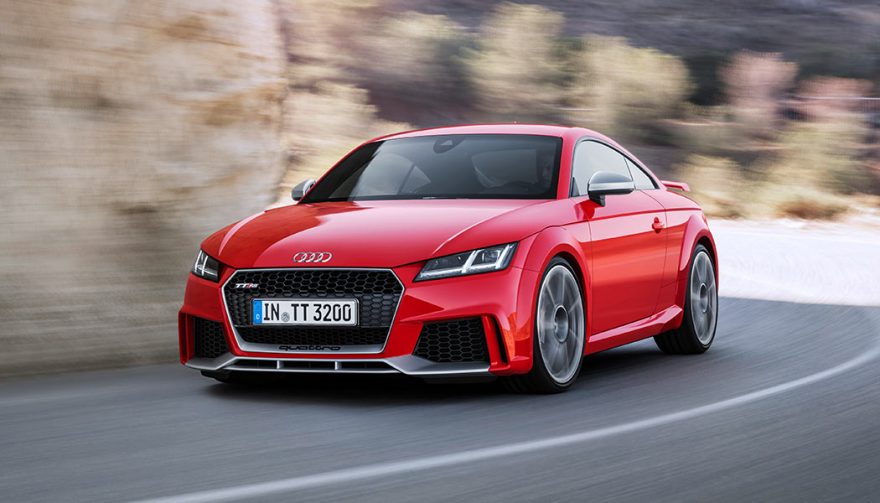 The Audi TT RS zips to 60 mph in 3.7 seconds.
Audi TT RS: It's a Rocket for All Seasons
Lots of power, two doors and a sharp suspension are the makings of a sports car. Does adding AWD make for a dull drive or does it make for an all-weather sports car? It's time to fire up the quattro on the Audi TT RS and find out.
The TT started out as a cute sports coupe, with jellybean shape, baseball glove stitching and a 1.8-liter turbo-four that made 180 horsepower. But underneath the cute looks there was real sporting potential. With successive generations of TT, Audi has dropped the cute and upped the sport.
The current Audi TT launched in 2014. There were multiple four-cylinder options. Even a diesel. But the Audi TT RS would take a few more years to arrive.
And, as they say, good things come to those who wait. The Audi TT RS brought back the five-cylinder, with power boosted to 400 horsepower. That's backed by 354 lb-ft over a torque plateau – curve doesn't do justice to a peak that rides from 1,700 to 5,850 rpm – and, of course, quattro all-wheel drive.
Audi TT RS Performance
That engine sings with the burble that only a five-cylinder can manage. Press that oh-so-wonderful sport exhaust button and the burbles get louder. Toggle dynamic mode on the Drive Select screen and the engine comes alive. The five-pot has more character than nearly anything in the class, and it is always an aural treat.
It's more than just a pretty sound under that sharp hood. That flat torque curve means that there is grunt at any engine speed. Wait a moment for boost to build, and then embrace the shove as the TT RS moves you like a rocket ship. This is a new engine, with an aluminum block replacing the iron lump of the last-gen RS and it will move you.
You May Also Enjoy:
2018 Audi RS5 Review: A Symphony Of Sound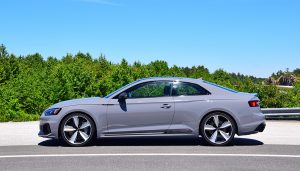 Related Search Topics (Ads)
The last RS was three-pedal only, but this time that manual is gone. In its place is Audi's lightning-quick S-Tronic dual clutch transmission. While some enthusiasts will continue to lament the lack of a DIY option, the seven-speed box can bang shifts faster than almost any human driver, and when cars are as quick as the Audi TT RS (3.7 seconds to 60 mph), it's probably a good idea to keep both hands on the wheel anyway.
That gearbox also allows for the launch control function to work. Toggle dynamic mode, floor the gas and the brake pedals and wait while the car builds boost and revs to 3,500 rpm. Release the brakes and feel the car scrabble for grip and take off. Even on a cold day, with snow tires mounted, this car has loads of grip and tons of quick. Shifts bang at 6,800 rpm and the car will clear 100 mph in under nine seconds. The standard TT with its 220 horsepower isn't exactly sluggish, but the RS flies in comparison.
How It Rides
The Audi TT RS drops the suspension from the standard TT by 0.4-inches. Audi's Magnetic Ride adjustable shocks are standard, but they are tuned to stiff. You can change them between dynamic and comfort modes, but comfort is a relative term here. You'll feel every bump, and combined with the optional 255/30 tires on 20-inch wheels, this is a stiff car. If your local roads resemble a lunar landscape, then the RS might not be for you. If your roads are okay, then the RS is a treat.
The car has loads of grip, even on snow tires in freezing temperatures. The steering is direct and extremely sharp, helped by those rubber band-thin sidewalls. The body is extremely well controlled over smaller bumps and any dips, but bigger bumps will upset it.
Inside the Audi TT RS
Inside, the Audi TT RS is small but it uses the space well. But despite the four seats, this is definitely a two-seat car. The rear seat has a sticker that warns you against putting anyone over 57-inches tall back there. If someone is sitting back there, the backrest is almost the wrong side of vertical and the front seats are nearly touching the bottom cushion.
For a short driver and passenger, short trips may be possible, but consider the rear seats only for cargo or a child seat. Thanks to the hatch and the folding rear seats, though, cargo space is better than you would expect, and quite good for a car this size.
The quilted seats can be had with contrasting red stitching, and they come standard with heat and adjustable bolsters. The seats do an excellent job of keeping driver and passenger in place when the car is being driven the way it should be.
The small interior has some excellent tricks to better use the space. Audi has dropped the in-dash screen that hogs real estate in most cars and replaced it with a Virtual Cockpit instrument cluster. Everything that would normally live on the center stack display now lives in the cluster. The Audi MMI controls make it easy to navigate.
To better integrate the heating and ventilation controls, they're built into the vents. Turn one in-vent dial for airflow, one for temperature, and so on. Even the heated seat controls live in the vents. The start button is mounted on the flat-bottom steering wheel, further freeing up space.
Year-Round Sports Car
The Audi TT RS is a great sports car when the weather is warm, but it's one of the few that is also a great winter sports car. Bring on the snow, rain and cold. The RS can handle it.
But if you're looking at driving this car year round, I will make one suggestion. And I consider it to be a big one. Audi offers winter wheel and tire packages in 18-inch and 19-inch sizes. They come with narrower tires and much taller sidewalls. It might soften the handling, but it will make the car's pothole resistance and rough road ride easier on your backside and your pocket book.