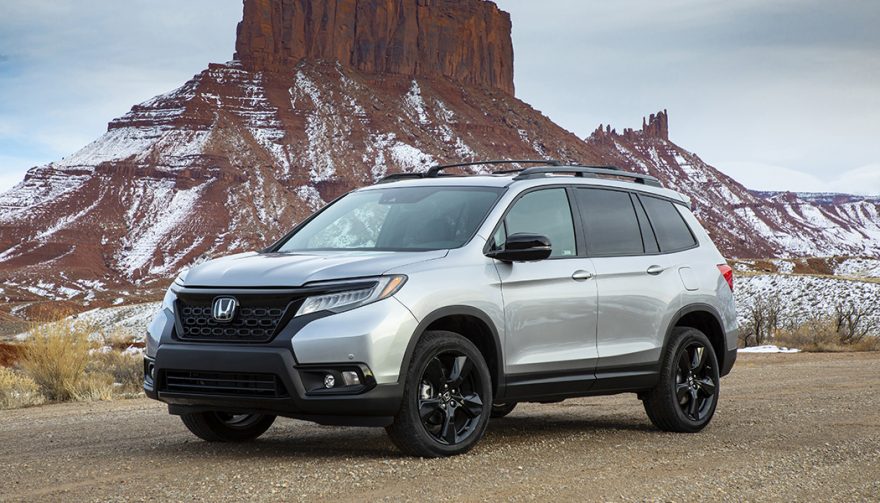 Honda trimmed down the Pilot to make the slimmer and more off-road capable 2019 Honda Passport. Is it the right size, or too little of a good thing?
Useful Utility: We Drive the 2019 Honda Passport
Size-wise, the 2019 Honda Passport slots in between the Honda CR-V and Honda Pilot in the automaker's utility vehicle lineup. At its simplest, Passport is basically a shorter-bodied version of the larger Honda Pilot. It exists to keep shoppers in Honda showrooms, even if they find the CR-V too small, and the Pilot too large. Before the Passport arrived, this usually required shopping elsewhere. For something like a Nissan Murano or Ford Edge.
Those shoppers who will drive frequently in an off-road setting may wish to note that Passport beats Pilot in several key areas—including approach and departure angles—thanks to its shorter body.
Elsewhere, plenty is familiar. Including most of the interior, and the driveline, and all interfaces and controls.
As a product, Passport provides several reasons to take a test drive, and several not to.
Key assets of this machine include on-board volume, storage, and handy functionality. In these measures, Passport is one of the most persuasive crossovers in the segment today.
Accessible Performance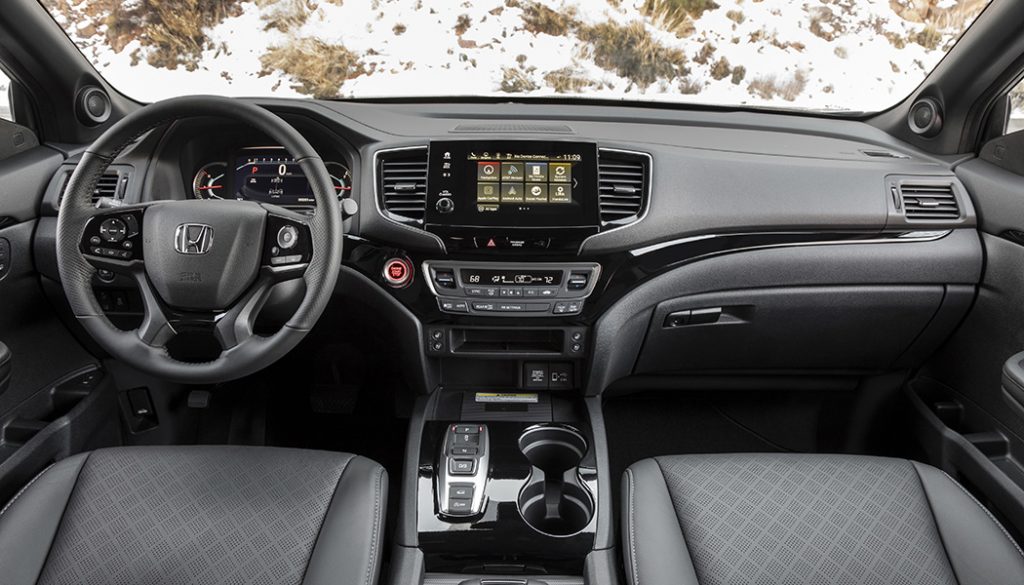 Getting in and out is easy-peasy: adult occupants simply slide sideways into their seats, with minimal hopping or stepping up or down. Large door apertures and thin door sills ease entry and exit, though my tester's accessory running boards tended to add a touch more complication to boarding and exiting. Shoppers may wish to skip these unless they're sure they'll need them.
Seats in the second row are easy to access, slide, fold, and otherwise manipulate towards the task at hand. Notably, the seat slider has a relatively light action, enabling one-handed operation for most adults. I measure 5-foot 10 on a good day, and in the 2019 Honda Passport, I could sit behind someone of equal size with legroom galore. Even taller passengers are unlikely to feel cramped. There's room to spare for four adults, including ample extra room for stretching out and lounging leisurely on the open road.
The cargo area is generous, flat, wide and mostly square to the edges. The power tailgate and additional under-floor storage cubbies in the cargo area add convenience and utility, though the load floor is fairly high—which may complicate things for the family dog, or the youngest grocery-helpers in your family.
Elsewhere on board, a nearly-hilarious amount of at-hand storage is at your service. Cubbies, bins, slots, cupholders and compartments are deployed in abundance. There are 5 storage compartments in each front door panel, and the rear doors have two cupholders apiece. Passport's centre console storage bin is elbow-deep, and includes a slide-out tray. There's even a perfect slot beneath the radio for a wallet, smartphone, keys, or other small items.
Further, the 2019 Honda Passport's outward visibility won't leave most test-drivers wanting. The rear window is minivan-like. Wide, tall, and fully extended to the corners of the vehicle. Most drivers will find a commanding driving position, supported by above-average outward visibility.
You May Also Enjoy:
10 of the Best SUVs and Crossovers for Heading Off-Road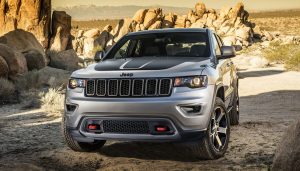 Powering Ahead
All Passport models ship with automatic four-wheel drive, a 9-speed automatic with push-button shifter, and a snarly 3.5-litre V6 engine with 280 horsepower.
Output is relatively tame and lazy in most driving modes, with the fuel-saving ECON drive setting intentionally softening and dulling throttle inputs to the benefit of fuel economy. This is apt for the leisurely driver concerned mostly with a decent fuel bill, though sportier drivers will need to engage SPORT mode and apply throttle vigorously, using plenty of revs, for the best results.
Full throttle output is sufficient for most drivers, and swells pleasingly as the revs climb. Notably, the 2019 Honda Passport's sweetheart of a V6 engine emits a pleasing, nearly sports-car like snarl when worked hard.

If required, drivers can toggle between several easily-accessible drive modes for the AWD system, intended for use in specific off-road conditions. Simply leaving the system in its fully-automatic 'NORMAL' setting is more than adequate most of the time. Here, the Passport's AWD system requires no driver decision-making whatsoever.
I noted a few gripes during my time with this tester.
First, the on-board styling and materials are average, at best, for the segment. Hard plastic is used to great length, and some interior panels showed unfinished edges on closer inspection. The climate control interface is extremely logical and simple, though it looks a decade old, or more. Passport also uses a regular-sized sunroof at a price-point where numerous competitors offer a much larger panoramic unit.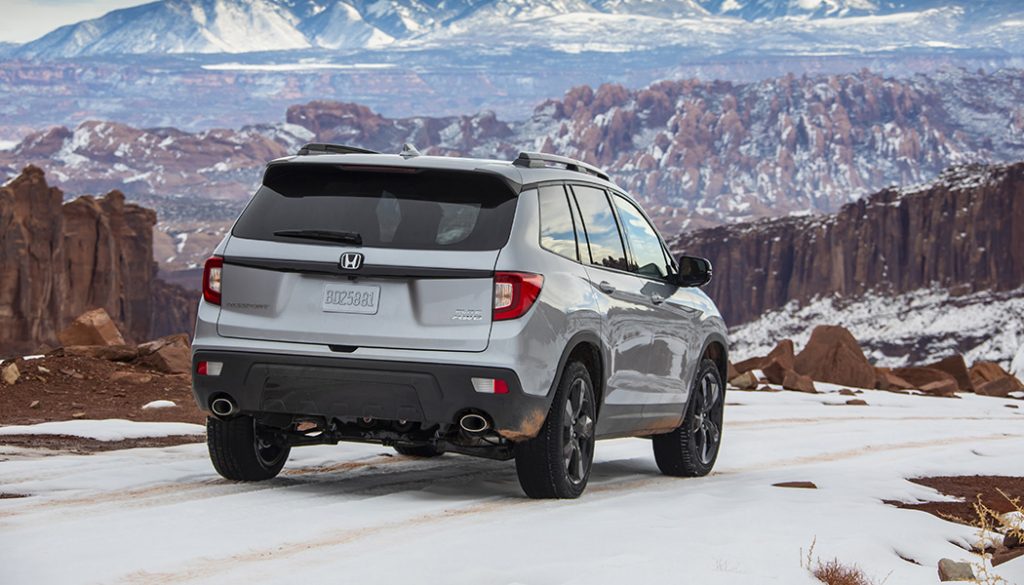 Further, switches, stalks, interfaces and controls are largely the same you'll find in any other few-year-old Honda—though the updated central command touch-screen has been updated, and makes a significant upgrade from previous units. Android Auto and Apple Carplay are on board, too.
Simply, Passport's interior wows mainly for its space and storage provisions, less for its appearance and feel.
Most drivers will appreciate fairly responsive and car-like handling, though Passport does its finest work on smooth roads. Were it typically feels like a big, tall Honda Accord. Some may find it a touch too firm, though most will appreciate that it never feels like a bloated tarmac walrus.
In an off-road setting, washboard, rocky and craggy surfaces can coax plenty of noise from the suspension at times. The large wheels on my Touring-grade tester did result in some degradation of ride quality and noise levels on bumpier roads, too. On your pre-purchase test drive, visit a rough stretch of road to assess ride quality here, for yourself. If you'll frequently hit the trails, you've got better options for off-road ride comfort including the Jeep Grand Cherokee and Toyota 4Runner.
Passport Stamped
On feature content for the dollar, most shoppers will find Passport to hit the mark. Especially where safety equipment is concerned. With adaptive cruise, forward collision warning, lane departure warning, auto high-beams, blind spot monitoring, and an excellent backup camera system, Passport Touring offers virtually everything Honda has to offer in the way of driver support.
Elsewhere, features included remote start, climate-controlled leather seating, a 550-watt audio system, navigation, wireless phone charger, automatic temperature control, automatic lights, push-button ignition, and more.
The 2019 Honda Passport may fail to impress some shoppers with its ride quality in some specific situations, as well as its interior appearance. Though beyond these gripes, it's a machine with strengths far outweighing weaknesses. When handy storage provisions, a pleasing driveline, plenty of cutting-edge safety content, and generous levels of highly-usable space are near the top of your wish-list, be sure to give this one a test drive.