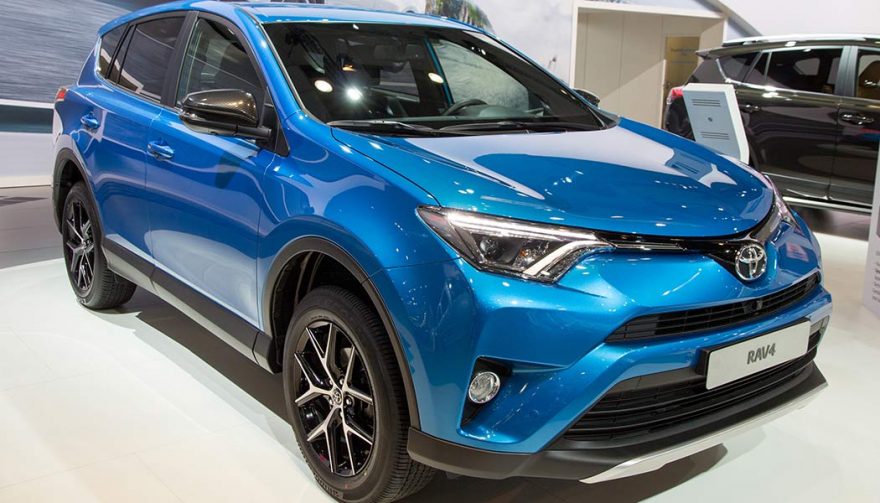 It's not performance and it's not style. It's the value driving RAV4 sales.
Why Is the RAV4 Such a Hot Seller?
The numbers keep rolling in, and the Toyota RAV4 keeps leading the pack. Despite not being the most powerful, most stylish, or even the best equipped, the RAV4 is killing it in the sales rankings. Why, you ask?
Impeccable Fuel Efficiency
We know the real reason the RAV4 has been taking home the first-place ribbon in the compact SUV segment. It's all about the fuel consumption. For the price, you simply don't get better fuel efficiency than the RAV4. It's not about style. It's not about performance. It's not about anything other than value.
Toyota's little sport-ute has one option, really. You can choose the 2.5-liter four-cylinder engine or you can choose the 2.5-liter four-cylinder. You might be inclined to complain about the lack of engine choices, but it's really not necessary. The 2.5-liter engine does exactly what it's meant to do for the RAV4 – plod along at a comfortable pace while being among the most reliable engines, and definitely among the most fuel efficient.
It's ranked at 23 miles per gallon for city driving and 30 miles per gallon when driving on the highway. Real-world fuel economy typically hovers somewhere around the 25 mpg point, which is quite respectable for combined fuel ratings.
Smooth Driving
Again, the RAV4 isn't the sportiest vehicle you'll drive, not even close in the segment. The Mazda CX-5 is much more fun to drive and the Nissan Rogue handles better. But that doesn't seem to be what drivers want – more often than not, they opt for the smooth, consistent operation of the Toyota RAV4.
What Toyota calls "sport-tuned suspension" in their compact SUV is really just correcting the excessive body roll so the vehicle handles corners well. The suspension continues to be more cushy than inspiring, but that's perfectly fine for this vehicle.
The transmission is a CVT gearbox, or continuously-variable transmission, making acceleration smooth and constant, almost to the point of bland. That's probably why the RAV4 SE includes paddle shifters on the steering wheel – to embed a little more inspiration into the driving experience. There's also a choice to select either Sport Mode or ECO Mode to enhance your performance for either fuel efficiency or performance.
Safety-Conscious to the Max
One of the biggest improvements to the RAV4 in recent years is Toyota Safety Sense P, a suite of safety-focused technologies that make driving your RAV4 like being bubble-wrapped. You can hardly make a mistake while cruising thanks to the technology in your vehicle.
Included in Toyota Safety Sense P is:
Pre-Collision System with Pedestrian Detection (PCS w/PD)
If there are obstacles in your path that you don't notice, whether a bicycle or a child, you'll get a warning, then the pre-collision system will apply the brakes firmly to avoid an accident.
Lane Departure Alert with Steering Assist (LDA w/SA)
If you're not paying attention to your lane, your Toyota will. Sensors and cameras keep you centered in your lane. If you drift outside the lane, gentle steering assistance will guide you back into your lane. Just don't mistake it for Autopilot.
Auto High Beams (AHB)
That's right—you don't have to flick your high beams off when traffic approaches. Your RAV4 will automatically turn them off when it senses approaching headlights, then back on when the coast is clear.
Dynamic Radar Cruise control (DRCC)
Instead of picking one speed to set your cruise control, you can choose to follow traffic at the same speed as the vehicle ahead of you. It maintains a safe distance behind the vehicle too.
You can't ignore the Blind Spot Monitor or the Rear Cross-Traffic Alert systems either. To sum it up, Toyota's RAV4 is more safety-conscious than ever. It's probably a big reason so many families choose the popular sport-ute.
Respectable Appearance
While the RAV4's looks aren't causing whiplash for bystanders, it's still an attractive vehicle. The angular headlights mounted high on the fenders, the trapezoidal lower grille and the rounded front bumper are good-looking. The back end is somewhat bland, but who cares? It's more about form and function than anything. There are some bold colors to choose from if you want to stand out.
Inside, the Toyota RAV4 has a convenient and almost sexy (gasp!) layout. Unlike earlier generations, the 2016 RAV uses soft-touch materials to really class up the joint. Depending on your trim level, you'll enjoy either high-quality fabric or leather-faced seats, both of which may be heated surfaces.
Entune Audio is employed in some fashion in all 2016 Toyota RAV4 trim levels, either with a 6.1-inch or 7-inch display. Bluetooth, SIRI Eyes-Free, and internet radio options are standard while Premium JBL audio is a great feature to choose as well.
RAV4 Hybrid
If you're more attuned to green technology or if you just want better fuel efficiency there's a hybrid option. It actually bumps up the horsepower rating from 174 to 196 with added electric motors, and the performance difference is noticeable especially when you're passing on the highway.
The RAV4 Hybrid is a premium vehicle loaded with the top-end of the options Toyota has, and you pay quite a bit extra to get those features. It does pay off in the long run, however, with significant fuel savings – real-world fuel ratings are 31 miles per gallon. That's 20 percent better than the standard 2.5-liter engine.
Future technology?
While the RAV4 has always been the antithesis of a performance vehicle, Toyota may be out to change that view. It's been rumored that a TRD version of the compact SUV could be in development, and possibly as soon as the 2017 model year.
What would that entail? Toyota remains tight-lipped on the possibility, though if the Tacoma TRD is any indication, a beefed-up, truly sport-tuned suspension, performance enhancements (perhaps a turbocharger?) and aggressive front and rear bumper fascia modifications would suit the RAV4 TRD well.