Driven: 2020 Lincoln Aviator Grand Touring
With three seating rows, turbocharged plug-in hybrid power, and the latest in Lincoln's design and tech, the all-new 2020 Lincoln Aviator Grand Touring serves up an enticing combination of unique luxury touches and the latest in electrified performance. The new Aviator is the second-largest Lincoln, with only the massive Navigator above it. And like that Navigator, Aviator has now earned a place in this writer's memory banks as one of the most comfortable highway cruisers I've ever come across– and for many of the same reasons. Those after a world-class luxury cruiser with power and space to spare should consider it a priority test drive.
In back? A power tailgate opens onto a decent cargo hold that's enlarged at the touch of a button by power-folding the third seating row down flat. In this configuration, you've got loads of space for four adults and their luggage, shopping or camping supplies. With the third-row seats upright, there's room enough for the kids, though larger adults will wish for more room.
American Luxury Done Right
The middle row captains' chairs are
comfortable and set occupants up for a first-class, second-row
experience—complete with plenty of nearby charging, a rear climate control
console, plenty of storage, and legroom to spare. For four adults, here's a
road-going social lounge with plenty or room to unwind and relax.
The 2020 Lincoln Aviator's best seats are those up front. Finished in sandstone leather, my tester's Perfect Position seats offered up nearly infinite adjustability, including individual adjustments for front-seat thigh bolsters. With Active Motion, you can even have a subtle massage as you drive, enhancing blood flow and mitigating muscle soreness and tightness on longer drives. Drivers can configure these seats to be just about anything the like, laying the foundation for a very comfortable drive.
The driving environment works similarly: Lincoln's latest interior design language makes the cabin warm and inviting from a glance, and sees materials and styling details flaunted more prominently than gadgets and displays. On the sheer square footage of the gloss and wood and metal and chrome in here, it's safe to say the designers were given free rein to use as much lovely stuff as they could, stitching it together for a modern and glamorous look that's not too shouty.
The natural color palette of much of the wood and leather accenting provides some soothing scenery from the driver's seat. Common controls are mainly relegated to a panel mounted low and away from the central dash—falling easily to reach for the driver, while leaving the forward dash un-cluttered.
On looks and feel and attention to detail, this Chicago-built luxury crossover stands proudly as an American take on world-class luxury and it feels authentic and high-end throughout.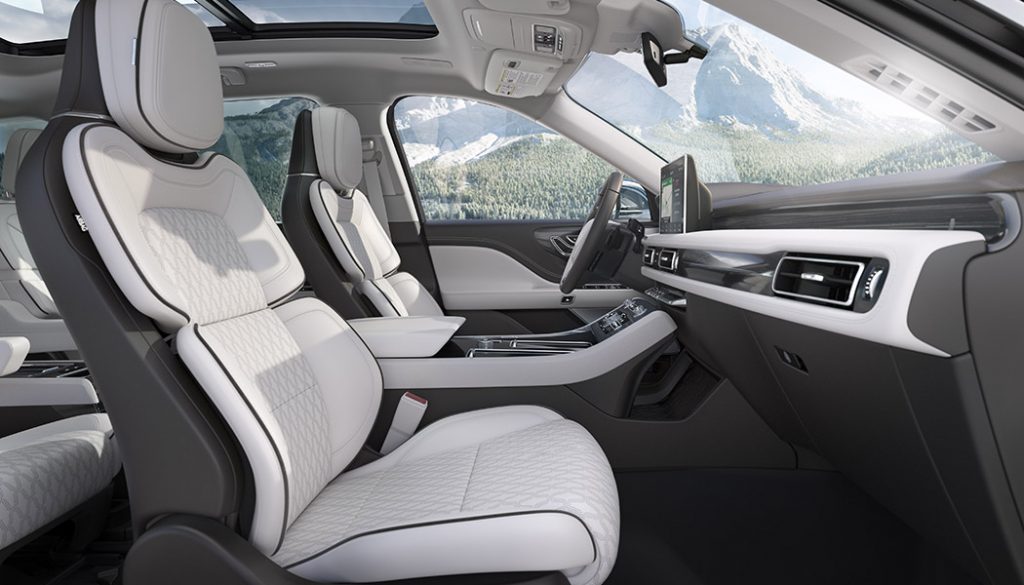 Impressive Audio and Tech
Aviator's big-screen central display is fast, responsive, easy to connect with, and logical to navigate. Some competitors have slightly more impressive stereo systems, but the 2020 Lincoln Aviator's up-level Revel unit won't leave most wanting for more clarity or firepower. It's a fantastic travel companion, replicating anything from Peter Gabriel to Rise Against with vivid detail.
Aviator's massive head-up display is
bright and gorgeous looking—projecting vital running data into the lower
section of the windshield for easy reference. The instrument cluster disappoints,
however: the graphics are so-so, much of the information is ghosted out, and the
lack of much visual excitement is further let down by the dull brown coloring
used on some of the virtual instruments.
The drive mode selector dial interfaces
with that instrument cluster, and also proves a bit fussy. If you don't
remember the specific order of the numerous drive modes that appear in the
cluster as you rotate the free-spinning dial, you might get a little lost with
the on-screen animations and choose the wrong mode a few times before you land
on the one you want. A little practice will have you sorted out quickly.
Aviator's driving position is up high, in control, and commanding. At 5"10, I was able to see to the edge of the hood, with the prominent sculpting of said hood making it easier to centre the Aviator within its lane.
From the seats to the driving position to the look and layout of the cabin, the 2020 Lincoln Aviator presents a collection of attributes that set you up nicely for a relaxing drive, right down to the soothing smell of the wood and leather that greets you every time you open the door.
By the way, that happens by simply clicking a small electronic button concealed within the handle. Electronic poppers unlatch the door with little more effort than clicking a computer mouse. Aviator is full of unique little touches, just like that, that intend to surprise and delight. If you like, you can even leave the keys at home and just use your smartphone instead.
You May Also Enjoy:
When You Need to Look Good for a Day: Luxury Car Rental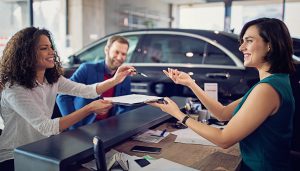 Related Search Topics (Ads)
Plug-In Power and Efficiency
Aviator Grand Touring is a Plug-In Hybrid. It combines the efforts of a 3-litre twin-turbo gasoline V6 with a plug-in electric drive system. You plug in to charge, but only if it's convenient. Recharging a PHEV is never mandatory, and as long as there's fuel in the tank, you're good to go.
When plugged in, the drive battery
recharges. It's sort of a second fuel tank full of electricity, not gasoline. With
a full charge, Aviator can drive a few dozen miles before any fuel is required.
That's sufficient to get many drivers totally off of gasoline for their daily
errands or commuting. Once the drive battery is depleted, the gas hybrid engine
comes to life invisibly to carry you along. There's no driver bandwidth
required: the whole process is smooth and largely invisible.
So, it's like having an all-electric vehicle for shorter trips, and a full-function
crossover for longer ones.
In addition to extended all-electric functionality, the PHEV driveline also works to the major benefit of luxury and performance. The electric motor can work in sync with the gas engine—boosting its performance like a sort of third electric turbocharger. This plug-in hybrid Aviator is not only the most fuel-efficient, but also the most powerful. Electric and gas drive combine to put nearly 500 horsepower on tap, backed by a whopping 630 pounds of torque—most of which are deployed in smooth-as-glass, nearly-noiseless fashion.
Drivers can expect loads of pulling power, a ghostly-quiet driveline in most settings, and full-throttle acceleration that hits hard, immediately, and shoves occupants into their seats with plenty of force.
Electricity makes the Aviator Grand Touring quieter, more powerful, more responsive, and more fuel-efficient. This is technology we'll be seeing a lot more of in the coming years.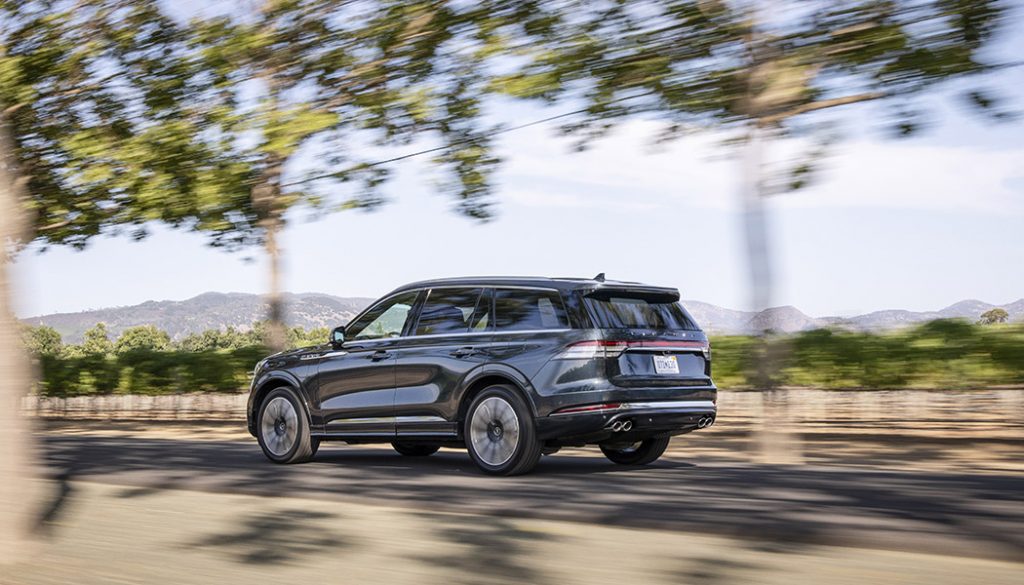 Cloudlike Ride
Aviator's secret sauce, shared with its
big brother the Navigator, is the way
it uses its features and engineering to smooth everything out.
Sophisticated suspension lets the 2020 Lincoln Aviator float on a cloud. The forward camera can see pavement imperfections up the road and pre-program the suspension to minimize impact ahead of time, literally preparing the shocks for the road surface ahead in real-time.
Independent control at each wheel mitigates pothole strikes in real-time by working the dampers actively to reduce impact. The suspension can lower the vehicle for aerodynamics or easier entry and exit, lift it for off-road use, and more.
It's a collection of some of the most advanced technologies on the road—and other than an occasional whack from certain potholes and surfaces, it's often like driving a hovercraft. Since the suspension can actively control the motion of the 2020 Lincoln Aviator's body on top of it, even rough or undulating roads do little to stir those on board. Really, you can feel the effort that's gone into the fine-tuning and programming to make this thing ride like a dream.
On highway drive comfort, this is pretty
exemplary. You float along in peace and quiet, with a quiet but very potent
reserve of pulling power available when you need it.
The partial electric drive smooths things
out too. With that on-demand electric torque at the ready, you surge up to
speed with immediate response, and barely a peep or vibration from the engine
room.
This all makes the Aviator work really
nicely as your own little sanctuary. Heck, even the lane keeping and adaptive
cruise systems feel beautifully fine-tuned to look ahead and pre-calculate
their next moves, so everything they do is smooth subtle and predictable. And
that means one less thing for you to think about.
Alas, it's not perfect.
The trick suspension tech failed to
impress on the very roughest roads I tested the Aviator on. There are, I
suppose, limits to how much smoothing out the suspension gadgets can do, and on
very rough roads and trails I was expecting a creamier ride. It's a gem on the
highway and most secondary roads, but Aviator's ride can become harsher than I
like for the money when the suspension is really under fire.
You'll want to check out the Cadillac XT6 as well. It's my other very favorite long-distance luxury crossover right now. Drive it back to back with the 2020 Lincoln Aviator Grand Touring, and you'll notice it's not nearly as powerful, but that it does have a great highway ride, and also feels a more dense and solid, and maintains a more comfortable ride on really rough roads—if that's a concern for you.
Finally, if you're after something with razor-sharp reflexes or handling prowess, you've got better choices. Aviator is neither bothered nor excited by rapid browsing of your favorite corners. It's comfort first, handling excitement a distant second.
For long haul comfort, exemplary ride quality and the latest gadgets and tech, the 2020 Lincoln Aviator Grand Touring delivers. Shoppers primarily concerned with watching the scenery fly by from a tranquil rolling lounge will find the best return on their investment. With its plug-in hybrid powertrain, you may go from filling up once a week to filling up once a month, or even less. That's more time for driving.