2021 Nissan Rogue: Best Value for Your Money
The 2021 Nissan Rogue packs technology, performance, utility, and comfort into a ride that has truly "gone rogue." It has a new design, new engine and suspension, updated safety technology, steering, and more. The convenience and comfort features make it a must-try for young families. Dealers have been posting the best offers and rebates online for savvy internet users to take advantage of.
The Rogue is unquestionably the sales superstar for Nissan, easily outselling the Altima and Sentra. In fact, last year in the red-hot compact SUV segment the Rogue ranked third in sales which was quite an achievement considering the two segment leaders went through complete redesigns in 2019 and 2017. The Nissan Rogue hasn't seen a major design change since 2013. The 2020 Nissan Rogue is largely the same ride that hit the lots seven years ago. With the 2021 Nissan Rogue, though, that all changes.
Already popular in the compact SUV segment, we think this redesign
could easily push the 2021 Nissan Rogue into the number one slot.
Beefy New Kid on the Block
At first look, it appears that Nissan has followed other manufacturer practice of creating a bigger version of a model with each redesign. However, presentation is everything. The 2021 Nissan Rogue is actually 1 ½ inches shorter bumper to bumper than the 2020 and is fractionally lower. What makes it look bigger on the outside is the 2021 front end that features a new interpretation of Nissan's signature V-Motion grille, multi-level LED headlights, and a plumped up head-on profile. The hood is more rugged than sloped and the new "floating roof" gives the ride a blocky look that leaves you with the impression that it's a larger vehicle.
The side panels are mostly smooth except for the wheel wells, which have received some sheet metal work that almost looks like fender flares. The rear end, with its motion-activated tailgate, remains much the same as 2020, but the rear doors get a valuable new feature: These doors open a full 85-degrees making access to the rear seats a breeze for kids and older passengers. They are also tied to the proximity unlock system meaning you can unlock these doors without having to first unlock the driver's door.
Available in four trims, the S, SV, SL, and the new, loaded, Platinum, the 2021 Nissan Rogue offers a solid compact SUV solution ranging from basic family transportation to ridiculously over-teched luxury. Pricing for the 2021 line is not available yet but is expected to be comparable to 2020 for the S, SV, and SL. The wild card will be the new Platinum which is equipped with almost every option in the box.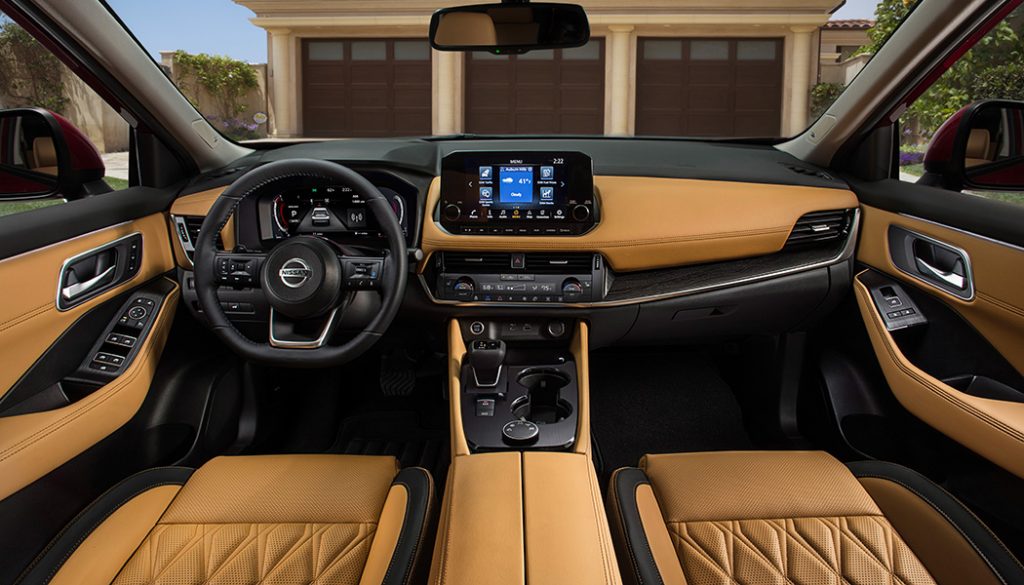 A Fresh, Plusher Interior for 2021
When you haven't updated an interior for eight years, it
doesn't take a lot to make it look dramatically modern by adding features that
have gone missing for so many years. Nissan went all out with the Rogue. Inside
you can opt for the Zero Gravity seats both up front and in back. If you like,
they can be upholstered in leather with lots of diamond stitching and be
ventilated and heated as well. The dash and console are accented with imitation
wood a la Altima, and a newly designed steering wheel greets the driver.
A new joystick gear selector saves space on the console, an eight-inch touchscreen runs the Nissan infotainment system and the driver is presented with a seven-inch instrument cluster display and a new HUD system.
Cargo space, with the back seats folded down, increases by roughly four cubic feet making the 2021 Nissan Rogue one of the largest cargo carriers in the class. And Nissan's popular and practical Divide-N-Hide storage system will keep prying eyes from seeing your cargo.
Did Someone Say Technology?
Convenience or safety, Nissan is loaded with technology. Here is a short list of systems that are either standard or available on the 2021 Rogue:
Apple CarPlay, Android Auto, and get this, wireless Apple CarPlay a feature normally found on upscale brands.
Tri-Zone Climate Control allowing backseat passengers to control their environment
Shift by wire gear selector
Wireless charging pad, USB-C and USB-A ports, Wi-Fi hotspot
Every Rogue comes standard with Nissan Safety Shield 360, a suite of safety technology that includes automatic emergency braking with pedestrian detection, blind-spot warning, rear cross-traffic alert, lane departure warning, high beam assist, and rear automatic braking.
Pro Pilot Assist (semi-autonomous driving) is available using the latest in radar and camera technology.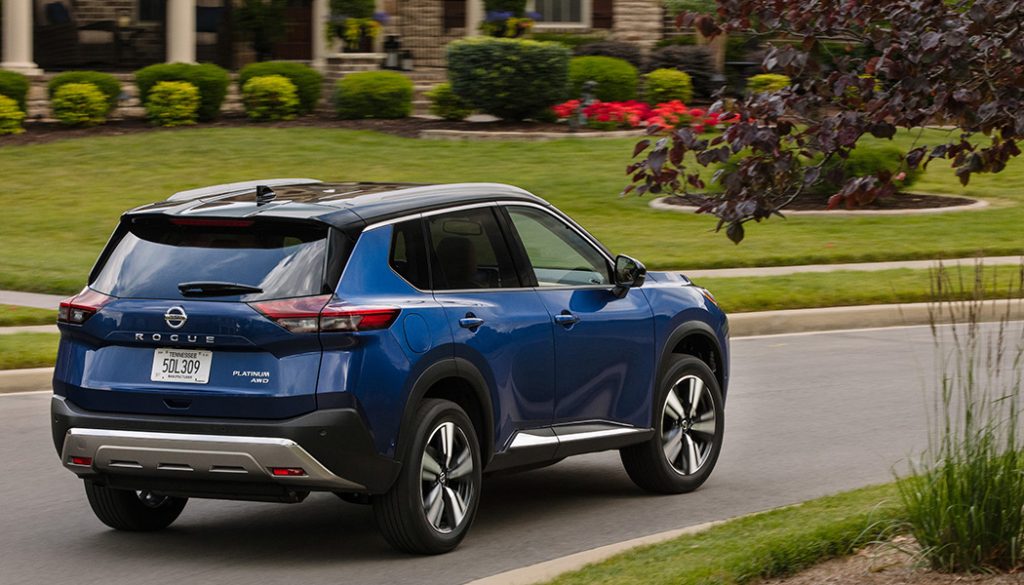 The Parts You Don't See
All 2021 Nissan Rogues are powered by a new 2.5 L four-cylinder engine that generates 181 hp and 181 lb-ft of torque. The powerplant is mated to Nissan's time-tested CVT which delivers the torque to either the front wheels or all four. The 2021 Nissan Rogue comes stock as a front-driver but AWD is available and standard on the Platinum trim. With the AWD platform, Nissan offers five driving modes, Off-road, Snow, Standard, Eco, and Sport.
You May Also Enjoy:
Nissan Rogue Sport: A Perfect Compact SUV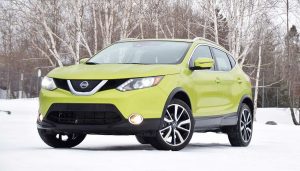 Related Search Topics (Ads)
Don't let the categories confuse you. The Rogue is no Jeep Trailhawk, and while improvements have been made to the steering and suspension, it's no "performance" SUV. As far as fuel economy goes, the EPA has yet to issue numbers. However, based on the fact that the 2021 is a hundred pounds lighter than the 2020, many believe it might squeeze out an extra mile or two.
Under the chassis, the use of new, more rigid powertrain and suspension mounts, and a quickening of the steering ratio, results in a significantly more responsive steering experience. Couple that with an overall increase in rigidity and the addition of a true multilink setup for the rear suspension and you get a compact SUV with uncommonly sporty handling. All in all, the 2021 Nissan Rogue looks like it will continue to be a player in the market and may just become the hottest new compact SUV for the year!