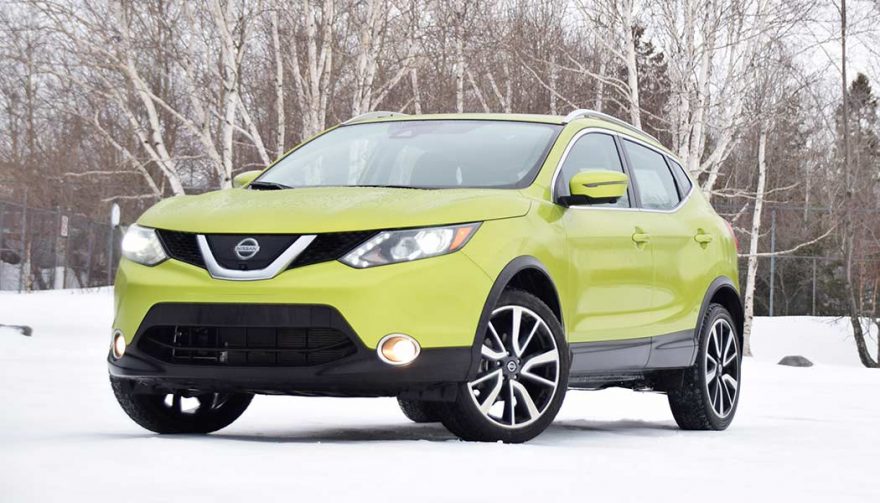 A 2.0-liter four-cylinder engine capable of 141 horsepower propels the Nissan Rogue Sport
Nissan Rogue Sport: A Perfect Compact SUV
Today, many shoppers are ditching the small car for small crossovers, like the Nissan Rogue. The benefits include expanded room and flexibility, a more commanding driving position, and all-wheel drive (AWD). Fortunately for buyers, recent slow sales have left dealers scrambling to move inventory. A simple search can turn up all kinds amazing offers available online.
The market segment in which the Nissan Rogue Sport competes will expand greatly in the coming months and years. Some great contenders already on the scene include the Mazda CX-3, Honda HR-V and Toyota C-HR. Many more are en route.
Should you wait? Maybe not. The Nissan Rogue Sport is a worthy test drive right now, since it's got everything you need, and is great at what it does.
Nissan Rogue Sport SL AWD Platinum Package
My tester was a fully-loaded unit with the Platinum Package and All Wheel Drive. It came finished in "Lime Splash" paint. A real attention-getter, you can see this color from orbit.
It's as top of the line as you can go in the Rogue Sport model range, with a sticker price to match. The Nissan Rogue Sport SL AWD premium package clocked in north of $31,000. That's big bucks for a little machine, but you do get virtually everything, and feature content is far from the only thing Rogue Sport has going for it.
That Platinum package adds some high-tech connectivity. There's also a wide range of advanced safety features, including pedestrian-detecting auto-brake, rear cross path detection, intelligent radar cruise and lane departure prevention.
My favorite feature in the Platinum package was the LED headlights, which are very good, particularly with the high-beams engaged. Light is clean and white, and it reaches far and wide to the delight of driver retinas after dark.
Elsewhere, feature content included a sunroof, heated leather, automatic everything, remote start, and a fast-acting AWD system with driver-selectable locking mode for extra slippery or deep conditions.
Inside the Nissan Rogue Sport SL
The cabin isn't as snug as you imagine, given the machine's size. Once comfortably boarded, you feel like you're in a taller, roomier sports coupe.
Two average sized adults will have enough room to be comfortable up front, and in back, I was able to "sit behind myself" just fine, with space being adequate, little more. The cargo hold is a bit shallow at first glance, but organizer bins and a handy cover beneath can be reconfigured to taste.
It's mostly good news throughout in the cabin on the design front. Decent at-hand storage helps keep drivers organized. The central command system is quite dated but simple and logical to use. What's more the materials palette showcases stitching and leather to help dress things up, even if some will wish for a splash more color or excitement from the otherwise dark, all-black cabin.
On the Road
I've got 99 problems, and none of them have much to do with how this one drives. Put simply, the Nissan Rogue Sport feels dialed in, calibrated and fine-tuned in almost all situations.
It's a good highway cruiser too, with a vivid and easy to read instrument cluster, relatively good noise levels, and a comfy but responsive feel. Steering is heavy enough at speed to help the machine lock into its selected lane with more intent than its small size lets on.
Around town, even on rougher roads, it maintains a durable, dense and solid feel with only the most severe bumps and craters dragging ride quality toward discomfort. Plus, since it's small, and has light steering, and has 360 degrees of camera coverage, the Nissan Rogue Sport is a little beast when it comes to maneuvering around tight quarters and parking, too.
In virtually all aspects of comfort and ride quality and steering and handling and agility, this is a nice collection of some of the best attributes on offer in the segment today. And actually, with tidy handling and a fairly quick steering system, it'll connect with enthusiast drivers with pleasing responsiveness and athletic reflexes, too. Put simply, it nicely rides the line between soft and sporty.
Under the Hood
Power comes from a 2.0-liter, 141 horsepower four-cylinder on all models. With front-drive, you can specify a six-speed manual. With AWD, like my tester, the only transmission option is the XTronic Continually Variable Transmission, or CVT.
A few notes on the powertrain. While 141 horsepower looks low on paper, the Nissan Rogue Sport is fairly small and light, so the power goes a fairly long way. Also, since the CVT transmission helps optimize power delivery, it's snappier than the numbers lead on. It's still most impressive in light to moderate driving where it's fairly smooth and quiet, but even opened up, this engine doesn't sound or feel like it minds doing some work.
Comments and Complaints
And a few complaints. Other than the nicely trimmed but blandly colored cabin, I left the Nissan Rogue Sport wishing the advanced safety systems turned on automatically when you started the engine. Instead, you've got to reach down to an awkwardly placed switch, resting just ahead of your knee, to turn them on.
Further, a few too many commonly used controls, including the heated steering wheel button, are shoved down onto a console that sits awkwardly in front of the driver's left knee.
End of the day, Rogue Sport is high-tech, well equipped, very safe, very capable, and all wrapped up in a small but upscale package that's easy to drive, maneuver, park and live with, in virtually every situation.