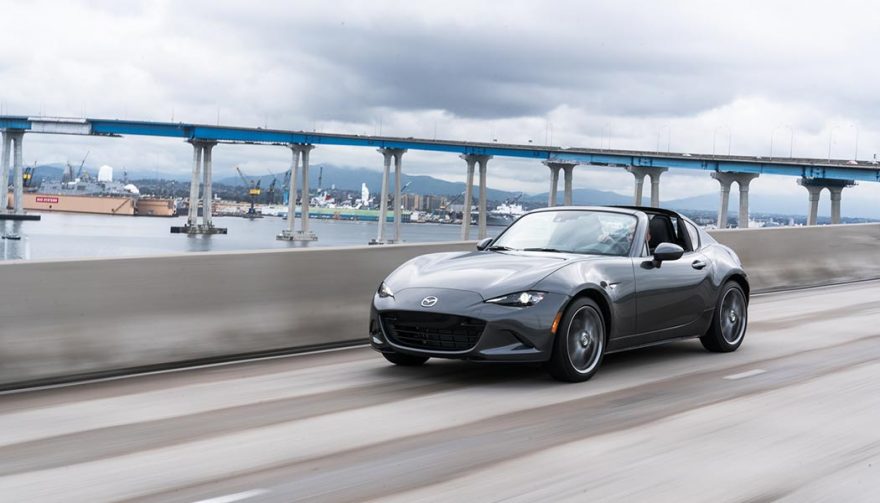 The 2017 Mazda MX-5 Miata is powered by a SKYACTIV-G 4-cylinder that makes 155 horsepower and 148 lb-ft. of torque.
12 Affordable Sports Cars for Fun, Cheap Speed
If you're looking for the most affordable sports cars, you're in luck. Sports cars are one of the most popular and well-researched segments in the automotive world.
Like everything else out there, the best sports cars don't come cheap. If you want one of the fastest sports cars or one with fancy leather and the latest bells and whistles, you won't find it here. We've compiled the top 12 sports cars for the money-conscious buyer. It's the most affordable sports cars for 2017.
2017 Mazda MX-5 Miata: $24,915
A pure driving experience, uninhibited by the frills you'll find on luxury cars. It's an iconic open-top sports car, the 2017 Mazda MX-5 Miata. It's a clean design with simple lines but wholly gorgeous. And underneath that beautifully sloped hood is where the real magic is bottled up.
The 2017 Mazda MX-5 Miata is powered by a SKYACTIV-G 4-cylinder that makes 155 horsepower and 148 lb-ft. of torque. Immediately, you might question why this is even considered a sports car with those power numbers. It's quickly answered when you discover the car weighs just 2,332 pounds. Mixed with a penny-pinching 6-speed rower, the Miata is a riot to drive.
For the base price of $24,915, you get decent equipment too. Power locks, power drop-top, a nice dashtop audio display with Bluetooth and headrest speakers, keyless entry, alloy wheels – all the basics are there plus more. It's one of the most affordable sports cars you'll find.
2017 Toyota 86: $26,255
It's the first time in a very long time Toyota has had a rear-wheel-drive car in its lineup. The 2017 Toyota 86 is essentially the Scion FR-S rebadged for the parent brand since Scion is no more. Visually, it's quite aggressive and appealing, contradicting most of the Toyota lineup altogether. The sexy little two-door, even in its basest configuration, is an enjoyable drive with great features.
Starting inside, the Scion – I mean, Toyota 86 – shows its value with bolstered seats, a three-spoke steering wheel, soft-touch materials, and a complement of standard power options. Amid the equipment, however, there's a cheap feel inside, little you might expect from an entry-level Toyota.
That sensation disappears once you go for a boot. Its 2.0-liter Boxer engine is silky-smooth and has 205 horsepower. The 6-speed manual transmission is what you get for a little more than $26k. For the money, it's all right. If you're comparing it to a BMW or Porsche, it's notching and unpleasant. But shoppers of affordable sports cars won't mind or notice.
2017 Fiat 124 Spider Classica: $24,995
Originally introduced in 1966, the Fiat 124 Spider has come back to America for 2017. It's touted as the best value, but that might need to be proven in the coming years with its dependability. In looks, it competes directly with the Miata. Competes and virtually mimics, actually. Fiat has a deal with Mazda to build the 124s on a Miata platform where they are built in Japan. Still, the Fiat 124 Spider edges the Miata out in classiness with stunning detail in the lights and grille. At the tail end, you can see the Italian influence in the taillights and fascia.
The interior design is a little conflicted. There are some great European details like a BMW-esque dash and infotainment screen with rotary controller. But some of these details clash with class, bringing too much of the Chrysler to Fiat. Plasticky dials for heater controls and cheap-feeling steering wheel controls take the Fiat 124 Spider back a notch or two.
Performance is respectable, mimicking the Mazda MX-5 Miata in specs but in a very different configuration, which makes sense. It uses the 1.4-liter MultiAir 4-cylinder for 160 horsepower. Paired with its AISIN 6-speed manual transmission, it's a blast to drive around the hillsides of California or the wide-open prairie highways. If Fiat can manage to maintain reliability, it could very well be a popular little sports car here in North America.
2017 Dodge Challenger SXT: $26,995
If you want a taste of American muscle with your affordable sports cars, here's a chance. The 2017 Dodge Challenger SXT is the entry-level Challenger, but it's no slouch. A bold and extremely aggressive style truly is reminiscent of the classic car circa 1971.
You'd be hard-pressed to get more power from a sports car on this list. The 3.6-liter Pentastar V6 makes 305 horsepower and is one of the few models with a standard-equipment auto transmission. That's more horsepower than most models had back in the 70s, and it's the base engine. You've probably already heard what Dodge has done with the Challenger SRT Demon.
The interior isn't too shabby, especially for the price of admission. Comfortable cloth seating, Dodge's Uconnect 5.0 infotainment system, dual-zone automatic climate control, power locks and windows are standard equipment also, but that is about it.
2017 Ford Mustang: $25,185
A new 2018 redesign is coming down the pike, but there's nothing wrong with the 2017 Ford Mustang. It's a strong, spunky pony car that is in its 50th year of production. The history says something about it. HID headlamps are standard, but it's the sequential LED tail lamps that everyone thinks are really cool.
The interior is pleasant but the base model coupe isn't going to astound you with equipment. It has Ford's SYNC infotainment system and Intelligent Access with push button start, but there isn't much else to note.
But really, who cares? The 2017 Ford Mustang is about enjoying the drive, not luxury. The Mustang has a 3.7-liter Ti-VCT V6 with a 6-speed manual transmission. It's a clean and straightforward experience behind the wheel with its 300 horsepower and 280 lb-ft of torque. A quick warning, though, you definitely should not try the 5.0-liter first or the V6 will feel gutless.
2017 Subaru BRZ: $25,495
The Subaru BRZ will look familiar. It's the sibling to the 2017 Toyota 86. From the exterior shape to the interior dash design and colors, the Subaru BRZ is almost the same car. However, it maintains bragging rights as the OG in the design – the Scion/Toyota came after.
Its powertrain is the same 6-speed manual transmission and 2.0-liter Boxer horizontally opposed four-cylinder engine. It's rear-wheel drive, and feels just the same as the Toyota 86 in virtually every aspect. But, if you're a Subaru fan, this one is badged for you, and it's about $700 less.
2018 Chevrolet Camaro 1LS: $25,905
The entry-level 2018 Chevrolet Camaro takes on a different attitude than in the past. What used to be a displacement-first model has been changed to a tuner-like powertrain, and that might not be a bad thing. It is a little at odds with the muscular design though.
While its curvy exterior screams about burning rubber, the interior says much less about performance and more about economy. The dash, console and door panels feel like chunky plastic. The 7-inch MyLink system is pretty good, but the buttons feel cheap. You'll need to look at the LT trim and up for a better feel.
Performance is surprising for its tiny 2.0-liter turbocharged engine. It makes 275 horsepower and 295 lb-ft of torque, and it's 6-speed rower is pretty good considering the price point. Again, it's a situation where you don't want to try the higher trim levels first, or you'll be disappointed in the 2018 Camaro LS.
2017 Nissan 370Z: $29,990
The design is getting long in the tooth and it's due for a redesign. However, the 2017 Nissan 370Z coupe is still a pretty good value for the car. And it's looking sharp with HID headlights and 18-inch black alloy wheels.
The orange glow inside the 370Z from its instruments and buttons look archaic to some, attractive to others. The dash-top pod gauges could be done away with, but otherwise the interior is still great. Comfortable seating, push-button start, auto climate control and a solid sound system are part of the value in the 370Z.
Laying into the pedal is where the Z really shows its colors. It feels like a European car in the way it handles. The 3.7-liter V6 makes 332 horsepower and the close-ratio 6-speed manual gearbox feels crisp – much better than most others among these affordable sports cars. Toeing the $30k mark, the 370Z is a good choice, but would be even better with a revamp.
2017 Honda Civic Si Coupe: $23,900
A Honda Civic might be stretching the "sports car" designation, but it looks the part. Heck, it even acts the part. This 10th generation Honda Civic is drawing attention – mostly with the Type R, but also with the Si. You get crisp lines, angular and athletic front and back ends, and the choice of either coupe or sedan. Of course, the true sports car enthusiast will go two-door.
It comes standard with all the goods inside: aluminum shifter knob, aluminum sport pedals, push button start, LED interior lighting, heated front seats, Display Audio with HondaLink, Bluetooth, Android Auto and Apple CarPlay – perhaps the best value you can expect.
As one of the best affordable sports cars though, it has to perform. It does a great job of being a driver's car, and that starts with its solid powertrain. The 205-horsepower 1.5-liter turbocharged 4-cylinder rips up and down the RPM range like an Italian supercar. The 6-speed manual shifter feels better than average, almost perfect. And while it has less horsepower than several other rear-wheel-drive sports cars listed here, it's probably more fun to drive overall. And, as icing on the cake, it's just $23,900.
2018 Subaru WRX: $26,995
You can't classify too many four-door models as a sports car. The 2018 Subaru WRX is one of the few you can. It starts with that glare from the front. The deeply carved hood scoop and hexagonal grille, along with perfectly placed lighting, give it serious curb appeal, even for a sedan.
Power windows, steering wheel controls, automatic climate control, STARLINK Media, Vehicle Dynamics Control with Active Torque Vectoring – all standard features on the base model 2018 Subaru WRX. It rides like a sports car with sport-tuned suspension, and so much so that you forget you have a back seat.
But it's about performance, right? The Boxer engine makes a healthy 268 horsepower from its 2.0-liter turbocharged 4-cylinder. Each one of these Subaru WRX models have standard SYMMETRICAL All Wheel Drive, essentially making it a rally car that's street ready. Don't look past the 2018 WRX as a potential purchase.
2017 Ford Focus ST: $24,775
All right, before you pass judgment and leave a nasty comment, take an unbiased look at the 2017 Ford Focus ST. It's not your typical puddle jumper. It's definitely a puddle jumper on steroids. From the alloy wheels and bright colors to the roof-mounted spoiler and ground effects package, the Ford Focus ST flips the compact hatchback game on its head.
Inside, there are Recaro racing seats wrapped in leather. The ST-emblazoned steering wheel has a flat bottom. There's a carbon fiber shift knob and the car rides much stiffer on its sport suspension. SYNC and all that jazz are standard too.
Think about what it takes to throw a tiny Focus hatchback down the quarter-mile with a ton of torque steer. Yep, that's what it has. 252 horsepower and 270 lb-ft of torque from the 2.0-liter EcoBoost four-cylinder. It's overkill to be sure. But it's a blast, especially with the 6-speed manual tranny.
2017 VW Golf GTI: $25,595
Here's another hot hatch for you to play with. The 2017 Volkswagen Golf GTI might look like a Chihuahua but it likes to play with the big dogs. And with its unique touches and all, the Golf GTI is the only German brand you'll find listed here.
Impeccable LED fog lights and 18-inch alloy wheels dazzle the exterior of the Golf GTI. Even as a hatchback, the compact shape is sporty, partly due to its advanced sport suspension. For a compact hatch, it's pretty darn good-looking. Even the Clark Plaid fabric seats look smashing.
It has a Performance Monitor built in. That should give you a clue into its abilities. The 2017 Golf GTI has 210 horsepower from a turbocharged 2.0-liter TSI four-cylinder. An automatic transmission is available, but why would you get that when you could get the 6-speed manual and slash through the gearbox yourself? It's far from a bad choice if you're looking at affordable sports cars.