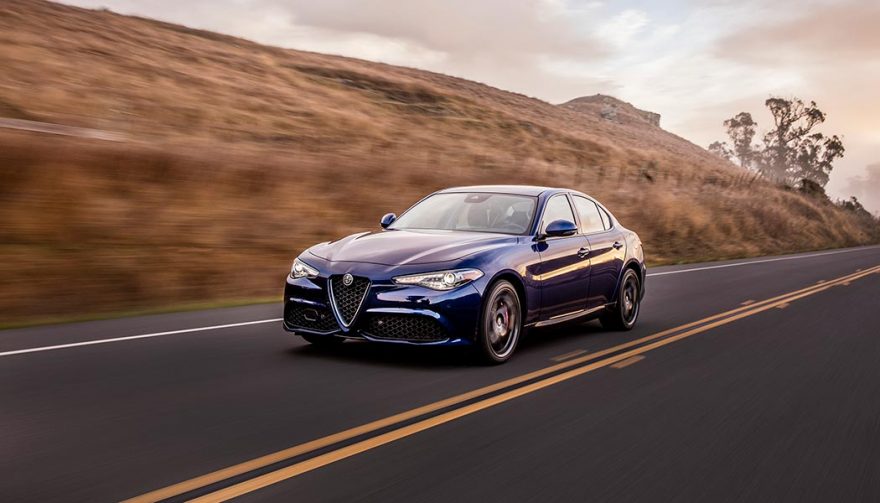 2017 Alfa Romeo Giulia Ti
Alfa Romeo Giulia: Italian Luxury Sports Sedan at Its Finest
It's hot, it's sexy, it's Italian, it seats four, and it comes in eye-grabbing red. What else can you ask for in a sports sedan? The "it" we are talking about here is the 2017 Alfa Romeo Giulia lineup.
That lineup, which runs from entry-level luxury sedan to top-of-the-line Quadrifoglio masterpiece, provides the driver with an exciting, performance-driven experience while sitting in the lap of luxury. It's a sweet ride.
With a 108-year-old heritage of racing and sleek design, the Alfa Romeo Giulia is a bright star for FCA. The integration of classic Italian styling inside and out with balanced and responsive performance make for an exceptional combination.
For that crowd that revels in the exclusivity of owning a European "luxury" brand, but also want to have some fun driving it, the Giulia is a perfect fit. Muscle car enthusiasts, however, will be disappointed. But then, the Giulia can do a lot more than go very fast in a straight line.
Car and Driver rated the 2017 Alfa Romeo Giulia as top of its class. It ranks above the Audi A4, Audi A5 Sportback, Mercedes-Benz C Class and BMW 3 (and 4) Series. At a base rate of about $39,000, the Alfa Romeo Giulia is also significantly less expensive than the competition.
A Hundred Years Later and What Do You Get?
In 1910 the Anonima Lombarda Fabbrica Automobili company opened its doors. In 1911, A.L.F.A. raced its first sports car, a 24-horsepower model at the Targa Florio competition. A hundred years later things have changed a tad. What hasn't changed is that driving ambition to race, it's still ingrained in Alfa Romeo DNA.
Where to start? There is a big price tag difference, over $30,00, between the base model and the top-end. The amount of features and different equipment may validate that discrepancy, though.
You May Also Enjoy:
An Unexpected Surprise: The Luxury and Performance of Alfa Romeo Giulia Quadrifoglio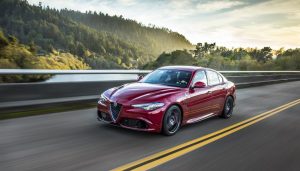 Let's start with the engines. Bear in mind that Alfa Romeo's approach doesn't focus on engine size. Instead, how that power the engine generates is used takes priority.
The base Alfa Romeo Giulia comes with a turbocharged 2.0-liter inline four-cylinder that pumps out 280 horsepower and 306 lb-ft of torque. It's a rear wheel drive ride that can get to 60 mph in 5.5 seconds.
At the other end of the spectrum, the Giulia Quadrifoglio gets a snarling V6 that cranks out 505 horsepower and 443 lb-ft of torque. Zero to 60 takes 3.8 seconds, and the Quadrifoglio promises a top speed of 191 mph.
Both engines come with a well-assembled eight-speed automatic transmission.
All that power is used to propel an almost perfectly balanced vehicle. A well-engineered combination of high-strength steel, aluminum and carbon fiber chassis provides serious balance. The RWD has a front-to-rear weight ratio of 49.8/50.2 while the AWD model runs 52/48. Toss in torque vectoring to ensure power is equally balanced and you have a machine that sticks to the ground.
The Giulia Quadrifoglio is the only sedan in the world equipped with an active aero front splitter. The splitter is an automatic, electronically adjustable, carbon fiber spoiler located in the nose. Its purpose is to balance overall downforce. On straightaways, the splitter closes to minimize resistance and drag. When it carves up a curve, or brakes, the splitter opens up to provide 220 pounds of downforce for optimum balance.
You've got power applied to a perfectly balanced platform. Now it's time to decide just how "sporty" you want the experience. That's the job of the Pro Drive Mode Selector. A rotary knob in the center console allows you to tap into Alfa Romeo racing DNA.
Four settings, Dynamic, Natural, Advanced Efficiency, and of course Race, allow you to dial up the response and ride that fits your mood.
What's to Like
The Guilia's overall driving dynamics are spot-on. Feedback is instantaneous, steering is crisp and responsive, with a feel that encourages driver confidence on even the most twisty roads.
Inside, supportive power adjustable seats with adjustable bolsters keep driver and passengers firmly planted.
A 6.5-inch touchscreen comes standard and an 8.4-inch screen is optional for optimal connectivity.
Safety features and technology abound.
Although low on the list of priorities for people who buy into this class, the Giulia gets surprisingly good mileage with 23 mpg city and 31 mpg highway.
If you want concert quality tunes to go with your ride, a 14 speaker 900-watt Harman Kardon surround sound system could be yours.
What Might Turn You Off
A brake-by-wire system that feels terribly wooden when driving in normal, everyday use.
A marketing habit that everybody in this class uses, namely options. The base price of a Giulia, and it's a fine car, is about $39,000. However, to get the performance-oriented equipment, not necessarily the opulent interior components, you have to add options. Options that can almost double the price of the entry level model.
Cheap footwear. The 18-inch wheels on the base model are wrapped in 225/45R-18 Bridgestone Turanza EL450 all-season run-flat tires. They offer far from optimal grip. Of course you can get an appropriate, multi-width tire solution, as an option.
Reliability and support. Alfa Romeo is new to the United States. Many FCA dealers have names that read like an automotive bazaar. Bob's Chrysler, Dodge, Jeep, Ram and Alfa Romeo. You wonder if the tech wielding a wrench under the hood of a RAM 1500 really knows his way around an inline turbocharged 4 cylinder.
But hey, it's an Italian experience and one that promises an exciting ride and the opportunity to get in touch with your inner Mario Andretti. The 2017 Alfa Romeo Giulia is definitely worth considering if you're in the market for a luxury sport sedan.