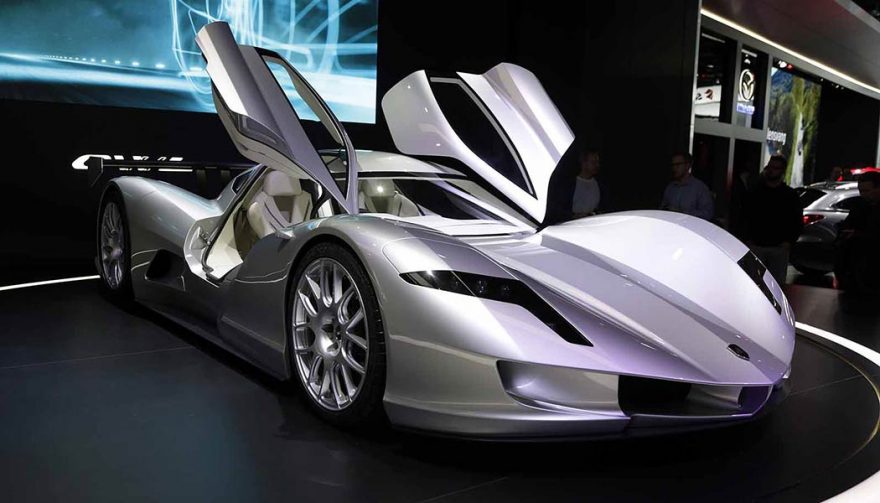 The Aspark Owl is an all-electric hypercar concept
Aspark Owl: Can Japan's Electric Hypercar Really Hit 60 MPH in Under 2 Seconds
You're forgiven if the Aspark Owl doesn't ring a bell. After all, Aspark has come out of pretty much nowhere in the automotive world. But the company is promising big things with the Owl, which we've seen in concept form at this year's Frankfurt Motor Show.
Just know that if Aspark delivers on its promises for this hypercar, it will become the quickest production car in the world. Oh, and it's completely electric.
Aspark
I've been to plenty of car shows, meetups, shows and museums. I read up on vehicles all the time. When I first heard about the Owl, Aspark didn't ring a bell. If you can trust Google Translate (which I've found to be somewhat questionable in Spanish and German), the company is essentially a tech firm in Osaka, Japan.
Aspark's website says about 1,600 people are employed by the company. The average worker is 33 years-old, backing up the information that it's a tech firm.
So, what is a tech firm doing building a hypercar? These are strange times, indeed. Tesla runs more like a Silicon Valley startup than an automaker, completely with not turning a profit and everything. This could become the new normal, where tech firms wake up one day and say, "Hey, let's build a car."
If you're skeptical that the Aspark Owl will even come to market, you're not alone. Aspark is an untested factor, so anyone's guess is good about if the company will deliver.
The Aspark Owl
If we get the Aspark Owl, it should be a blast to drive. The electric motors produce a combined 430 horsepower and 563 lb-ft of torque. Of course, the full torque output is available from a standstill. All-wheel drive helps prevent wheel slip.
The result is a 0-to-60-mph claim of under 2 seconds. Of course, nobody's witnessed the hypercar do that, yet, but it totally will. Really.
Admittedly, Aspark could be holding a game-changing vehicle design. The Aspark Owl boasts a 4.44 final-drive ratio. The rear tires measure 335 mm wide, while the fronts are 275 mm wide, just to handle the blistering torque right off the line.
You May Also Enjoy:
Infiniti Prototype 9 Uses Modern Tech in Retro Car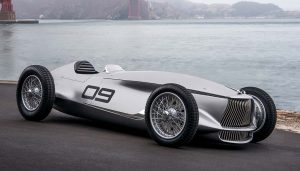 To help scoot the vehicle forward with such neck-snapping velocity, Aspark has used a carbon fiber body. In concept drawings, the material was bare. For the reveal in Frankfurt, the company decided to apply a conservative silver paint job.
The Aspark Owl looks fierce. The wedge-like front end appears it will slice through the air like a razor. Muscular wheel arches, deep air intakes and a wide rear wing emphasize that the car's all about business. What's more, the top of the roof only sits 39 inches off the ground.
Most compelling, that carbon fiber body supposedly only tips the scale at 110 pounds. It rides on magnesium wheels designed to be strong, yet extremely lightweight. The entire car has a curb weight of 1,790 pounds. Not too bad, especially with all that horsepower and torque, which normally wouldn't be considered much. That's what happens when you don't pork up cars with all kinds of things like steel and rear entertainment systems.
Like any good hypercar, the Owl doesn't work for practical driving. Its range is a mere 93 miles.
Ikeya Formula will build the frame, body and other components of the car. The company has a solid reputation for building bespoke race cars. That's a wise move, because constructing vehicle structures is no small undertaking for the inexperienced.
A Long Path
Aspark didn't just suddenly decide to create an all-electric hypercar. The tech firm has been working on developing the Owl for over three years now. So, even though this vehicle seems to be coming out of nowhere, it isn't.
You can see acceleration test videos on YouTube. They were uploaded back in February, and they show the car without body panels ripping from a standstill to an unspecified speed in a hurry.
The development path for the Aspark Owl obviously hasn't drawn to a close. There's no telling just how much longer of a wait we have in store before the production model debut. It could be just a year, or maybe longer.
The fact is, Aspark has plenty of obstacles to overcome before the Owl can be offered to any shoppers. Many other would-be automakers have promised big, then fallen short, so it's not an inconceivable thought.
Japan used to boast quite a few automakers. Toyota and Nissan have been gobbling up some, and others have folded. Aspark could breathe new life into the country's auto industry, like what Tesla has done in America. It would also have a good chunk of naysayers and critics.
If the Owl does make it to market, expect a price well above $3 million. That's a lot of coin to drop on an unknown factor, but Aspark obviously didn't want to enter the marketplace by creating a solid Mazda3 rival.