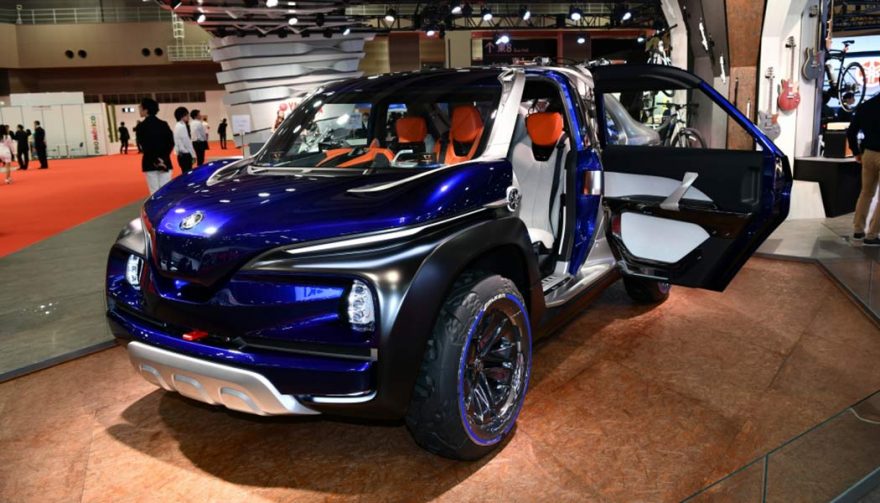 Yamaha unveiled the Cross Hub concept at the Tokyo Motor Show
4 Yamaha Car Concepts We Wish Were a Reality
If you're like most people, when you hear the name Yamaha, you think of ATVs or motorcycles. Maybe pianos. However, there are also some pretty interesting concept Yamaha cars out there.
Above all else, Yamaha cars are unique, putting an original spin on tired designs other automakers have beat to death. For that reason alone, you should revel in the Yamaha creations.
Here's a list of some of our favorite concept Yamaha cars.
Cross Hub
At the Tokyo Motor Show this year, Yamaha revealed this amazing little Cross Hub truck. Sure, it's a concept, but hopefully in the near future it'll be a reality. At least, it would be a reality for consumers in Japan, which is better than nothing.
The truck is about the same size as a Honda CR-V. That means it's not tiny, but it's not large, and it sits in a market segment largely untapped. You get useful space, so the Cross Hub can haul your motorcycle or a fair amount of construction supplies or whatever.
Overall, the design is pretty brash, but in the ways you'd expect from a concept vehicle. There is no angry front fascia giving you the sensation of a snarling face. Instead, you get a funky tailgate and a payload floor made of wood. Everything seems to flow incredibly well, making for a strong presentation.
Perhaps the funkiest thing about the Cross Hub is the interior layout. Somewhat like a McLaren F1, the driver sits in the center, with two passenger seats to the sides and back slightly further. A fourth seat takes up a position directly behind the driver. Does this make for more room? If the configuration is just to be funky, mission accomplished.
MWC-4
Spanning the gap between cars and motorcycles, the Yamaha MWC-4 generated a ton of interest in Tokyo Motor Show this year. The concept features four wheels, even though the rear looks like it only uses one. The primary rider sits in a cockpit that's open on the sides, but has a canopy plus a small footwell. Just like with a motorcycle, the rider grips handlebars and uses hand brakes. A second person can sit behind the primary seat, although that area looks far less comfortable.
You May Also Enjoy:
Amazing Rides Featured at the New York International Auto Show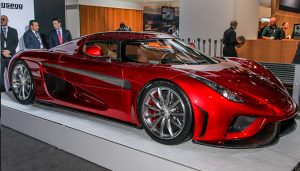 A large gauge sits behind the windshield, displaying speed and what gear the automatic transmission is in. Yes, that's right, an automatic transmission. Riders enjoy the convenience of a push-button ignition. Two electric motors provide propulsion. A gasoline engine acts as a range extender.
The most motorcycle-like detail about the MWC-4 is how it maneuvers. The vehicle leans when going through turns. That's possible through a highly flexible suspension. Since the vehicle is only 2.9 feet wide and 8.7 feet long, it would be the perfect city runabout, if Yamaha decides to make it for the market.
Sports Ride
The Yamaha Sports Ride concept debuted in Tokyo in 2015 and wowed everyone. It looks like a mini McLaren, with a smooth and muscular presentation. Of course, Gordon Murray Design in Surrey, England injected plenty of British panache, which certainly helped.
Unlike the supercars it looks like, the Sports Ride concept has the engine up front. Yamaha won't disclose exactly what engine powers the concept, but it has plenty of good ones to select.
The car features rear-wheel drive, while the chassis is made of carbon fiber. In size, it matches the Mazda Miata quite closely, plus features two seats.
MOTIV.e
Not nearly as attractive as the Sports Ride, and instead borrowing looks from the Smart Fortwo, the Yamaha MOTIV.e concept was supposed to be a solution to urban overcrowding.
It promises a more engaging and entertaining experience than a Fortwo. Considering Yamaha's chops as a motorcycle manufacturer, and how boring any Smart can be, that's probably the case.
To keep the little car lightweight, Yamaha turned to Gordon Murray Design. Both companies leveraged their Formula One experience to use quality materials that shed weight, while still providing safety for the driver and passenger.
That means a steel frame, plus bonded composite monocoque panels. It combines with an electric powertrain for zero emissions, plus plenty of low-end torque, making the MOTIV.e perfect for city runs.