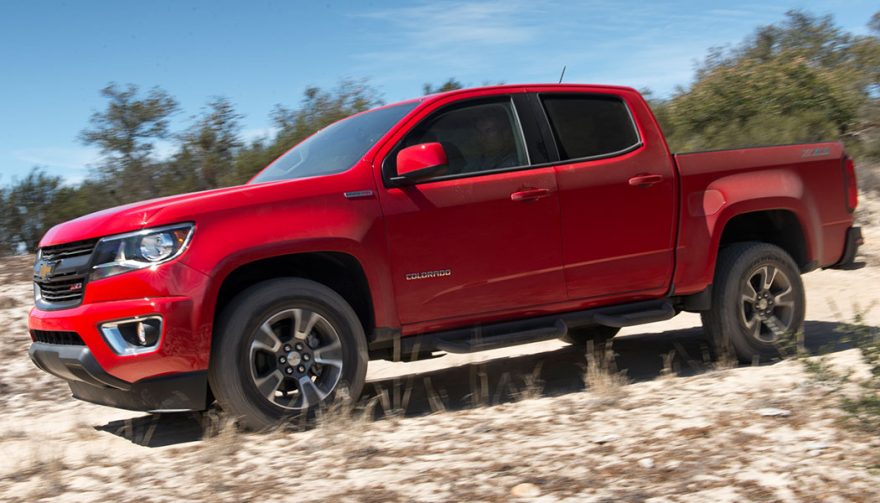 A 200-horsepower, 191 lb-ft 2.5-liter engine isn't powerful enough to keep the Chevy Colorado in the running for best pickup truck.
What's the Best Pickup Truck in America for 2017?
Truck owners are a devoted bunch. Tell somebody that a different truck is better than the one they drive and you're liable to end up in a fist fight. Still, trying to determine the best pickup truck of 2017 is irresistible.
Feel free to argue and make your voice heard for your opinion of the best pickup truck this year, but this is our run down.
13. 2017 Chevrolet Colorado
There's little doubt the bowtie-wearing Colorado is the nerd of the truck world in North America. It's a midsize pickup that could be mistaken for a compact. That is, unless you choose the beefier trim, the 2017 Chevrolet Colorado Z71. Anything less than that will leave you itching for your first opportunity to trade it in for a real truck. And yet, it is always one of the best selling pickup trucks year in and year out.
A 200-horsepower, 191 lb-ft 2.5-liter engine is the base power plant, and it's insufferably soft. The 2.8-liter Duramax turbo-diesel might not sound much better at 181 horsepower, but 369 lb-ft of torque makes up for it. The standard Z71 engine is a 3.6-liter V6 with 308 horsepower and 275 lb-ft of torque, making it the most capable of the bunch.
Inside, the Colorado is blah at best. MyLink with voice recognition and available navigation is great and all, but the comfort is sadly lacking. Compared to a real truck, you fold yourself into the cab, only to question why you didn't just bite the bullet for something more.
12. 2017 Nissan Frontier
The Nissan Frontier was once a great competitor in the field. Its 261-horsepower 4.0-liter V6 was included in most packages save for a few 2WD trims that received a four-cylinder. And the fact that it's a body-on-frame midsize truck gives it true truck-like abilities. Available Bilstein suspension is a good touch, and the PRO-4X package was among the best for value and performance.
But the 2017 Nissan Frontier is a relic – an ancient artifact too dated to be in the running for best pickup truck. It's so overdue for a redesign that new units on the lot look like old trucks. The interior is unforgivable for 2017 with a heavy plastic feel, and totally devoid of driver assist options. Despite all it's good stuff, there's no way the Nissan Frontier can rank any higher than second to last on our quest to the best pickup truck.
View on One Page
You May Also Enjoy:
Truck Throw Down: Colorado vs. Tacoma vs. Frontier