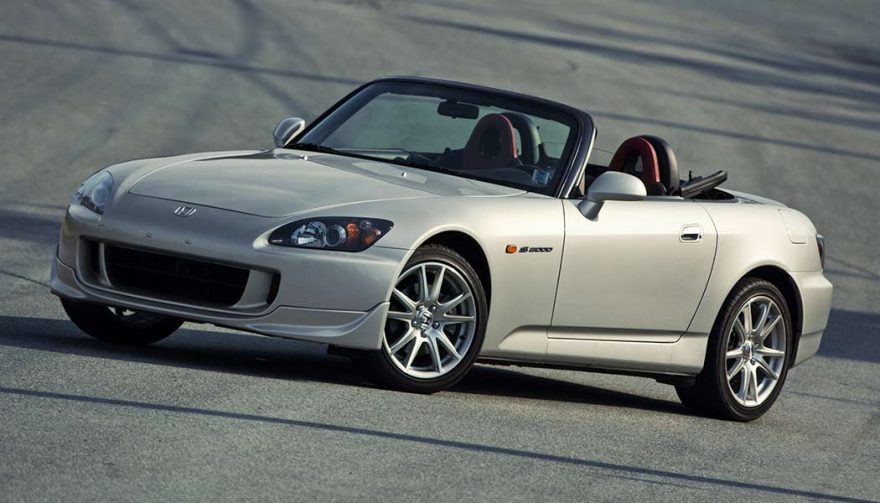 The Honda S2000 was in production from 1999 to 2009.
Best Tuner Cars: 8 Models Ready to Be High Performance Machines
It's all fun and games until someone loses a street race. Trying to put together one of the best tuner cars is perhaps the most enjoyable way to blow all your free time and every last cent you earn. Tuners are ideal for drifting, racing, Sunday night cruising and even commuting.
You'll get domestic guys who think their rides are good for tuner cars. But Chevy Corvettes, Ford Mustangs, Dodge Neons and the like just don't cut it. The best tuner cars are imports – everyone knows that. And to give you a head start, here are the eight best tuner cars out there.
Honda S2000
Honestly, there isn't a better jumping off point for the best tuner cars than the Honda S2000. In production from 1999 to 2009, it is a sexy little two-seater that is lightweight, rigid and low-slung. The rear-wheel-drive Honda S2000 was powered by a 237-hp four-cylinder, originally a 2.0-liter in the first generation. The second-gen S2000 increased displacement slightly.
Both generations are ideal canvases for a tuner build. Whether it's adding a turbocharger or adding a massive wing, the Honda S2000 will be incredibly fun to drive. Builds in excess of 600 hp are possible.
Mazda Miata
The Mazda Miata has been in continuous production for almost 30 years. It's one of the lightest two-seater cars available, not to mention one of the most fun cars to drive. The Miata is available in a ragtop or a removable hardtop, but the open-air experience is what it's about.
Factory equipment is relatively basic until recent years. The first generation used a 1.6-liter four-cylinder, with later models utilizing a 1.8-liter, and eventually a 2.0-liter four-cylinder in 2006. A 155-hp SKYACTIV-G four-cylinder is what's under the hood today.
You can slap in a V6 or a V8 for a vicious rumble. Most people tune the four-cylinder that's already there, installing a turbo, upgrading injectors, and topping up the horsepower piggybank with bolt-ons. Over 300 hp isn't out of reach for this tiny convertible.
Subaru WRX
If you're thinking you want a tuner car that's good for road rallying too, the Subaru WRX is one of the cars for you. Built from 1992 to present, there are five generations of WRX models to choose from. Each is capable of being tuned for power or acceleration, or both. Stock horsepower ranges from 107 hp to a turbocharged 305 hp in today's WRX STi. All-wheel-drive is a staple feature of the WRX, which helps make it so attractive.
The WRX is a unique tuner because it's a four-door sedan. It can be slammed to the ground, have a body kit installed, or have its horsepower jacked up to 500 ponies or more. The sky is the limit.
Mitsubishi Lancer Evolution
The Lancer Evo exited production in the 2016 model year. It's too bad – the 10th generation Lancer Evolution may have been the best yet.
Its 2.0-liter turbocharged four-cylinder was controversially rated under 300 hp (291 to be exact), mainly for rally competition purposes, although it likely makes more than 300 horses. Standard AWD was a fundamental feature, like the Subaru WRX.
There are stories all over the Internet of people who've spiked their Evo's power to ridiculous heights. Tales of 650 hp are believable, while others in excess of 1,000 hp are a little harder to swallow.
Honda Civic
You name it, it's been done to a Honda Civic over the years. The most widely used of these eight best tuner cars has to be the Honda Civic.
Now in its 10th generation, the Civic has been toyed with since its inception in 1972. The fifth and sixth generations are the most popular among tuners, produced from 1992 to 2000. There are cases of V8s jammed under the hood or monster turbos installed to spin Mickey Thompson slicks.
Factory horsepower is typically low 100s. With an insane number of companies building mods for the Civic, it's conceivable for Civic owners to bolt on a couple hundred extra horsepower without major engine work. Or, it's easier (and perhaps less expensive) to just buy the new 2018 Honda Civic Type R with 306 horsepower right out of the gate.
Nissan 300ZX
An oldie but a goodie is the Nissan 300ZX, sold in the US from 1984 to 2002. Its shape, substance and power is ahead of its time, and it quickly became one of the most popular cars to build up as a tuner. The best model is the second-gen 300ZX R32, built with a 3.0-liter turbocharged engine or a high-powered 3.0-liter twin turbo.
Today, there are still mods available for nearly every purpose, although finding the car is getting harder. You can upgrade turbochargers, add a body kit, lower the suspension, or install Recaro racing seats.
Mazda RX-7
The most unique car here has a fierce following. The Mazda RX-7 is one of the best tuner cars because of its engine: a Wankel rotary engine, which is where the name "Rotary Experimental-7" comes from.
The Mazda RX-7 had three distinct generations in its run from 1978 through 2002. Each was powered by either a 12A rotary with 1.1 liters of displacement or a 13B with 1.3 liters of displacement. Horsepower on non-turbo models started at 100 hp and went up to 160 hp, but twin-turbo 1.3-liters made up to 280 hp from the factory.
You can do what you want with a Mazda RX-7. Install a big spool, put in an LS1 V8, or leave it as is. It's a fantastic tuner car that can push over 500 horsepower safely from its two-rotor engine without a problem. And no, they are not as unreliable as everyone thinks.
Toyota Supra
There have been a few awesome Toyota tuners over the years – the AE86 and MR2, for example – but the most popular in America is the Toyota Supra. Paul Walker's character drove one in the original "The Fast and the Furious." The two-door, rear-wheel-drive Supra developed a cult-like following after that flick especially. The 3.0-liter twin-turbo models made 320 hp right off the showroom floor. But that was just a starting point.
Fuel system mods, turbocharger upgrades, lowering kits, stance kits, and much more are available for the Toyota Supra. No matter what your purpose for a tuner car, you can build it with a Supra.
You May Also Enjoy:
Miata RF Launch Edition Is The Show Car