Which Luxury Sedan Performs Best: Cadillac CTS-V vs BMW M5 vs Genesis G80 Sport
Who wins the BMW M5 vs Cadillac CTS-V vs Genesis G80 Sport performance luxury sedan battle? It used to be that a luxury sedan wasn't really a contender unless it had a monster V8 under the hood. After all, that's how you get the most power and torque, right? Not always.
In recent years, manufacturers have been shifting from high-displacement engines toward powerful yet efficient engines that have a couple less cylinders.
If you're a techie, you know that the more air you can force into an engine, the more power you can produce. And these cars push a LOT of air into the combustion chamber. One of these three models, the Genesis G80 Sport, uses the combination of twin snails on a V6 engine. The fifth-gen BMW M5 has a V8 that also has twin turbochargers. But can they compare to the force-fed V8 power in the Cadillac CTS-V?
Let's Have a Look at the Competition
There are three incredible luxury sedans in the starting blocks. And before the performance is compared, let's take a look at the overall vehicle, including initial impressions and creature comforts.
Cadillac CTS-V
At first glance, the Cadillac CTS-V is a good-looking car but still a bit grandpa-ish. The body lines are still straight and the wheels are understated. The grille and front bumper, along with the LED light bars inset, are sharp but not exactly intimidating. It's when you look a little closer that the Caddy makes itself known.
It's the fender vents behind the front wheels, the low stance with tucked wheels, the hood vent louvers, and the trunk lid spoiler that tell you it's a performance sedan. And when you see those, you know it means business.
Inside, you'll be wrapped in quality materials, yes. Cadillac CUE is standard equipment as is Bose Premium Audio and a Performance Data Recorder. It's a luxury sedan, so you expect high-quality sound and interior finishing. What you may not expect are the highly bolstered front seats. Now you know you're in a performance car, and it's a strong start for the Cadillac-branded competitor.
BMW M5
At this level of the game, BMW feels right at home. The BMW M5 has the initial impression you'd expect from a car that is known to perform as well on the street as it does on the track. The front end is softened on the edges, all sweeping back from its trademark kidney-shaped grille. Its stance, as always, is low to the ground and underpinned by gorgeous sporty wheels. And the tail end drops off in a shortened trunk, giving the sedan a forward-leaning appearance. The Bimmer designers know what they're doing.
You May Also Enjoy:
Test Drive: 2020 BMW Z4 M40i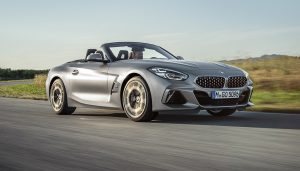 Related Search Topics (Ads)
Between the doors is your expected high-end interior. BMW iDrive, Head Up Display, Navigation and the like are all standard. The 'M' styling cues and accents give it a touch more attitude.
Genesis G80 Sport
It's the dark horse of the competition. How can Genesis, a Hyundai offshoot, compare with the established big dogs? Quite well, actually. From the outside, you'll be shocked at how stunning the car is. A wide and tall grille introduces you to a long, raked back hood. Its cabin is set rearward on the chassis slightly, giving an elegance to the overall design. If there's one qualm, it's that the chrome trim and lighting look a little cheap.
The interior is dressed up quite nicely, and to the layperson, there's little difference in quality compared to the much more expensive BMW and Cadillac. A touch of plastic here and there, sure. But overall, the feel and comfort, and level of amenities – illuminated door sills and all – are plenty for anyone.
Where it Matters Most – Performance
A performance luxury sedan is worthless if it can't satisfy the thrillseeker behind the wheel. So among these three very different competitors, how does the drive stack up?
BMW M5
There's a sixth-genM5 coming down the pipe, we know. But the fifth-gen M5 is no stranger to the performance game at all. It has a twin-turbocharged 4.4-liter V8 under the hood that produces a monstrous 560 horsepower and 502 lb-ft of torque. The Competition Package adds an extra 40 horsepower for a potential of 600 ponies.
As a luxury sedan, that's insane, right? It pushes the BMW M5 from 0 to 60 in just 3.9 seconds. Its top speed is 155 mph, which exceeds the speed limit ingrained in any sane person's brain.
It can go fast, and it handles like a rocket on rails. The BMW M5 has M Dynamic Mode that keeps you from losing control in virtually any circumstance, and carbon ceramic brakes to bring you safely to a stop. The next-gen M5 is reported to have 4WD as well – stay tuned for that.
Cadillac CTS-V
With a massive V8 and a supercharger under the hood, expectations are high for the Cadillac CTS-V. Its 6.2-liter blown V8 makes a ridiculous 640 horsepower and 630 lb-ft of torque. Can you say "whiplash" when you sprint from 0 to 60 in just 3.7 seconds? It's proven to achieve 200 mph on the racetrack also, which is faster than 98 percent of the American population will ever go, outside of air travel.
It's just rear-wheel drive, but you'd never know it. With five different driving modes and Launch Control, you can make the most out of every throttle burp. While Brembo brakes are installed and a fantastic suspension system is used to keep it comfy on your drive, it's just not quite up to the same level as the BMW M-car. But is that really a problem?
Genesis G80 Sport
Can the 3.3-liter twin-turbocharged V6 stack up in performance to these two brutes? With just 365 horsepower and 376 lb-ft of torque (respectable numbers still), that's not likely. Pinning down an exact 0 to 60 time is tough, aside from an indication that it's under 5 seconds, which means that the Genesis G80 Sport simply isn't on the same level as the other two.
But with an AWD option available for relatively little money and the continuously damping suspension, the Genesis G80 Sport is still an animal let loose on the streets. Loud and clear, Genesis has made a statement that their performance luxury sedans are going to be exciting to drive.
So Who Wins?
We have to pick a winner, although all three cars are vastly different. The BMW M5 is outrageous and fun, and incredibly refined. They know what they are doing, but you pay much more for it. The Genesis G80 Sport is impressive but underpowered for this competition. The dark horse is chasing the pack, although still in the same race. It's also about half the price as the other two.
The Cadillac CTS-V comes out on top in this comparison for a few reasons: it has the most horsepower, it has the fastest acceleration time (and top speed), and it's the right combination of affordability, performance and luxury in the segment. But let's see what happens when the sixth-gen M5 comes out…