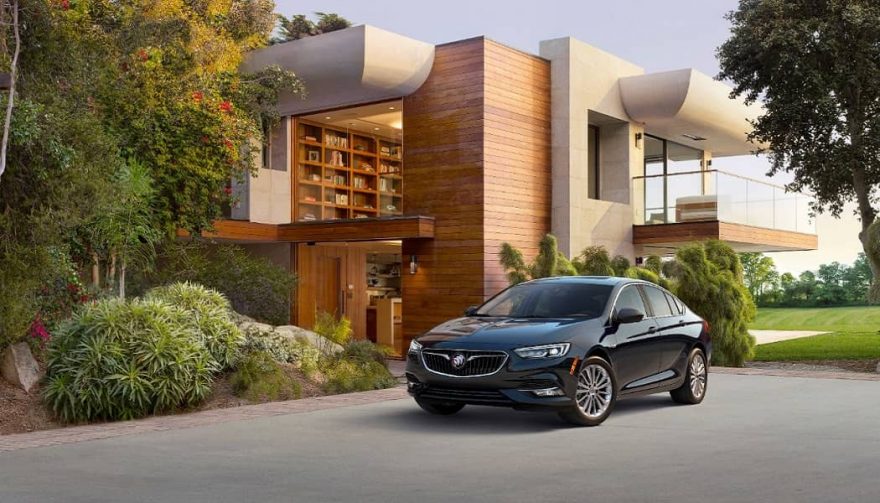 The Buick Regal Sportback, as well as the TourX, are new for 2018
Sayonara Sedan, Say Hello to The Buick Regal Wagon and Hatch
GM is shaking up the Buick Regal in a big way. Replacing the Regal sedan are two new variants: a wagon called the TourX and a hatchback called the Sportback.
If you've been paying attention to automotive sales figures, you know that the midsize sedan is dead. Well, maybe not dead, but it's no longer the market segment that commands the most sales. These days, utility is king.
GM apparently has been paying attention, and so they are shifting gears with the 2018 Buick Regal lineup.
Buick Regal TourX
The Buick Regal TourX is a true-blue wagon that will definitely cost less than an Audi Allroad, yet offer more luxury than a Subaru Outback. We don't have pricing info yet, but don't be surprised if it undercuts the Volvo V60 on price, too.
What's more, you get a maximum 73.5 cubic feet of cargo space. That's more than in the Allroad, Outback, V60 and even the BMW 3 Series Sport Wagon. Upper trims come with a powered tailgate, plus a light to show you where to trigger the sensor.
Compared to the Buick Regal Sportback, the TourX will have a slightly higher ride height. That means you should be able to drive this on fairly snow packed roads and light trails. You also get all-wheel drive with an active twin-clutch design standard. That sounds pretty spectacular.
Under the hood is a turbocharged 2.0-liter four-banger. Before you judge, just know it pumps out 250 horsepower and an impressive 295 lb.-ft. of torque. An eight-speed automatic transmission helps keep the RPMs in an optimal range, so the engine should stay responsive, not feel strained and run efficiently.
You can get plenty of technologies with the Buick Regal TourX, like mobile WiFi, a standard 7-inch infotainment screen with an 8-inch upgrade, a Bose sound system with a subwoofer in the spare tire well, and plenty of driver assistance systems. The Buick Regal TourX will be available in three trims.
Buick Regal Sportback
At first glance, from a three-quarters view, I thought the Buick Regal Sportback was a coupe. That's exactly what Buick's going for, and I dare say it nailed the look. You get the practicality of a five-door car, but a low ride height that lets you hug the road. You might see the Buick Regal Sportback popping up on the list of best hatchbacks in the coming years.
That rear hatch is fairly large, and if you fold down the rear seats, you enjoy 31.5 cubic feet of cargo space. It's over twice what the 2017 Regal contains, which is why the sedan is dead.
That kind of cargo outclasses some midsize crossovers, and is on par with plenty of other crossovers on the market. But you get a better-handling vehicle with the same level of utility. That to me is a win-win.
You can also get intelligent all-wheel drive, which comes with the eight-speed automatic transmission. If you go with front-wheel drive, a nine-speed automatic is standard.
The 2.0-liter turbo four-cylinder engine kicks out 250 horsepower and 260 lb.-ft. of torque for front-wheel-drive models, or 295 lb.-ft. of torque with all-wheel drive.
Most of the same standard and optional features included on the TourX are also being offered for the Sportback. The Buick Regal Sportback comes in four trim levels.
Which to Choose?
We don't have all of the fine specs on the new Buick Regal variants yet. Buick is saying passenger space is better for both models when compared to the 2017 sedan. I hope that means better rear legroom, because that's always a huge plus.
The wheels are also closer to the corners, which should mean improved handling. Expect the TourX and Sportback to have a more European flavor when it comes to road manners, which I consider a good feature. They should feel more engaged and ready for just about anything.
Buick has done a great job of providing shoppers with choices. Instead of just going with a wagon or a hatchback, you get to debate which is ideal for your situation. Really, it comes down to what you need, as well as what you prefer.
The Buick Regal TourX is 3.4 inches longer than the Sportback. If you live where parking is tight, this could be an issue. It also means you get more interior space, or better utility.
If you're looking for utility combined with a sporty persona and looks, the Buick Regal Sportback is the clear choice. It has a coupe-like roofline, yet you can still shove all kinds of stuff in the back. With the TourX, you're getting a more traditional wagon look, albeit a sleek version of it.
Whichever Regal you choose, you're supporting the revitalization of wagons in the United States market. We've had a huge shortage of them. Maybe people are waking up to the advantages of something that has tons of cargo and doesn't handle like garbage. That's something I fully support.
Related Video: