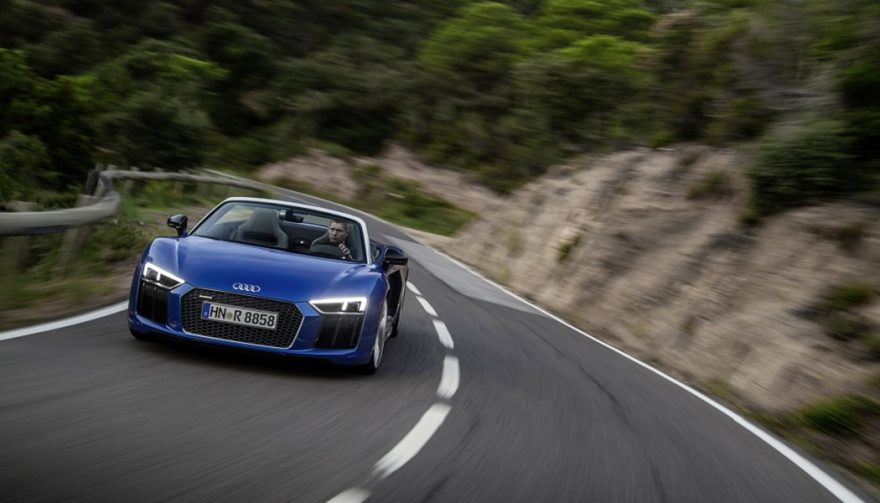 In San Francisco, Audi's car rental services includes the R8 Spyder
Plot Twist: Automakers Are Renting Cars Directly
When you to rent a car, you probably think of traditional car rental services like Avis and Enterprise. Soon enough, that could change as you think of BMW, Audi and Cadillac.
That's right, automakers are moving into the car rental space. The changes that are coming with this shift could affect how you access and use vehicles in the future.
Not Your Parents' Car Rentals
This new wave of car rental services is like nothing you've used before. Forget what you think you know about renting a vehicle. Automakers are leveraging the latest technologies and reworking the process.
Currently, if you want to rent a car, you must go to a nondescript office where nondescript people sit under fluorescent lights and try to give you a nondescript vehicle to drive. They'll also fill you with the fear that if you're in an accident, no matter who's at fault, you'll have to cough up thousands of dollars or more immediately.
You can reserve a car through a smartphone. That's not entirely unheard of, but automakers are using slicker and more user-friendly interfaces than traditional car rental services.
They've learned from ZipCar and Uber that making it easy to reserve a vehicle is key. People hate the runaround. They hate having to go to some plain office to fill out paperwork in triple duplicate and being given the lecture about why they should buy extra insurance.
A Name You Can Trust
One of the big advantages to automakers renting cars directly to consumers is they have something Enterprise and others don't: trust. When you rent a vehicle through a traditional service, you could get almost anything.
In fact, if you don't pay attention, going with a "midsize sedan" means you'll get a compact sedan. That doesn't instill too much trust, and rightfully so.
When you rent a car from Cadillac, you know what you're getting: a Cadillac. You also know the level of service to expect. If you go with a mainstream brand like Chevrolet, it'll be a different experience than choosing BMW.
Current Services
Several automakers have already set up their own car rental services, or partnered with other companies. Here are some of the current offerings.
You May Also Enjoy:
How to Get a Cheap Rental Car, While Making Sure it's a Good One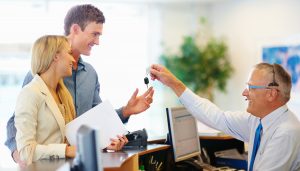 Related Search Topics (Ads)
Daimiler
Probably the oldest player in this space is Daimler with its Car2Go service. If you aren't familiar with the name, Daimler owns Smart, Sprinter and Mercedes-Benz.
It started out in just one city, but has expanded to seven, demonstrating how the other services might evolve over time. At first, Car2Go only worked with Smart Fortwos. Now, you can use Mercedes-Benz CLAs and GLAs, adding variety and style.
You just use an app to find a car nearby, which is in a public parking spot, and reserve it. When you're done, you leave it in a parking spot within a designated geographical area, that's it. Rates are calculated by the minute or day.
BMW
BMW offers its BMW ReachNow service in three areas currently: Brooklyn, Portland and Seattle. The vehicles available to rent are on the smaller scale of the BMW lineup, like the X1 and i3, which makes sense for people in those crowded cities.
Using the app, you can just see if an available vehicle is near where you are. If you decide to reserve a car through the app, you just need to get to wherever it's located and you can get inside. Once done, you leave the vehicle in any city parking spot.
BMW calculates the rate by the minute, and it changes depending on demand. Discounts are offered if you want to reserve a vehicle for multiple days.
GM
GM has teamed up with Maven to give consumers access to vehicles from several of its brands. The service has quickly expanded to seven markets, stretching from one coast to the other.
Expect to see the reach of Maven continue to expand rapidly. With a wide variety of vehicles ranging from the Chevy Bolt to the Cadillac Escalade, this service has a broad appeal. Vehicles must be picked up and returned in designated parking areas.
Audi
Audi has its Audi on Demand car rental service, which currently only operates in San Francisco. While you can't drive any model, a good variety is available through the service. The range includes the ultra luxurious A8, eco-conscious A3 hybrid and R8 supercar.
After you reserve the car, a concierge drives it to wherever you are, so you get the ultimate in convenience.
More to Come
While the list above might not seem like much, there's more to come. Quite a few automakers are readying their own car rental services for different markets in the United States and beyond.
Perhaps the most surprising is that Peugeot is partnering with TravelCar. This would mark the official return of the French automaker to the U.S. market. TravelCar lets people leave their vehicle at an airport, so others can rent it while they're out of town.
So far, Peugeot isn't saying how its own cars will be involved in the service when it launches here. It's been running in Europe since 2012.
The End of Car Ownership?
One of the questions people and even some media outlets are asking is if this development signals the end of personal car ownership? If you're laughing at the notion, you probably don't live in a crowded urban center. The concept is very popular in San Francisco.
With more and more people moving to big cities, and many large media outlets being based there, this narrative will probably only grow in strength.
Individual car ownership will never go away. Sure, more people will ditch their car and choose to rent one as they need it. But if you live where public transit is slow and things are spread out, renting instead of owning likely is impractical.
Ultimately, the fact automakers are offering rental services and other alternatives to owning cars shows they're finally willing to adapt. If this means BMW can keep making M2s for those of us who like cars and driving, I'm all for it.