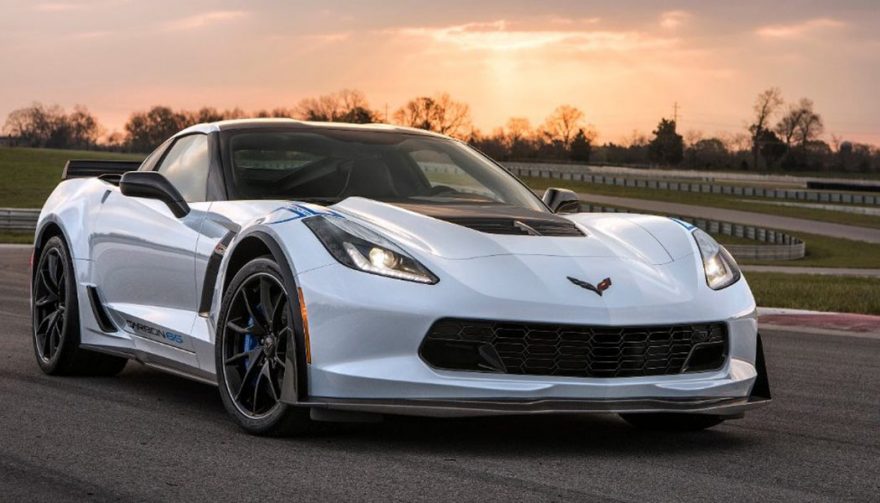 The Corvette Z06 has a 6.2-liter V8 capable of 605 horsepower
Top 10 Fastest Cars Under $100K for 2018
Sure, there are a handful of cars faster than these, but they are mostly vehicles we will never get the opportunity to drive. That doesn't mean scorching speed is out of our hands, as this list of the fastest cars under 100K proves.
Our list also includes cars that are available in the American market, because 'Merica. And last but not least, we're talking about the fastest cars under 100K, not the quickest. That means it's not acceleration that matters but top speed.
So now that we've got all that out of the way, here are the fastest cars under 100K for the 2018 model year.
2018 Chevrolet Corvette Z06
Long revered as one of the top performance cars for the price, the Corvette continues to assert dominance in 2018. The Corvette Z06 package is a 650-horsepower behemoth thanks to its supercharged 6.2-liter V8 that delivers a 0-to-60 in under 3 seconds.
But since we're talking fast and not quick, acceleration doesn't matter. The 2018 Chevrolet Corvette Z06 qualifies with a top speed of…well, we're not sure. All they're telling us is "in excess of 200mph." So we do know it's one of the fastest cars under 100K. You can get it with a starting price of under $80,000.
2018 Alfa Romeo Giulia Quadrifoglio
You've heard a lot in 2017 about Alfa Romeo, and that's because they've made themselves interesting. The 2018 Alfa Romeo Giulia Quadrifoglio (or QF) is a balls-out, hard-running luxury sports sedan from the Italian side of FCA. It's got all the goodies inside for a comfy ride, but it's what's under the hood that matters most.
A twin-turbocharged 2.9-liter V6 pushes 505 horsepower and 441 lb-ft of torque. Sounding like a cross between a tuner and a supercar, the Giulia QF unwinds quickly and tops out at 191 miles per hour. It starts at just $72,000.
2018 Dodge Challenger SRT Hellcat
It's true, the Hellcat is faster than the Dodge Demon for top speed. Dodge claims the fastest production car is the Demon, but that's actually the quickest. Quick refers to acceleration, not top speed.
Built with the sole intention to go fast, the Challenger SRT Hellcat can achieve 199 miles per hour, and it costs somewhere around the $65,000 mark. The Demon likely tops out at 190 mph. And besides, they are only making somewhere around 3,000 Demon units.
2018 Porsche 911 Carrera
You can't have a list of the fastest cars under 100K without a Porsche. Unfortunately, the Carrera S doesn't meet the $100k mark anymore, but the regular Carrera does. It's more about the experience that goes with German engineering when it comes to Porsche because many of the other models are still faster.
With the 2018 Porsche 911 Carrera, acceleration from 0 to 60 miles per hour comes in at 4 seconds flat. Its top speed is 183 miles per hour, which is still extremely fast. The 911 Carrera's starting price is up there, at $91,000.
2018 Tesla Model S 100D
Let's get a little crazy with an electric car on the list. After all, it won't be long until electric cars dominate the fastest models. The 2018 Tesla Model S is indescribably fast, especially since you don't hear anything more than a slight electric motor noise, not a V8 or supercharger whining. Plus, it's a luxury model that demolishes what you thought an electric car was about.
The Tesla Model S 100D can accelerate from 0 to 60 mph in just 4.2 seconds. Its top speed is governed to top out at 155mph, but in theory it could reach the 200mph mark with ease. What's most attractive is the price – $94,000 after EV incentives, and the prospect of never buying gasoline again.
2018 Mercedes-Benz C63S AMG
Perhaps you prefer a more refined approach to your speed demon. Three little letters are all it takes: AMG. The 2018 Mercedes-Benz C63S AMG puts more power at your beck and call than should be legal. Its bi-turbo AMG 4.0-liter V8 spits out 503 horsepower with the most pleasing sound you can imagine.
The 2018 C63S AMG goes faster than you'd probably ever want if you owned a Mercedes. Its top speed is recorded at 180 miles per hour, and its 0 to 60 time is 3.9 seconds. Surprisingly, it rings up on the cash register lower than most of the other models on the list. Starting price is just $74,695.
2018 Jaguar F-Type R Coupe
The Brits have some idea of how to go fast. They prove it with James Bond and Aston Martin, but also with the Jaguar brand. The 2018 Jaguar F-Type R Coupe is as close as you can get to the price limit without going over, $99,000, although dealer fees will almost definitely tip the scale.
A supercharged 5.0-liter V8 makes 550 horsepower, and that makes us happy. You can expect a 3.9-second time when accelerating from 0 to 60mph. And when your foot gets a little too heavy, rest it on the accelerator to find the F-Type's top speed of 186mph.
2018 Cadillac CTS-V
Yes, a luxury sports sedan is really this fast. The 2018 Cadillac CTS-V is all prim and proper on the inside but it's a true beast where it counts. The CTS-V has a massive supercharged 6.2-liter V8 under the hood with 640 horsepower.
The Cadillac CTS-V boasts an acceleration from 0 to 60mph in 3.6 seconds. What's more, it screams to a top speed of 200 miles per hour, but Caddy says that's reserved for the track. You can buy one for around $88,000.
2018 Ford Mustang Shelby GT500
Ford just let it slip that not only is the Mustang Shelby GT500 coming in 2018, but it's an absolute monster. From technical information posted in service portal data, the 2018 Ford Mustang Shelby GT500 will be powered by a supercharged 5.2-liter V8. Speculations have pegged its horsepower at around 750, but that's not official yet.
It also looks like the Shelby GT500's top speed will be over 200mph, according to speedometer verification information in the data. Plus, as a bonus, 0-60 acceleration will be in the mid 2-second range. The cherry on top is a price tag somewhere around $85,000 too.
2018 Chevrolet Camaro ZL1
As if the Chevrolet Camaro ZL1 wasn't already a track monster, the 1LE package gives this beast scary sharp teeth. The LT4 supercharged 6.2-liter V8 powers the ZL1, with an intimidating 650 horsepower. It can rocket to 60 mph in 3.5 seconds and hits the quarter mile in 11.4 seconds at 127 mph.
However, like its cohort the Corvette Z06, top speed is "over 200 mph." It's an estimate, but it's easily one of the fastest cars under 100K. Still, it begs the question, is nobody at Chevy brave enough to see how fast their cars can really go?
You May Also Enjoy:
The Best Sports Cars Under $100K