Compact Car Comparison: Honda Civic vs Toyota Corolla vs Ford Focus
When it comes to compact sedans, you have plenty of choices. With such a flooded market, you might expect the top choices are excellent, and they are. That makes the Honda Civic vs Toyota Corolla vs Ford Focus comparison more challenging.
Ultimately, only one of these cars can drive off into the sunset victorious. The question is which one has the full package deal to put it over the top?
Honda Civic: New Wild Child
Whether you love or hate the redesign, the Honda Civic has a flair and swagger that was missing for years. It's come just in time, when competitors have upped their game and consumers have turned more toward SUVs.
Choices, Choices
You get plenty of options with the Civic lineup. The car comes as a sedan, coupe or hatchback. From there, you can select several different trims, plus either a naturally aspirated 2.5-liter four-cylinder engine, or a turbocharged 1.6-liter engine.
Honda even lets you choose either a CVT or a six-speed manual transmission, although the latter is only available on certain trims. Still, it's a nice gesture to people who like to throw the gears.
Racer Boy Performance
You can't deny that the styling of the Civic is decidedly racer boy-like. Not everyone will like the bold flourishes. It's a distinct departure from the tired, boring design of the previous generation.
Even more important is how the Civic backs up those looks. You get surprisingly tight handling. The 2.4-liter engine is a bit anemic, but the turbocharged option feels more potent. Sure, it's not a monster, but it's fun to push hard. Combined with the manual transmission makes for a pretty entertaining time behind the wheel.
Of course, you can opt for the Si, but it's not exactly hair-raising when it comes to power or acceleration. The Type R is, but finding one that's not seriously overpriced is a hat trick.
Comforts
Not only does the Civic deliver more performance, it comes with greater overall comfort. Up to four people can enjoy plenty of space, but you can squeeze in a fifth. With 112.9 cubic feet of space, this car edges out the Corolla and Focus when it comes to spaciousness.
The interior layout is overall intuitive, and you get lots of useful storage compartments. Not all the controls are easy to use. For example, you can't do anything on the touchscreen while sitting with the blinker active, if the car has Honda LaneWatch.
Conclusion
If the looks don't revolt you, the Civic offers up plenty of entertainment. Some small details about the interior could annoy you, so beware.
Toyota Corolla: Oldie but Goodie
When Toyota refreshed the Corolla, some people were shocked it didn't seriously alter the chassis or drivetrain. It seems that Toyota's satisfied with this compact sedan, choosing to not mess with "perfection." But is it really something that didn't need improving?
Too Safe?
Toyota definitely played it safe with the Corolla. But does it embody everything wrong with the brand?
The Toyota Corolla is a solid low maintenance car, and the standard 1.8-liter engine will no doubt run forever. But it also only produces 132 horsepower and 128 lb-ft of torque. Combined with either the six-speed manual or CVT, the car accelerates at a tepid pace.
You May Also Enjoy:
2017 Honda Civic Review: Solid, and the Hatch Is Back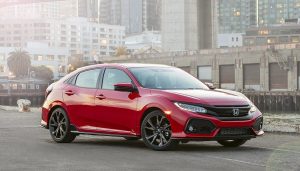 If Toyota were to offer a performance version of the Corolla, those kind of numbers wouldn't be such a big deal. But it doesn't.
What you do get with the Corolla is an impressive array of safety features. All models come with the Toyota Safety Sense suite. It bundles together systems like adaptive cruise control, pre-collision with pedestrian detection, and lane departure alert with steering assist. LED headlights also come standard. That's just the tip of the iceberg.
Sacrifices
To enjoy all those cutting-edge technologies, including the smooth Entune infotainment system, you must make some sacrifices. One of those isn't rear legroom – that's in ample supply. Instead, rear headroom is surprisingly tight, which is ironic.
If the lack of performance isn't enough to put you to sleep, the styling is. Toyota seems to have put its best designers on other projects, because the Corolla looks like patchwork. The Corolla has never sported an inspiring look outside or in. A more aggressive front fascia appears somewhat ridiculous, especially if you get the XSE or 50th Anniversary version of the car. It's probably the exact opposite effect Toyota was gunning for.
Conclusion
Get the Corolla if you like to get up at 6 every morning and eat plain oatmeal for your health. If you enjoy more spice, this option will bore you to death, even if you save money on maintenance and repairs.
Ford Focus: Pocket Rocket
Nothing about the look of the Ford Focus should offend you. It's a crowd-pleaser when it comes to design. That's true if you get the sedan or hatchback version of the car. It has other great attributes, which have made it a favorite of regular folk and enthusiasts.
Mind-Melting Performance
If you're a lover of performance, the Ford Focus might be the best option in this segment. The Focus RS is nothing short of amazing, but getting your hands on it isn't easy, just like the Civic Type R. More accessible, the Ford Focus ST hands-down beats the Civic Si in acceleration, handling and braking.
Other versions of the Focus aren't boring to drive, but they're geared more to people who just want a regular car. Of course, if you really want to save on fuel, the 1.0-liter EcoBoost delivers. Handling is sufficient, so your average commuter will be happy with the results.
Interior Issues
As a daily driver, you might notice some problems with the Focus interior. For one, road noise comes in loud and clear. Sure, you can jack up the sound system volume, but what if you want to talk to someone in the car or on the phone?
Some of the physical controls have a messy, cluttered layout. This is especially true on the lower trims. Overall, the interior isn't super spacious, and that's partly because the dashboard comes out too far. Where you really feel the pinch is the backseat. On top of that, some of the interior finishes feel cheap.
Conclusion
Ford tries to make the Focus a jack of all trades, but the result of those efforts is a mix. You must be okay with the many shortcomings of the Focus or this car will drive you insane over time.
The Verdict
Someone will always have hurt feelings when choosing among three car options. While you can't really go wrong with any of these vehicles, the overall best option is the Honda Civic.
It has great interior space, a fun road dynamic, and many of the modern features people want. Just hopefully the exterior doesn't make you nauseous.