Hummer EV coming With 1000 Horses. Tesla Model Y Arriving Early
In a much-hyped ad during the Super Bowl earlier this week, General Motors announced that the Hummer name was back. But this time, it would be a GMC. And the Hummer would be the Hummer EV. With massive horsepower claims, even bigger torque, and a long time to wait to see the real thing. Meanwhile, EV leader Tesla announced that the Model Y crossover was starting production early and would get more range.
One thousand horsepower. That's what GMC says the Hummer EV will put to the ground when it hits the road in late 2021. It's a massive power figure, one that would eclipse any mass-produced vehicle, electric or otherwise, that is currently on the market. Only limited-run hypercar makers like Bugatti and Koenigsegg would be able to beat it. On top of all that power, the Hummer EV is set to make 11,500 lb-ft of torque, GMC says. Though we should point out that the figure is measured at the wheels, not at the engine like most torque numbers you see. So it's not quite as impressive as the figure sounds.
You May Also Enjoy:
Highly Anticipated Tesla Model 3 Ready This Friday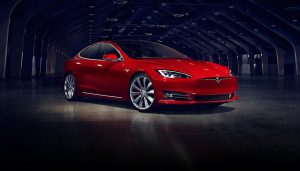 Related Search Topics (Ads)
Still, GMC says that the new Hummer EV should be capable of going from 0-60 mph in just three seconds. No range estimate was given.
GMC showed just the grille of the Hummer EV, which shows the familiar nose of the brand's boxy vehicles, but with a much more modernized look. LED headlights, and what looks like an LED-backlit grille showcasing the seven-bar visage the vehicle shares with Jeep.
The Hummer EV is set to be revealed in May, it will be built at GM's Detroit-Hamtramck plant, which is set to be converted to GM's first electric vehicle only facility. The plant will also build other electric trucks for General Motors.
Meanwhile, Tesla announced that the Model Y, the automaker's first compact crossover, has hit production ahead of schedule. That means that instead of deliveries starting the end of this year, they're now set to start at the end of this quarter.
The Model Y will arrive first with the Long Range versions, but that long range is getting a little longer than originally forecast. Tesla says that improved efficiencies in the all-wheel drive model have increased the range estimate significantly. From 280 miles previously to 315. That's enough for an extra day of commuting before a plug-in for most drivers. Or the equivalent of improving MPG by more than 10 percent.
As production of the compact crossover ramps up, Tesla expects to be able to build a combined 400,000 units of the Model 3 and Model Y per year. With expansions set to be completed this year that would boost capacity to 500,000 units per year next year. Production of standard range and RWD models is still expected to begin in 2021.