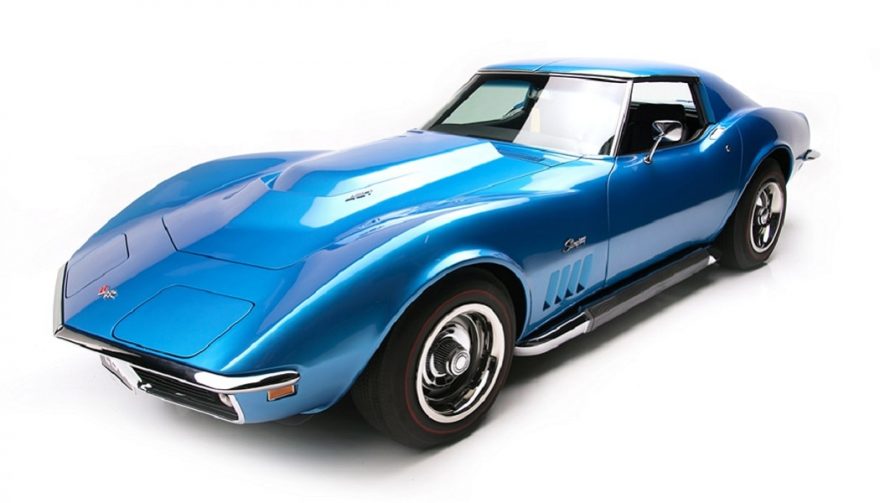 A 1969 L88 Corvette, one of 216 total L88s ever built, will be featured at the upcoming Barrett-Jackson auction.
Impressive Mix at Barrett-Jackson 2017
The Barrett-Jackson annual Scottsdale event is billed as one of the world's largest collector car auctions. They aren't kidding. Thousands of vehicles of all shapes and sizes make their way across the stage, all destined for new owners at the drop of the hammer.
Some Real Gems at This Year's Barret-Jackson Auction
Among the throng of your standard classic muscle cars, Chevy C-10s and late-model Mercedes, there's plenty of interesting and impressive vehicles up for sale at this years' auction.
The Barrett-Jackson Scottsdale auction runs from Jan. 14 – 22, 2017.
1964 Bill Thomas Cheetah
GM's answer to Ford's Shelby Cobra was the Cheetah, and boy did it pack a punch. This model is one of only 15 known survivors and the only one built with the Corvette L88 race engine, putting it to good use in five years of SCCA/FIA racing. If this one looks familiar, you might have seen it at last year's Goodwood Festival of Speed.
1991 Lancia Thema
An odd addition to this list, especially because it isn't one of Lancia's triumvirate of legends (the Stratos, 037 and Delta Integrale). The Thema was never sold in America, making this car extremely rare in the States.
With a Ferrari V8 up front and a retractable rear wing in the back (the first production vehicle with that feature), it will be interesting to see how this European super sedan stacks up at this typically American-heavy auction.
1987 Buick GNX
Also known as "Darth Vader's Car," the '87 GNX was built to be the ultimate Buick Grand National. After development by Buick and some fiddling from McLaren, the GNX was quicker than a Ferrari F40 from light to light.
Only 1,500 miles have been racked up in this specimen, which also comes with a full complement of paperwork and even the collectable owner's jacket.
1933 Auburn 12 161A Salon Phaeton Convertible
Though Barrett-Jackson is filled with muscle cars, this year features a nice grouping of pre-war machines up for auction, and this Auburn is one of the highlights. Auburns were synonymous with speed in their time, with the Lycoming V12 providing plenty of oomph.
This particular model is certified by the Auburn Cord Duesenberg Club as a premier restoration – very rare – and is being sold with no reserve. If you're looking for a starting point towards concours glory, this might be the place to begin.
1969 Corvette L88
Only 116 of these special editions were built in '69, with GM's 427 stuffed under the hood and sidepipe exhausts, because that's how you built a car back in the day.
This particular one is in LeMans Blue, has a little over 16,000 miles on the odometer, and even comes with the original red line tires. The meticulous restoration brought this Space Age car back to its former self and is one of the finest examples of the late '60s Vettes around.
Charity Cars
One of the best parts of Barrett-Jackson are the vehicles on the block for charity's sake. Every dollar of these cars hammer price are donated to foundations, which this year includes children's and military assistance organizations.
An eclectic assortment of vehicles are found in this category, from a 2016 GMC Sierra and 2017 Ford Raptor to a 1930 Cord L29 4-Door Brougham. Steven Tyler, of Aerosmith fame, is putting his Hennessey Venom GT up, as is Dale Earnhardt Jr., with a 1970 Chevelle and one of his 2014 NASCAR Sprint Cup race cars.
Race Cars
Race cars are always fun to watch at auction, because A) they're cool and B) they have a sort of "art quality" to them. You can't exactly take the 1985 March-Buick down to the local weekend car meet the same way you can a Camaro Z/28. Most of these cars will end up only as piece of a larger collection, maybe even a part of a museum.
This year's Scottsdale race car offerings include the aforementioned Dale Jr. Cup car and March-Buick, but also feature a handful of funny cars and dragsters, including Snake II, along with a few Corvettes, a Mazda Miata, a Winston Cup Thunderbird, and a Camaro GTS-1.
Honorable Mentions
We could spend all day going over all of the cool cars, trucks and other interesting things at Barrett-Jackson. And honestly, we'd probably end up talking about most of the docket. So, for the sake of brevity, here's a short list of some others to watch out for.
1984 Studebaker Avanti
Yes, you read that correctly. Who knew you could still buy a new Studebaker in the '80s? The three of you who raised their hands can put them down now.
1966 AMC Ambassador 900 Station Wagon
I love when non-obvious cars are given the same restoration attention as the usual suspects. This is a numbers-matching swagger wagon. The ride has received some really high honors, from Best in Show awards to a feature in Hemmings.
1989 Nissan Skyline GT-R
Interesting because you can import one today for roughly $25,000 straight from Japan. Though, it'll cost you more to overnight it.
1955 Messerschmitt KR-200 Convertible
From the company that built Nazi Germany, the fearsome Bf-109 and Me-262 fighters comes this quirky car. There's also a handful of BMW Isetta's and two Goggomobil's on the block as well.
1969 Mercury Cougar XR-7
This is an R-Code Cougar, which came with the 427 Cobra Jet. Only 504 were built this year. Meow.
1940 Boyd Coddington Ford
One of the legendary hot rodder's last creations. His family finished it after he passed away partway through the build.
1963 Pontiac Bonneville Ambulance
Supposedly, though it's debatable, this is the ambulance that transported JFK's body in Washington after his assassination. Kind of morbid, yet kind of interesting.
2005 Ford GT
Two '05 GTs on the block, one with less than 300 miles and in the rare Quicksilver Metallic coloring and the other was a production mule with over 42,000 miles. Each will likely hammer around $400k to $500k-ish.
1956 Austin Princess
This was John Lennon's own. It's also a little more tasteful than his garish Rolls-Royce.
On a similar note, a host of other celebrity-owned carsare available, including Kurt Russel's '86 Silverado 3500 and Kevin Durant's Maybach 57. You can even bid on Justin Bieber's West Coast Customs-modified 458 Italia.