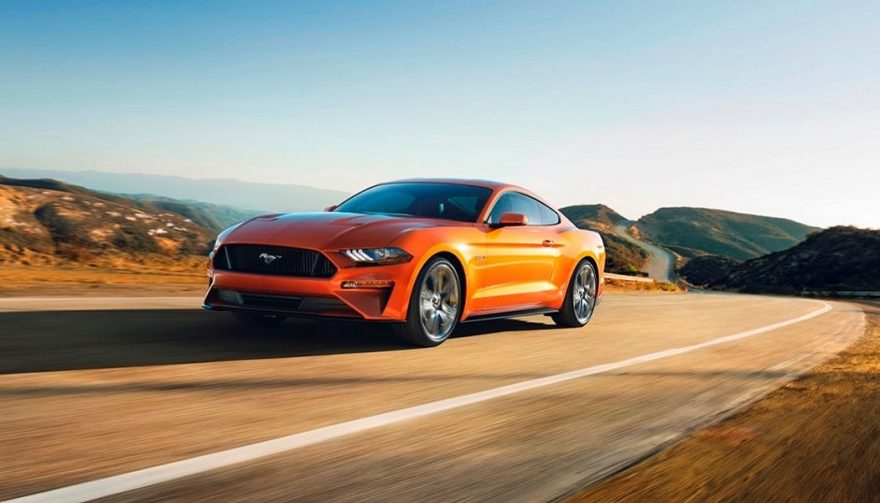 The new Ford Mustang GT can scoot to 60 in under four seconds
New Ford Mustang GT Gets Drag Strip Mode, 460HP
Dearborn, Mich. – The new Ford Mustang GT is the fastest and most powerful to date.
And thanks to an available Drag Strip mode, the 2018 Ford Mustang GT has a 0-to-60 mph time that's less than four seconds.
In a release, Ford points out that this sprint to 60 mph is quicker than the PDK-equipped Porsche 911 Carrera. And that car starts in the mid-$90s.
Ford will announce the pricing on the 2018 Mustang at a later time. But for reference, the 2017 GT starts around $33,000.
However, drivers looking for this sort of acceleration will need to get the new Ford Mustang GT with the Performance Package, the available 10-speed automatic transmission and utilize Drag Strip mode.
Drag Strip mode optimizes torque, transmission and custom Michelin Pilot Sport 4 S tires for maximum straight-line driving and performance.
"Typically, when you shift gears, you give up time," said Mustang chief engineer Carl Widmann. "In Drag Strip mode, the engine torque doesn't drop when you're shifting. You get peak engine torque and horsepower straight through thanks to our new Ford-built 10-speed transmission."
Drag Strip mode is one of five modes available that drivers can select. There's also normal, sport, track and snow/wet.
The new Mustang GT gets a 5.0-liter V8, which features dual-fuel, high-pressure direct injection and low-pressure port fuel injection technology. The engine can crank out 460 horsepower and 420 lb-ft of torque. That's an improvement over the current model's 435 horsepower and 400 lb-ft of torque.
The new 10-speed transmission helps improve responsiveness and performance. It features Ford-patented power-flow and Ford-patented direct-acting hydraulic control. Engineers designed it for optimum progression and efficiency, and it provides more accurate, quicker upshift and downshift capabilities. The 10-speed transmission is the same one Ford uses in the F-150 Raptor.
Compared to the outgoing six-speed transmission, the new 10-speed automatic has quicker shift times and better low-speed tip-in response.
"Gearing matters, and in Drag Strip mode, this car launches better than ever off the line," Widmann said.
And EcoBoost
The EcoBoost-equipped Mustang also gets a power boost. The returning EcoBoost four-cylinder generates 310 horsepower and 350 lb-ft of torque. That's a 30 lb-ft gain over the current model.
EcoBoost drivers with Drag Strip mode, Performance Package and 10-speed automatic can see their 2018 Mustang GT post a 0-to-60 mph time in under five seconds.
Ford says the new Mustang GT will be available later this fall.