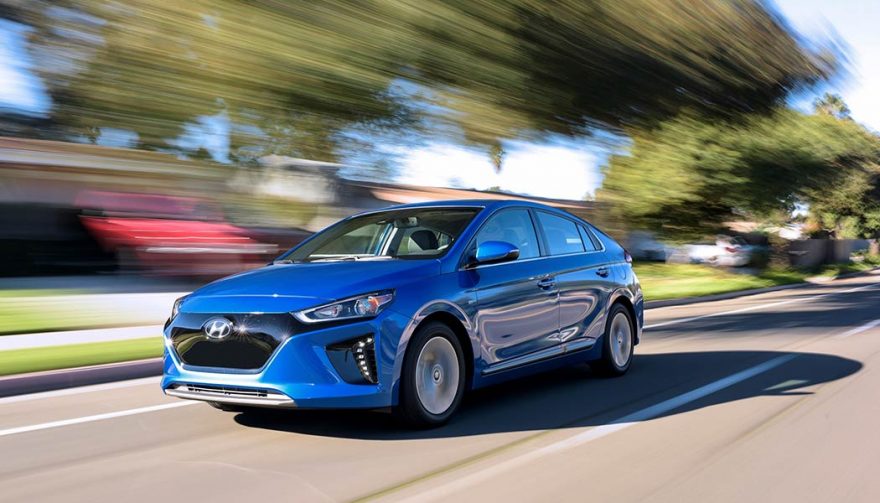 The Hyundai Ioniq is one of the cheapest EVs with a respectable range
Range Anxiety: Which 2018 EVs Can Go the Farthest
Range anxiety is one of the two major roadblocks preventing electric cars from taking over the automotive market. The other of course is the amount of time it takes to "refuel." Finding the longest range electric car would alleviate some of that apprehension. Electric cars with a 200 mile range tend to be the average these days, here we have an electric car range comparison.
The industry is responding to range anxiety with promises of more efficient batteries and other technological advances that will make EV range equivalent to gas engine vehicles. Everybody has promises of great things to come. So many promises that it almost sounds like they are making excuses for the EVs they make today.
For those buyers that are interested in buying in the here and now, here are the longest range electric car models for 2017 and 2018. So, what is the longest distance an electric car can go?
2017 Hyundai Ioniq Electric: 124 miles
We are including this 2017 model only because Hyundai promises that the 2018 version will have a range of 200 miles and be available nationwide. However, currently this EV is only sold in California. Also, there is no firm launch date for the long-range Ioniq model.
Never the less, as a 2017 model, 124 miles was a pretty good range. Given the number of competitors that are shooting at 200, that 2017 number is becoming a drawback rather than a benefit. Hyundai does have pricing going for it though with one of the lowest cost base units at $29,600.
2018 Volkswagen e-Golf: 125 miles
Volkswagen upgraded the 2017 model year e-Golf. The nondescript hatchback now offers up a 125-mile range on a single charge. That's up from 84 miles, and it is a considerable improvement.
With a 240-volt charging station, drivers can charge the e-Golf in less than six hours. According to VW, when equipped with DC Fast Charging, which is optional on the base but standard on premium trims, the battery can be charged to 80 percent within an hour at a DC Fast Charging Station.
2018 Nissan Leaf: 150 miles
For six years the Nissan Leaf has led the EV sales race. Today the competition is heating up and the second generation Leaf has arrived just in the nick of time. The 2018 Nissan leaf has buffed up its motor to 147 horsepower and 236 lb-ft of torque. That's 40 more horses than the 2017 model, and more horsepower than the 2018 versions of Volkswagen e-Golf and Hyundai Ioniq Electric.
New for 2018 is Nissan's e-Pedal technology that combines regenerative braking and the conventional friction brakes. Most EVs are equipped with regenerative brakes. This arrangement slows the vehicle when you ease up on the "gas" pedal. With the addition of friction brakes, the Leaf will come to a complete stop. It will also hold the car on a 30 degree slope without touching the brake. It's a bit tricky to get used to but most new drivers stop well short of their intended target rather than long.
The Leaf's range has been improved to 150 miles. Recharging continues to be a concern (as it is for all EVs). An exhausted battery takes a day and a half with a 110 volt Level 1 source, or 7.5 hours with a 220-volt Level 2 source. The charging cable that comes with the car accommodates both voltages.
2018 BMW i3: 205 miles (with gas range extender)
Weight obviously has a big impact on the range of an electric vehicle. To lighten the load on the BMW i3, the vehicle's body comes composed in plastic. Not just any plastic, carbon fiber reinforced plastic (CFRP). BMW claims it is as strong as steel and half the weight. Even so, it's kind of disturbing to learn that your new $44,450 BMW is made of plastic.
It is a peppy EV with 0-to-60 time of 6.7 seconds, but the company's big pitch is twofold. Sustainability of materials used and the availability of a network of 41,000 charging stations. Eighty percent of the materials in the cabin are made from "sustainable materials like eucalyptus wood and leather tanned in olive oil." It sounds like BMW is hawking Birkenstocks instead of performance automobiles.
A quick note, 205 miles can only be achieved with the optional two-cylinder engine. The i3 can only get 114 miles on the battery alone. But since the small gasoline tank is slightly more than just two gallons, we felt we could include it here on our list of longest range electric car models.
2019 Jaguar I-Pace: Range 220 miles
Arriving mid-2018 the Jaguar I-Pace will be a serious contender to Tesla if they can keep their price in line. This Jaguar features two electric motors generating 400 horsepower that promises a zero-to-60 speed of 4.0 seconds flat. With a torque rating of 516 lb-ft that seems like an achievable feat. This Jag, like all Jags, will be heavy on sleek design, technology and luxury.
The big draw here is a range that promises 220 miles on a single charge. That's still well short of Tesla's reach, but the figure makes for a very respectable longest range electric car competitor. If they can price it around $45,000 they could have a contender.
2018 Tesla Model 3: 220 – 310 miles
We're in Tesla territory now. (Well, sort of, the remarkable Chevrolet Bolt is still to come.) Each Tesla on our list is in the running for longest range electric car.
With over 400,000 backorders, the Tesla Model 3 is perhaps the most anticipated vehicle launch ever. The Model 3 is designed to go after Audi (all of them), BMW (all of the "i" series), Acura ILX and TLX, Lexus IS, Mercedes-Benz C350e, and Toyota Camry XLE. The Tesla creams the other brands in 0-to-60 specs, equivalent mpg, range and even price. The Model S is going to be a big market maker in the $35,000 to $45,000 class.
Model 3 comes in two trims. The standard model has a range of 220 miles while the more expensive long-range trim gets an EPA-certified 310 miles. The Model 3 is not as luxurious as the Model S but it is plenty plush for the price point.
There is just one tiny issue though. In the fourth quarter of 2017 Tesla is only turning out an average of three cars per day due to production problems. By comparison, the 238-mile-range Chevy Bolt produced 2,632 units in a month.
2018 Chevrolet Bolt: 238 miles
The 2017 Chevrolet Bolt was named Motor Trend's Car of the Year and it is unlikely that much of anything (except new exterior colors) will be changed on the 2018 model. It's obvious that Chevy understood just how big an issue range anxiety is and didn't roll out their EV until it could do 200-plus miles on a single charge.
Speaking of charges, the Bolt can get to a 90 percent full charge in 30 minutes when using a Level 3 charging source. It takes nine hours for a full charge using the more common Level 2 device. This charging station is what most EV owners purchase for refueling at home.
The Bolt is not a high-performance car, taking a full 7 seconds to get to 60 mph. It's a commuter and has adequate get up and go for merging onto freeways. It's priced at a little over $36,000 but with a MPGe of 128 city and 110 highway, owners will see significant savings on fuel costs.
2018 Tesla Model X: 238 – 295 miles
The Tesla Model X comes in three all-wheel-drive variants. Each one boasts its own impressive electric mile range. The "base," the Model X 75D has a 238-mile range, while the mid-level 100D has a 295-mile range. There's also a high-performance P100D, but that range comes in at 289 miles.
Charging times for the striking falcon-wing SUV takes about five hours using a 75 kWh home wall charger, three hours with a 100 kWh home wall charger. With a Tesla Supercharger, half an hour will give you 150 miles.
2018 Tesla Model S: 275 – 351 miles
Just like the Model X, the Tesla Model S sedan comes in three all-wheel-drive variants, and each one boasts its own impressive electric range. The "base," the Model S 75D has a 275-mile range, while the mid-level 100D boasts 351 miles.
Bear in mind, about $30,000 separates the two ranges, so you're paying about a $500 per extra mile of range. The high-performance P100D gets a range of 337 miles.
The Model S 100D is the longest range electric car, right now. Many more models will be gunning for that distinction in the months and years to come, some probably from Tesla as well.
You May Also Enjoy:
Get Charged Up with the 5 Best Selling Electric Cars of 2017