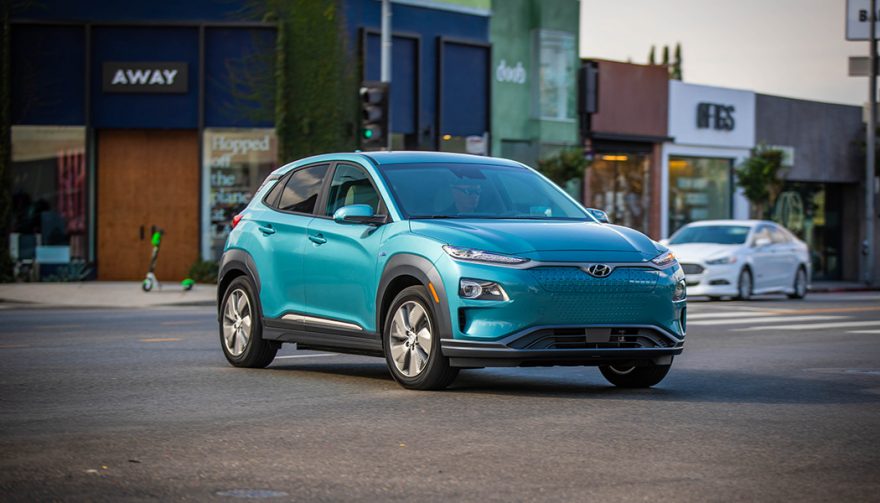 When it comes to electrics, many people still picture strange-looking, short-range models. But the best electric cars offer so much more.
Get Charged Up – Top 5 Best Electric Cars
When people think of electric vehicles, the image that often comes to mind is that of a sleek, high-tech, Tesla. With a monster sticker price. But that image is rapidly changing. Manufacturers are taking advantage of advances in battery and charging technologies to introduce totally electric rides. That are affordable and reliable enough to reach a much larger market than just the Tesla crowd. The best electric cars are now competing in the mainstream market. Which means they are beginning to make headway with people looking for commuter alternatives.
Previously, range anxiety and slow recharging times were the two big hurdles that made most people shy away from EVs. Depending on who you believe, the average commute distance in the U.S is somewhere between 16 and 26 miles. That means a 32- or 52-mile roundtrip. Not counting side trips for groceries, laundry, picking up kids etc. If an EV could only promise 60 to 70 miles, the threat of running out of fuel with no way to refuel was very real for many buyers.
Today, significant improvements in battery range and charging speeds have made the top-rated EV brands a viable option for anybody who routinely drives 100 miles or less per day.
While MSRPs for even the best electric cars are still higher than comparable equipped gas models, federal and state incentives can drive down the "out the door" price and significantly lower lease payments. And incentives are just the beginning of the savings:
Electricity is cheaper than gas. And given the political environment that is demanding more green energy sources and more road infrastructure, you can bet the gas tax is likely to take a big hike. So, not only will the EV save you significant fuel costs, but it will save you all that time you spend getting to a gas station and jockeying for a position at a pump.
An EV has fewer parts than a gas-powered ride. Fewer parts mean fewer things to maintain and repair. It means no more oil changes, emission tests, coolant flushes, no belt changes, or changing plugs and wires. The maintenance you're likely to have on the best electric cars is on things that wear out. Like brake pads, tires, and windshield wipers.
With the two major objections to electric vehicles eliminated, and demonstrable proof that and EV is less expensive to own over the long run, it's time to look at the "normal" features and benefits of the top EV brands.
Top 5 Best Electric Cars for 2019
We're a little embarrassed to say we have split this list into affordable and luxury models when an "affordable" MSRP starts in the low $30,000 range, but keep in mind those government incentives.
2019 Hyundai Kona EV
Range: 278 miles
MSRP: $37,495
All-new for 2019, the award-winning Hyundai Kona EV is the clear favorite EV in its class. Aside from its remarkable range, the real attraction to this crossover SUV is the way it handles. Snappy acceleration, multilink suspension, and low battery mass. The Kona crossover SUV handles more like a cross between a hot hatch and a roadster. Hyundai has quietly put a lot of effort in electric vehicles and the Kona is proof that you can have an exciting, sophisticated ride in an EV that doesn't cost as much as a Tesla.
Inside the Kona is a comfortable place to be. With dual-zone climate control, heated and ventilated seats, a touchscreen that is tied to a fairly easy to use infotainment system. Plus Apple CarPlay and Android Auto come standard.
It's packed with safety technology including adaptive cruise control.
forward collision warning with emergency braking, lane-keeping assist, blind-spot monitoring, rear cross-traffic alert with automatic braking, and a driver attention monitor. In back, there's room for a weekend's worth of
luggage.
And of course, it offers a nice quiet ride!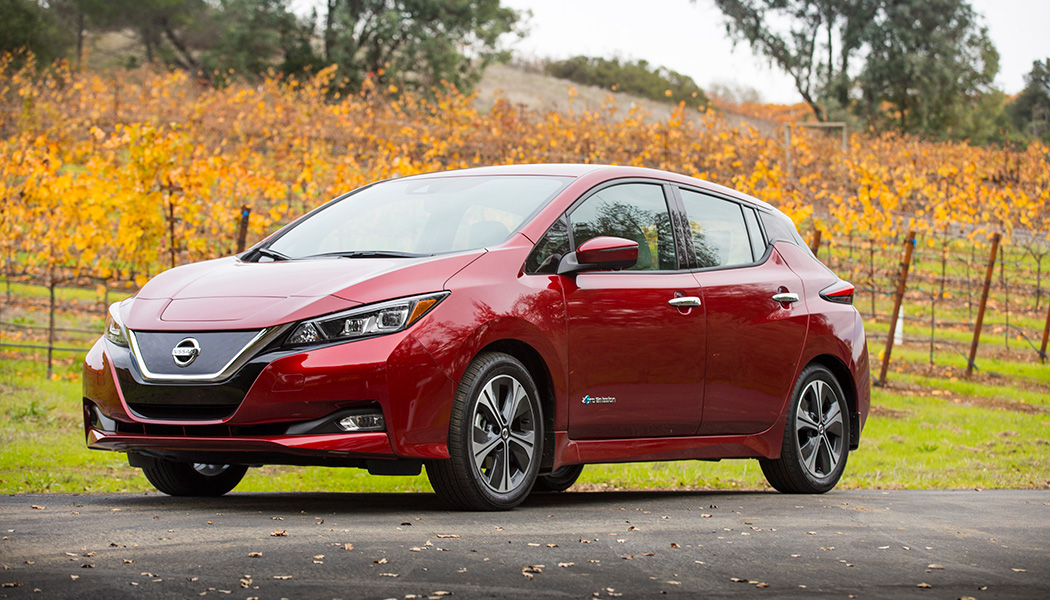 2019 Nissan Leaf
Range: 150 miles
MSRP: $30,885
Overall, the new 2019 Leaf is a more comfortable, more powerful ride than the 2018 it replaces. It provides a smooth ride, with genuinely comfortable seats, a long list of safety features and advanced technology, and a generally enjoyable environment for a commuter to spend time in. It comes in at a base price that is nearly 20% less than the Hyundai Kona and the EPA rates it as the most efficient motor in terms of miles per gallon equivalent (MPGe) making it less expensive to operate. But it does have some limitations.
The base S model does not have a Level 3 charging system which means this ride has no potential for road trips. It needs to be plugged in for several hours to get back its 150-mile range which is fine for commuter use but not such a great feature for a weekend getaway. However, once you get past the S trim, you get the faster fueling Level 3 charging system.
Performance-wise, it has the snappy acceleration that all EVs possess, handles sharply, and is roomy enough up front to make those 150-mile jaunts quite comfortable. The SV and SL versions of the Leaf come with a
7-inch touchscreen navigation system that supports AM/FM, HD radio and
satellite radio with real-time traffic information. A USB port allows smartphone integration allowing for Apple CarPlay and Android Auto. Emergency braking is standard on all trims and the SV and SL trims come with adaptive cruise control and the optional ProPilot Assist.
If you're looking for a value-packed commuter ride, you have to give the 2019 Nissan Leaf serious consideration as one of the best electric cars of 2019.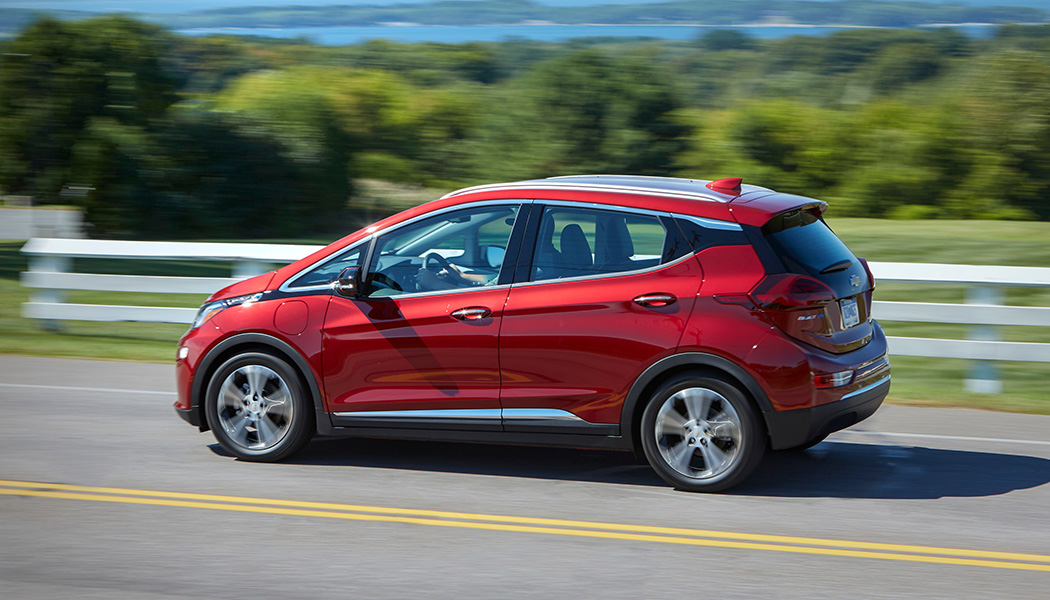 2019 Chevrolet Bolt
Range: 238 miles
MSRP: $36,620
Until the Hyundai Kona rolled out, the Chevy Bolt was the only "affordable" EV that offered 200+ miles of range challenging Tesla's long-range champion title. It's still no slouch at 238 miles. But technology is starting to move EVs out of the commuter only market and into the mainstream meaning the Bolt needs to pay attention to other aspects of the platform.
While there are plenty of features that recommend the Bolt, there are a few important exceptions. Leading the pack is an impression that interior materials are basically from the chintzy school of design. The Bolt's interior is filled with hard plastic surfaces. The seats (except in the Premium trim) have thin cushions and feel chair-like rather than cruising seating. It's obvious that Chevy is focusing on utility rather than passenger comfort. But that trend is changing.
For starters, the Bolt is fun to drive. Its electric motor can get this ride from 0 to 60 in 6.6 seconds which is a great showing for any family car much less an electric. The low-slung battery pack keeps the Bolt, even with its tall profile, firmly planted to the pavement making handling downright sporty.
The Bolt handles smartphones well with up to four USB ports. It has no navigation system but it does support Apple AutoPlay and Android Auto so you can use Google maps which will display on the touchscreen.
The electric motor is incredibly smooth. The single-speed direct-drive transmission never shifts so it's just a matter of pushing down the accelerator to get up and go. And, if you have the regenerative braking engaged, lifting your foot off the accelerator will significantly slow your ride down.
Overall, the 2019 Chevy Bolt feels like the bridge between the short-range commuter and a mainstream automobile. Electric is coming. Once the high-speed recharging infrastructure is in place, EVs will be as common on the roads as gas-powered rides.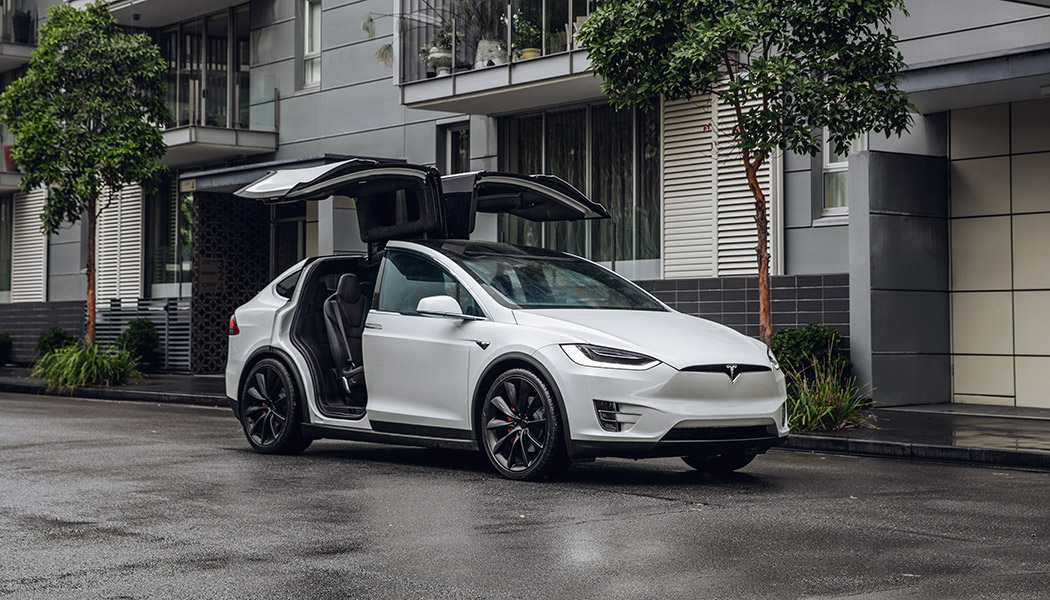 2019 Tesla Model X
Range: 255 miles
MSRP: $81,000
If you want an SUV with three-tier seating, whacky "falcon wing" swinging rear doors, and acceleration that will pin you to your seatback, then you want a 2019 Tesla Model X. This slick, sophisticated, piece of electric vehicle technology touts all the things we have come to expect from the Tesla brand. Sleek styling, long range, and driver assistance systems that do everything but place your fast food order at the drive-through.
The styling is what you expect, sleek and aerodynamic. The massive curl around windshield and panoramic sunroof make this feel like riding in a convertible without the inconvenience of the wind blowing your hair. The
center console is a monument to technology and its massive touchscreen looks, and acts, more like a tablet than a traditional infotainment system. Seating is designed for comfort on a road trip and if you opt for the larger battery of the Long Rang model, you can extend your overall performance to 305 miles.
Now, for the real reasons people are drawn to the 2019 Tesla Model X. Luxury interiors, a range equal to many gas-powered luxury SUVs, a national rapid refuelling infrastructure, posh interiors mind-boggling technology, and even a 5,900-pound towing capacity are apparently just "nice to have" features. For many people willing to layout nearly $100k for an SUV, the real draw belongs to the Long Range and Model X Performance trims. That let you safely bet your pink slip in a drag racing competition.
Bigger batteries mean more stored energy. For most EV models, this equates to longer ranges. Tesla, however, gives you the option to go further, or faster…much faster. The power set up in the Long Range model, even though it weighs 5421 lbs., allows this seven-passenger SUV to get from a dead stop to 60 mph in 4.3 seconds! Not fast enough? The Performance trim takes acceleration to a ludicrous level. Buckle your seat belt and get ready for 0 to 60 in 2.8 seconds! It's all about the torque in the best electric cars.
Don't expect to get 300 miles out of your Model X if you spend too much time burning up ions shredding tires.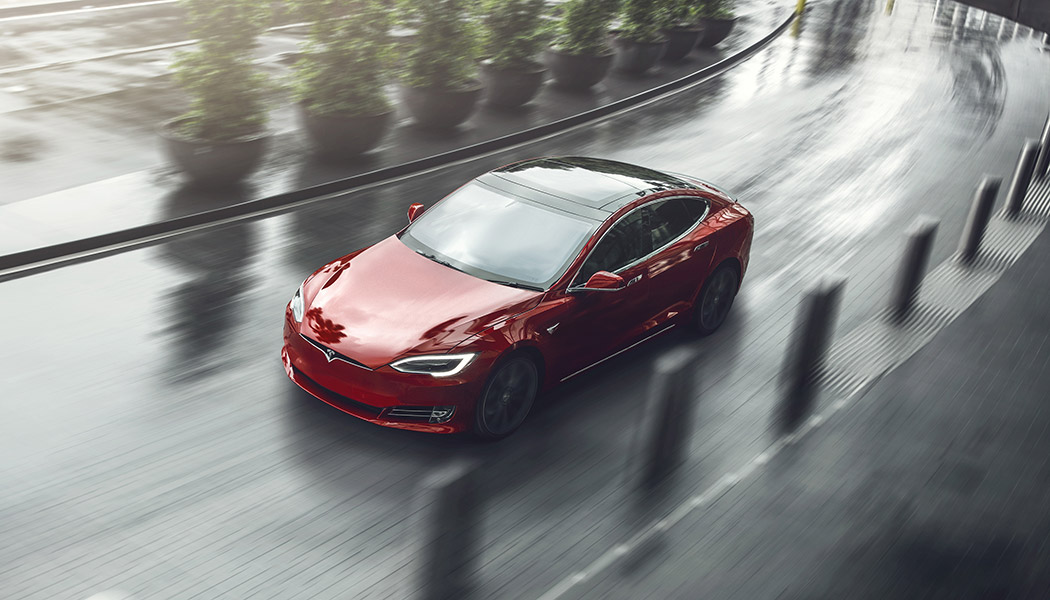 2019 Tesla Model S
Range: 285 miles
MSRP: $75,000
When Elon Musk introduced the Model S in 2012 he started an interest in luxury electric vehicles that grows each year. The 2019 Model S is the oldest model in the Tesla stable but it has not lost its appeal with luxury EV enthusiasts.
And there's a reason for that.
It still accelerates like a cat with its tail on fire (0 to 60 in 4.4 seconds), looks about as sexy as a car can look, is packed with technical magic, and retains its appeal as an exclusive status symbol. The Model S is one of the few EVs to have a reasonable resale value. Typically, after the incentives disappear, the resale value on an EV reflects a greater depreciation rate off the original MSRP than gas-powered vehicles. But not the Model S.
Back to 2019. The Model S has three trims, Standard Range, Long Range and Performance. All three trims, including the base, have a 100W battery pack. That's a lot of ions. What that means is all three have the same potential to perform identically. But they don't. Upgrades from one trim to the next don't involve any physical changes to the platform. Your extra dollars just unlock software that allow the vehicle to perform differently.
For example, if you want the extra 85-mile range that a Long Range trim offers over a Standard Trim, $10,000 and a quick software unlock. Bingo, now your Standard Range can go 370 miles instead of 285. If you want Ludicrous Mode that gives you the sub three second 0 to 60 speed, $20,000 and an over-the-air software update gets the job done.
And of course, there is Enhanced Autopilot. Whose YouTube clip of the sleeping driver commuting on an L.A. freeway sealed its reputation as a leader in hands-free driving. It continues to be magical to many consumers.
The 2019 version adds three new cameras and additional sensors. While Tesla says their system requires an alert driver behind the wheel, we're thinking that "alert" has many stages of consciousness.
The 2019 Tesla Model S remains the luxury electric vehicle to beat. It will most likely keep that position until other luxury brands place more resources into their electric platform programs. Don't be surprised to see
Hyundai's Genesis brand roll out a real contender.
That's our list of the best electric cars of 2019. We are certain that this list will be expanded to include several new brands in coming years. The growth of electric vehicles is inevitable.