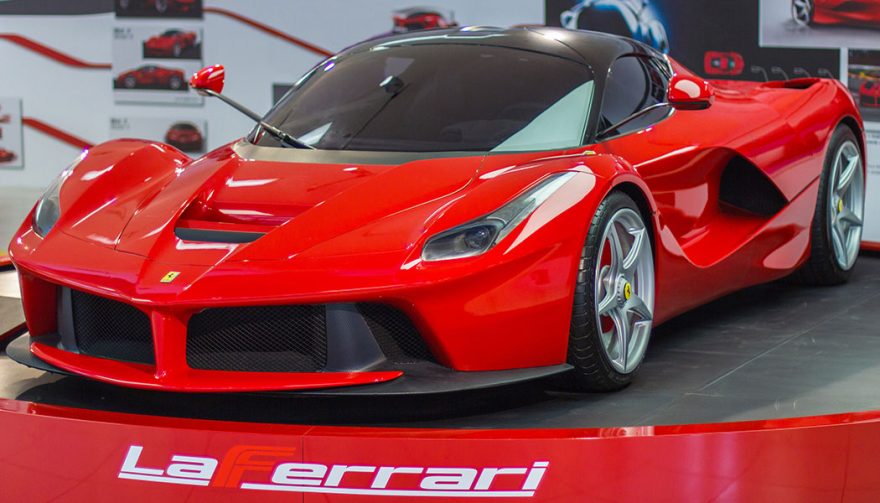 Some of the most expensive used cars have gone for millions of dollars
Most Expensive Used Cars For Sale
The term 'used car' gives the impression of affordability, doesn't it? It says that the vehicle isn't new any longer so its value will be reduced – at least, that's what it means for MOST used car listings.
There is that minute segment of used car listings that aren't for the faint of heart. They're geared towards the elite, the ultra-rich, and the game-makers-not-players. They're the extremely rare, extremely valuable, and typically extremely exotic cars that most of us would count ourselves lucky to take a selfie in front of, never mind consider owning.
The luxury and exotic used car listings aren't exclusive. Anyone can find them, but honestly, who's going to search through used car listings to find a vehicle they can't have? Not to mention, if there's a particular model you want, you may have to ship it in from clear across the globe so listings won't show up in your local paper.
Expensive Used Cars from Around the World
2014 Ferrari LaFerrari
It comes as no surprise that the LaFerrari tops the list as the most expensive used cars in the world. From its initial development, the LaFerrari has sold at a higher price point as a "used" car than it did to the original owners. Built and sold for $1.4 million new, there have been instances of used LaFerrari's selling for up to $5 million.
This 2014 Ferrari LaFerrari has 1,072 miles on the odometer and is located in Chatsworth, California. It's completely stock with the V-12 engine pumping out 963 horsepower. It's one of only 499 ever built and there's no doubt its value will continue to increase.
It's listed for the seizure-inducing price of $4.4 million.
1952 Ferrari 212 Inter Pininfarina
If nostalgia strikes your fancy, consider the more than sixty-year-old Ferrari 212 Inter, fully restored by Ferrari Classiche. Located in Newport Beach, this Ferrari 212 is one of only two ever built.
What makes this classic Ferrari particularly special is that it's been completely documented since day one of its life. It has an early history involving racing and auto shows and has been featured in numerous publications. It's a front-engine V12 model and is in absolutely mint, pristine condition.
You pay for exclusivity in the case of the 1952 Ferrari 212 Inter Pininfarina Cabriolet, listed at a heart-wrenching $3.5 million.
2014 Bugatti Veyron 16.4 Super Sport
This is a marvel of mechanical engineering, to be sure. This limited edition Veyron jacks the horsepower up to an astounding 1,200HP and has a potential top speed of 431 kilometers per hour. The top speed is limited to 415 km/h to prevent the tires from disintegrating, however.
Bugatti's are famous for bold, playful paint jobs and this one is no different. Black, gray, and orange intermingle in swirling patterns and curves, drawing viewer's attention from every angle.
You can own this 2014 Bugatti Veyron 16.4 Super Sport, based in Riyadh, Saudi Arabia, for the low, low price of $3.29 million.
1999 Mercedes-Benz CLK GTR
If you're in the market for unique but not necessarily attractive, the Mercedes-Benz CLK GTR might be what you're looking for. Only 21 were built, some for the race track and some for street use. The CLK GTR doesn't have the trademark gullwing doors, instead using a forward and upward motion. It has a carbon fiber construction over a roll-bar style frame.
This 1999 Mercedes-Benz CLK GTR has just 1,802 miles on it. Located in Recklinghausen, Germany, it's for sale for just $2.78 million, plus shipping to your choice of destinations worldwide.
2015 McLaren P1
This McLaren P1 is selling for a much more reasonable price than Rowan Atkinson's F1 sold for last year. The 'Mr. Bean' actor sold his car for $12 million, even after crashing it twice. This P1, however, doesn't have any accident history and looks a little classier than the F1 styling.
The McLaren P1 has a hybrid electric/gas-powered powertrain that pumps out 904 combined horsepower and tops out at 401 miles per hour. Only 375 were to be built so the P1 maintained value based on exclusivity.
This McLaren P1, in Chatsworth, California has 724 miles on it and is bargain priced at $2.2 million.
2014 Pagani Huayra
Production of the Pagani Huayra was limited to just 100 units in an agreement with the engine supplier, Mercedes-AMG, and all 100 have been sold. That means only used Pagani Huayra models will be available from here on out. It's been touted as the best hypercar by the old-school Top Gear team, which says a lot.
The Huayra has 730 horsepower and accelerates to 60 miles per hour in 3.0 seconds flat. It's capable of 230 miles per hour and is built with the best of the best so it can truly handle the speed.
This Huayra is for sale out of Costa Mesa, California for $2.1 million, just a touch more than its original selling price new or $1.34 million.
2013 GTA Spano
This Italian-made niche supercar line is probably best known for its role in the popular video game series, Need For Speed. It's quite impressive, though, with an unofficial top speed of 217 miles per hour and an acceleration from 0 to 60 miles per hour in under three seconds.
What makes this supercar very different is the engine – a V10 Dodge Viper engine with a supercharger pushing out 820 horsepower. Why an Italian car company chose a Viper engine is befuddling…
You can buy this GTA Spano, one of just 99 made, for $1.7 million out of Marbella, Spain.
2009 Koenigsegg CCX
Perhaps the sexiest car on this list is the least expensive (on this list, of course). The Koenigsegg CCX is ravishing with an ultra-sleek look that's not over the top or bulbous. You can enjoy open-air cruising in style while making a statement.
A twin-supercharged V8 powers this rocket with 802 horsepower, propelling it to 60 miles per hour in just 3.2 seconds. This particular car has just 1,721 miles on it and was kept fresh in a garage in Woodland, TX. It can be yours for a mild price of just $1.25 million.