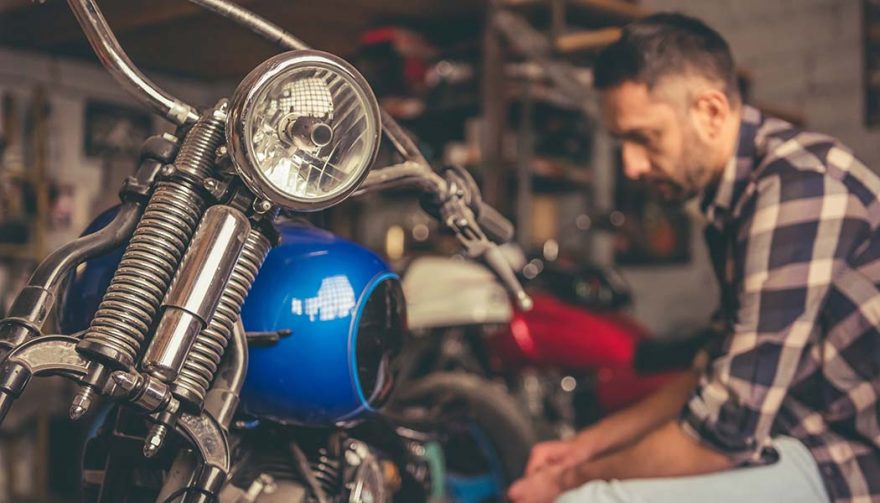 There are a lot of ways to improve your bike over the winter
Show Your Bike Some Love This Winter with These Easy Projects
Just because the weather is cold is no reason to leave your motorcycle alone, cold and neglected in your garage. There are many small winter motorcycle projects that you could enjoy working on while waiting for the weather to thaw.
Install a Headlight Modulator
The No. 1 cause of motorcycle accidents is drivers turning left in front of the cyclist, typically at intersections. After causing such an accident, the car driver often will say, "I never saw the motorcycle."
To help drivers see you better install a headlight modulator. It will flash your high beam on and off about once or twice per second, and that really gets oncoming drivers' attention. It does not flash on low beam, and also has a daylight sensor to prevent it from flashing your high beam when it is on at night.
Install a Brake Light Modulator
Likewise, because motorcycles have a narrow profile, and only one brake light, drivers tend to not see them stopped in traffic. A brake light modulator will flash your brake light on and off about once or twice per second for about the first 20 seconds you have the brakes applied. That should make you easier to see.
Get a Brighter Headlight Bulb
Motorcycles typically have fewer headlights than cars have. That makes it harder for you to see the road ahead of you, and makes it harder for other drivers to see you approaching them in traffic. If your bike has a replaceable headlight bulb search online for a brighter one.
A More Comfortable Seat
Unlike the driver's seat in your car, the seat on your bike does not adjust forward, back, up or down. It makes you wonder what size person they designed the bike for, and you usually start to ponder that when your back starts aching on long motorcycle trips.
Look online or ask your dealer what's available in aftermarket seats. A different seat can be especially useful for shorter riders. If you find the stock seat is too high, and that it is difficult to place both your feet flat on the ground when stopped in traffic, you need a different motorcycle seat.
You May Also Enjoy:
Two-Wheel Flat? Here's How to Change a Motorcycle Tire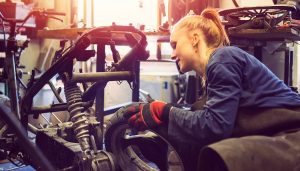 Related Search Topics (Ads)
If you own a Harley-Davidson, ask your local dealer about their line of seats that move the rider forward. That makes it easier for vertically challenged riders to reach the forward-mounted foot pegs. Some dealers will even let you try one of those special seats for free on your own bike. It makes a huge difference.
Different Handlebars
Either for comfort, like changing the seat, or for looks, a new handlebar makes a big difference for very little money spent. Factory or aftermarket, you will find tons of styles to choose from.
Be aware that if you install taller handlebars on your bike you might also need to install longer control cables and longer front brake hoses, as well as reroute the wiring that goes to the handlebar switches.
Better Handgrips
Factory handgrips are thin and can let painful vibration travel into your hands. Beyond being uncomfortable, that's not good for your hands. You can buy special gloves that have padding in the palm area to help dampen all that.
A better idea is to buy some of those soft fluffy motorcycle handgrips. As with all the other projects here, installation is not difficult for people who have some mechanical ability, or the willingness to watch a few YouTube videos on how to install them.
Add Some Luggage
It doesn't take a new rider long to realize there is not much space to carry things on a bike. And there is only so much stuff that you can fit into your pockets. Besides, that can be dangerous in an accident, having your pockets stuffed like that.
Hard-sided luggage will hold a lot of stuff, has keyed locks, is weather proof and looks good. But it requires special hardware to attach to the motorcycle. All that is very expensive.
For very little money, though, and typically requiring no special mounting hardware, you can get a great set of soft side luggage that will hold an amazing amount of stuff. It comes in different sizes and attaches quickly and easily to the bike with its own mounting straps and clips. That's nice, because after traveling all day you can simply unsnap the clips and carry the luggage into your five-star hotel.
Security? Don't carry anything valuable in soft sided luggage. Besides it's doubtful that anybody would want to steal your spare socks and sweatshirt. Rainproof? Only if you cover it with the plastic cover that comes with the luggage.
People that are really good at traveling light can do so with only a tank bag and a small tail pack, that straps to the passenger part of the seat. It's an art form, traveling that light.
Install a GPS Mount
There is no need to spend big bucks on a special motorcycle GPS. People have used their inexpensive car GPS units on bikes for years, with no ill effects from vibration. When it rains just pack the GPS away, because you won't be navigating city streets in the rain anyway.
GPS mounts especially made for your bike are cheap. Look online for an aftermarket supplier like the RAM Mounts Company. Typically, you will buy a universal mounting bracket and a separate unique plate that will securely hold your particular GPS.
While you are at it add a GPS tracker. The last thing you would want is for something to happen to your precious ride. If someone were to try to take your bike, having a little GPS tracker installed on the bike means you'll be able to track and find it no matter where it is. Furthermore giving the police your tracking information will also help them to easily recover the bike.
Stock Up on Books and Maps
Electronics like GPS devices do fail, so it's always a smart idea to have a backup plan like paper road maps. Besides paper maps are fun to look at and to find new roads to explore, either next weekend or on your next long vacation.
Books. When it's cold and dark outside you can snuggle up in front of your fireplace with a good book about motorcycle travel and dream of warmer days, and about all the places you are going to visit on your bike.