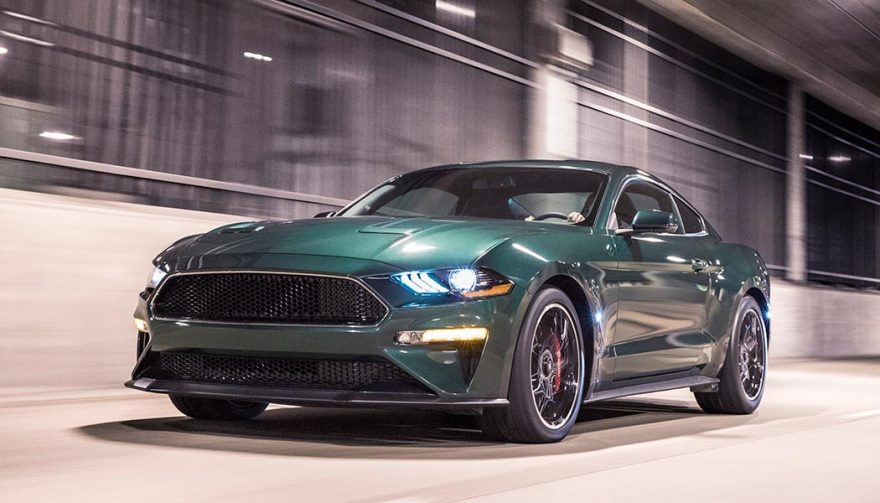 The Ford Mustang Bullitt gets a 475-horsepwer 5.0-liter V8 tucked under the bonnet
10 Vehicles You Don't Want to Miss at the 2018 Detroit Auto Show
Every year the NAIAS in Detroit showcases concepts, prototypes and new models set to roll out soon. And every year, the Detroit Auto Show garners a ton of attention from all aspects of the automotive industry. With some prototypes, manufacturers are testing the waters to see if the public likes them. With others, it's a way to catch consumers' eyes ahead of the launch.
Some models at the 2018 NAIAS stand out from the crowd. Whether you plan to attend the show or not, you can see 10 of the hottest models from the 2018 Detroit Auto Show right here.
2019 Ford Mustang Bullitt
Honestly, how can you go the NAIAS and not look at the Mustang on display? You have to check out the 2019 Ford Mustang Bullitt. Attempting to mimic the '68 Mustang in the Steve McQueen movie "Bullitt," this next-gen Mustang coupe has the looks and the muscle to pull it off.
The nearly badge-less exterior is sexy, complete with a fastback style reminiscent of the late-'60s era. Packed under the bonnet is a 475-horsepwer 5.0-liter V8 with the ability to reach 163mph. You have the choice of Shadow Black or the original Highland Green paint on this pony car.
GAC Motor EV Concept
This year, the North American auto market will see Chinese automaker GAC for the first time. They've brought a show-stopper of a vehicle to park on their welcome mat at the Detroit Auto Show. It's an EV concept known as Enverge, and it's a love-it-or-hate-it design.
It looks outlandish and futuristic, incorporating cameras in place of side mirrors and butterfly doors. It is said to travel 370 miles on a charge.
This isn't the only model that will arrive in North America, though. The GAC GS8 crossover SUV with three rows of seating, a four-cylinder engine and a six-speed transmission will also hit US streets.
2019 Hyundai Veloster
The new Hyundai Veloster will be on display at the 2018 NAIAS. Set to release later this year, the Veloster hopes to return to profitability after its old model went stale. Based on the Elantra GT platform, the Veloster has the oddball design of a third door still in production but its overall looks have been refreshed and updated.
Its standard engine is a 147-horsepower 2.0-liter four-banger with an option for a 201-horsepower turbocharged 1.6-liter. You can expect the option of better performance also, with a 275-horsepower Veloster N packing a punch with 275 ponies.
Infiniti Q Inspiration Concept
Inifiniti has been hush-hush about the car they've brought to the show. What's known is it's their latest attempt at bringing back a flagship car to the lineup, and it's called the Infiniti Q Inspiration. We know Infiniti's breakthrough VC-Turbo technology powers the Q Inspiration – the world's first production-ready variable compression ratio engine
The appearance is spectacular. Thin slits for headlights and a thin long taillight bar, a massive sculpted front grille and fascia with F-1 inspired inlets, and precise body lines that run front to rear on the low-slung sedan give a glimpse into what Infiniti wants to bring about in the future.
Nissan Xmotion Concept
Luckily, it's just a concept because it's an engineer's worst nightmare. The Nissan Xmotion Concept looks to be what Nissan wants to inject into the lineup to replace the long-gone Xterra.
The Xmotion is designed for the off-road enthusiast with a longer wheelbase than the Rogue and a 4-inch wider stance, not to mention a chunky design that appeals to adventurers.
Dressed up for the NAIAS in carbon fiber and unrealistic spider-web wheels, the Nissan Xmotion Concept has a bunch of vetting to be done before it goes into production.
2019 Ram 1500
You have to be impressed with what FCA designers have done with the 2019 Ram 1500 styling. They've finally dropped the cues that were once part of the Dodge design, creating a true separation between the Dodge and Ram Trucks brands. The front end has a classier appearance without the crosshairs and the overall shape is less bulbous and more straight-laced.
Both the Pentastar and HEMI engines will have a minor hybrid integration. A generator will power a 48-volt battery pack that can add a torque boost when needed. It's called eTorque. I know, it's creative.
2019 Toyota Avalon
The new Toyota Avalon will come out in 2019 and resembles the new Camry, albeit an upscale version. The monstrous piano-black honeycombed front grille looks a little bit Lexus, a little bit rock-and-roll. It's longer, lower and wider, and it has LED headlights and adaptive cornering lights.
The Avalon is powered by either of Toyota's large-car offerings, a 3.5-liter V6 or a hybrid gas-electric system.
What might be the most significant detail is a small thing: it's the first car Toyota will equip with Apple CarPlay. Toyota is finally relinquishing some control and letting non-Toyota tech into a model.
2019 Ford Ranger
Since being canned in North America eight years ago, the Ford Ranger will finally return in the 2019 model year. Competing directly with the Honda Ridgeline, Chevrolet Colorado/GMC Canyon and Toyota Tacoma, Ford is hoping to take a slice of the small truck market for themselves. It has a fully boxed frame like a truck should have, and will be available in SuperCab and SuperCrew configurations.
Look for a 2.3-liter EcoBoost V6, making around 300 horsepower, to power the 2019 Ford Ranger. Further, it'll be paired with a 10-speed automatic transmission and will be available in two- or four-wheel drive.
Lexus LF-1 Limitless Concept
Since the market is turning more toward SUVs and trucks, Lexus is changing their focus too. Their concept at the 2018 NAIAS, the Lexus LF-1 Limitless, is a flagship luxury crossover SUV.
If that sounds a little nebulous, that's because it is. Lexus isn't very committal when it comes to their equipment. It could be gas-powered, a fuel-cell vehicle, a hybrid, an all-electric SUV, or a plug-in hybrid.
The exterior is stunning, however. Its grille has the hourglass vortex-style 3D appearance with bright-white Vs for LED headlights. The tall window beltline adds class with a low roofline, and the rear end has a sweeping lightbar across the formed liftgate and fascia.
2019 Chevrolet Silverado
It's yet another Silverado redesign at the NAIAS, but this one is their best in a while. The 2019 Silverado abandons its square wheel wells and gets rounded. The arches mimic the flared-out, muscular body front and rear. The front and rear are just slightly tweaked, but enough to take notice.
Chevy claims to have trimmed 450 pounds from the outgoing design, partially by using aluminum for the hood, doors, and tailgate. What's more, a new turbocharged 3.0-liter I-6 diesel engine is added to the light-duty lineup for 2019.
You May Also Enjoy:
10 of the Coolest Cars, Trucks and SUVs from The Chicago Auto Show