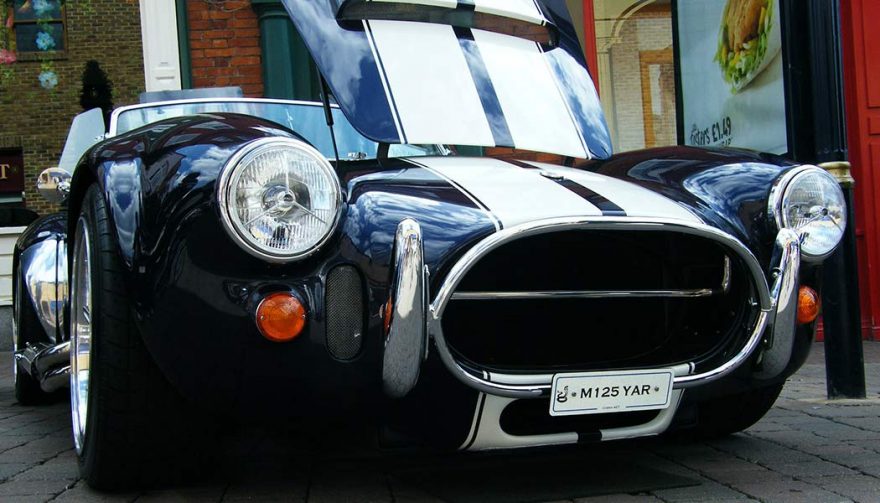 Do your research up front before you knuckle down on a car build, you'll be glad you did.
How to Plan Your Dream Car Build
You've finally procured your car build. It could be the late-'60s Pony car you've dreamed about since childhood. It might be the Coke-bottle Stingray that turns your crank. Or, it could be another classic car restoration. For me, it's a Wankel-powered Mazda RX7 convertible from the late '80s. But where do you start with a car build?
You can't jump right into it. Before you start your car build, you need to know what you want the finished product to look like. You need to know how you want it to perform. You need to know what it's going to cost. You must decide which tasks you're going to tackle on your own, which ones you'll need help with, and which ones are best left to the professionals.
Research may not be your favorite part of a car build, but it is crucial. If you don't take a good chunk of time upfront to plan out the project, your car could end up looking and performing like Frankenstein's monster. That might be good or bad, depending on your taste, but any FrankenCar won't have much resale value if you get tired of it.
Blueprint for a Dream Car Build
These steps will help you research and plan your dream car build before you get to work.
Look to the Finish Line
Before you take it step by step, you need to know what you're working toward. Google is going to become your best friend. Search Google Images and read through enthusiast forums for your particular car, checking out what others have done to their projects. Some stuff will be over the top or totally off the mark, some will be exactly what you're looking for.
When you see something you like, bookmark it or tag it in Evernote. Tag dozens of pictures, from paint jobs and body kits to wheel styles and lighting. A piece of this, a dash of that, and slowly your car build goes from a fuzzy image to high definition.
Research the Costs
You have an idea now of what you want, but it's going to drain your savings to get you there. If you're like me, it'll be several times over. Determine what you're realistically willing to spend on the whole project, then break it down into categories such as:
Performance
Bodywork
Paint
Interior
Audio
Wheels
Suspension
General repairs
Create a spreadsheet for your budget to track your car build costs. It doesn't matter if you don't care how much you spend – if you think there's a remote possibility that you'll sell your car later on, you should be able to show what was done and how much it cost. A spreadsheet is a great way to do that.
Price It Out
Pricing out your car build might take a seemingly endless amount of time, but you'll be glad you did. Take dozens of pictures of your car build (if it's not drivable) and go around to local shops. Price out the specifics of what you need from each supplier.
This step can be complex. For example, you may be tackling the performance part of the build yourself. This means you'll need to know the exact parts you need, all compiled in a parts list. Then, once you talk to someone about those parts, don't be surprised if you get suggestions to your plans. You can count on differing opinions for each and every piece you price out your project.
If you decide to do the bodywork, you can save yourself thousands of dollars. Just beware that the overall quality may not look as professional, and it will take longer to get the job done. The work will be gratifying though.
Revise the Budget
Once you've priced out each step of the process, go back to your budget and rewrite it. It's going to be obvious that you underestimated the costs because things are always more expensive than you expect. It's natural – think of yourself as an optimist. You'll probably tack on an additional 20 to 30 percent of your total budget now.
If you're a keen online shopper, you can probably stay closer to your budget than most. For the items you're working on yourself, you can usually find spectacular savings on bits and pieces online. Amazon has a great selection of automotive repair and performance parts, and you'll find some of the tools you'll need along the way. And if you don't mind sifting through online classifieds or eBay listings, you can find savings on used parts too.
Plot Your Work
Set a realistic timeline  based on how much money you can pour into the car build than on how quickly you can complete the work. The sequence is important.
Start with mechanical work. Get your engine, transmission, differential work, and forced induction systems all repaired, installed and performing exactly how you want them. Beware though – you're going to tear it all out for the next step.
Next, tackle the bodywork.
This could be installing a body kit, repairing rust, patching the floor, shaving door handles, or anything else you want. You might be powder coating the frame. Take your time and get it right. Strip the mechanical components out for this step, simply for access and paint prep.
Paint comes next.
Don't cut corners here – it's the first impression for everyone who sees your car. Get the doorjambs painted along with the engine bay and under the hood. Disassemble as much as possible to get the paint as perfect as you can. And you'll probably want a professional to spray your car – you won't have the same kind of equipment and supplies on hand. And you don't want it to look like you spray bombed your prized car.
Finishing touches round it out. The interior, the audio system, gauges, wiring, and lighting are the final bits to be installed. When you start this step, you may feel like you're almost done, but it takes a long time to get it completed. Don't rush through it – you want it to turn out perfect.
Be Flexible
You'll likely encounter unforeseen challenges and obstacles with your car build, so be prepared for workarounds. You'll revise your plans on the fly, hit a roadblock on parts availability, or something just won't be working out how you want it. Have the flexibility to move onto a different part of the process while you're hung up elsewhere or working toward a solution.
This is your car build, so if something needs to be changed, it's your call. No one else needs to know it wasn't the plan all along, and you don't have to apologize to anyone for your choices. As long as you're happy with the result, nothing else matters.
Your "build by numbers" probably won't be anything like your original plan and almost definitely won't be near your original budget. It will help you stay on track with progress and help solidify your plans before stripping the car down.
One final tip: You're never quite done. Like owning a house, there's always something that needs to be repaired or a project you want to do next. Just keep that in mind and have fun.