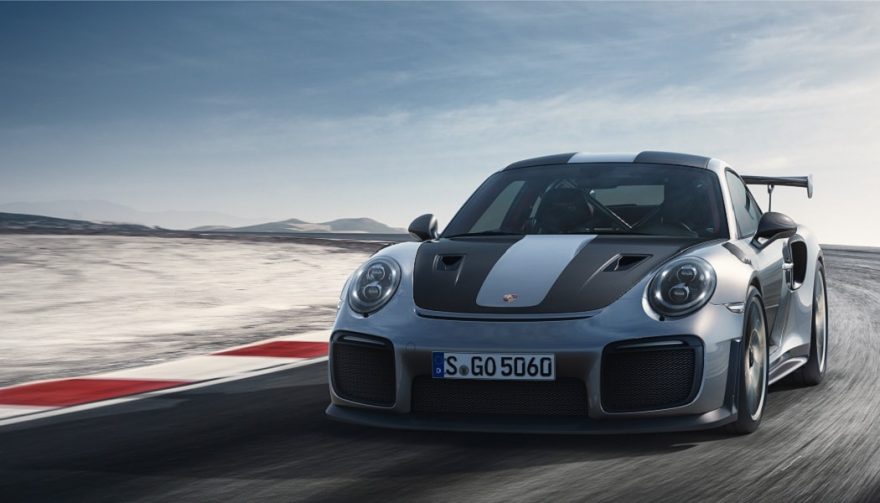 The Porsche 911 GT2 RS cranks out 700 horsepower
Introducing the Most Powerful Porsche 911 Ever
Plenty of rumors were swirling around the development of the new Porsche 911 GT2. We finally get to see the new car, and the Porsche 911 GT2 RS is pretty wicked.
It's the most powerful production Porsche 911 ever made, pumping out an earth-shattering 700 horsepower. That's 80 additional horsepower compared to the previous GT2 RS.
Powerful Engine
In the rear, this biturbo flat-six engine is a real fire-breathing dragon. Torque peaks at 553 lb-ft that pushes above and beyond the performance you get with the 911 Turbo S, which is to be expected. Porsche says the key to the GT2 RS output is larger turbos. They cram more air into the cylinders, which in turn results in more power.
To handle huge forced induction, Porsche also developed a new cooling setup. Water injection for the charged air makes for the biggest change. This modification allows the gas temperature to come back into the overpressure range, which produces optimal performance.
This new GT2 RS really screams, too. Porsche tuned a special exhaust system for the car. Extra-lightweight titanium sheds about 15 pounds, compared to the exhaust for the 911 Turbo. Most important, it produces a sound that's downright primal.
The Porsche 911 GT2 RS rockets from 0 to 62 mph in a mere 2.8 seconds. Just as impressive, the vehicle can hit 211 mph, showing it was made to race.
Some enthusiasts might be disappointed to know a custom seven-speed double-clutch PDK is also standard. It does make for quick shifts, which allows the car to accelerate so quickly.
Killer Chassis and Aero
Of course, rear-wheel drive is the standard setup, as a proper GT2 car. We've seen Porsche's rear-axle steering technology in action plenty of times now, and it's included on this super sports car, too. Keeping the vehicle grounded to the ground are ultra high performance tires.
Rest assured, those crazy aero elements aren't just for show. The massive rear wing keeps the car grounded as you hit that insane top speed. Air intakes and outlets keep the brakes and powertrain cool as you push them to their limits.
A carbon hood, plus carbon-fiber reinforced plastic (CFR) bits around the body keep things light. You can shed even more weight with an available Weissach package. It swaps out various components for CFR and titanium equivalents.
Performance Interior
When it comes to the interior, Porsche lays on black leather and red Alcantara something thick. Even the seats feature a carbon-weave finish.
Upgrading to the Chrono Package means you can track performance. It even includes a lap trigger, which Porsche says makes your lap and acceleration times more accurate.