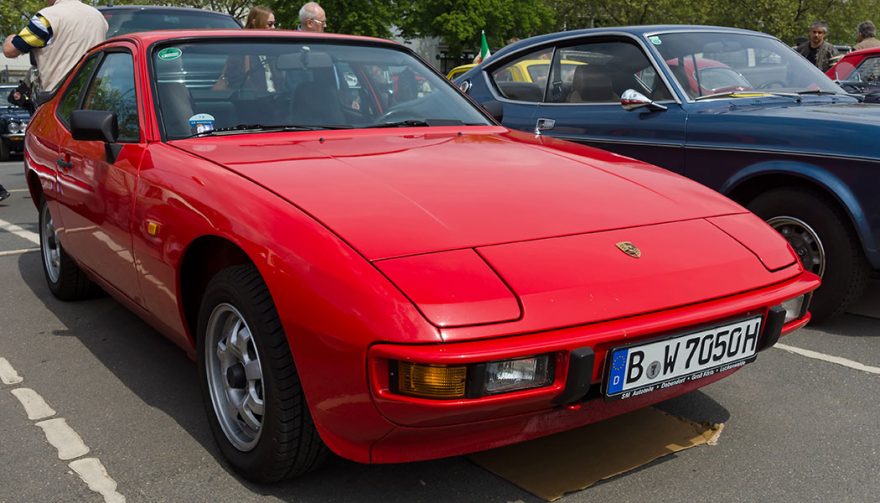 Some may argue that the Porsche 924 is hampered by its status as a sort-of VW hybrid.
Porsche 924: The Mustang of Porsche
Like the music bug, the car craze hit me early. Regarding tunes, my younger self wasn't concerned with genre; music was simply good or bad. Similarly, childhood's innocence kept me from judging an automobile by its national origin, production volume, or publicly perceived panache. A car was either cool or it wasn't.
Though not stubbornly committed to one model, my family was keen on the Ford Mustang. Following in my elders' footsteps, my first car was a rather run-down '68 coupe with a six-cylinder and a three-speed. But long before I was driving, a friend familiarized me with Porsches; his parents owned a 924 during its initial six-year American run as an entry-level car.
Porsches were rare in my small town, and to ride in the back seat was as exciting as cruising in sis' '71 fastback while listening to classic rock. I recall a day when my friend's dad explored the 924's much-touted handling capabilities; I returned home raving about "doing eighty-five through the curves." I may have been exaggerating, but Mom still voiced her concerns to my friend's parents.
Not until the purchase of my second 924 was I was struck by some similarities between these two seemingly disparate cars. Iacocca's brainchild originated in the mundane Falcon, and offered improved styling while retaining mass accessibility. Porschephiles know that the 924 was meant to be a VW, but when "the people's car" folks reneged, Porsche got a discount on its own design (credited to Dutchman Harm Lagaay, who worked a post-924 stint with Ford before returning to Porsche). 150,000-plus units were sold; for Porsche, these were somewhat akin to Pony Car numbers.
The volume helped finance other interests, and the price kept a Porsche within reach of the average buyer. Research reveals that a 1965 Mustang cost its owner just over six months' income, while a 1977 924 required nearly twice that; a higher premium, but not beyond even the blue-collared daydreamer. Porsche's 1978 sales brochure stated, "…there has always been an affordable Porsche… Now the Porsche 924 fills that vitally important role."
Porsche's first front-engine, water-cooled product to market had a long hood and a short deck, as did its American counterpart. It was better-balanced, but both cars generated complaints of being underpowered while lacking in technological refinement and interior comforts. The 924 was criticized for having rear drum brakes; the Mustang didn't gain independent rear suspension until 2015. Six-cylinder Mustangs lacked the potency of the more popular V-8 models; Porsche would address its own power problems with increased compression and an optional turbo. Both had limited rear seating and cargo space and lent themselves to aftermarket tuning. The inline-four's components lacked the accessibility of U.S. powerplants, but it didn't deter tinkering.
In each case, emulations followed: Camaros and Challengers capitalized on the Mustang's popularity, while in my youthful eyes the most notable attribute of the first-gen Mazda RX-7 was that it mimicked the 924's form. If imitation is the sincerest form of flattery, each car has been lauded by the competition.
What's the Point of Such Comparisons?
As the owner of a well-cared-for 1978 924, I'm curious as to the reason for the disproportionate current valuations of these two entry-level "sporty" cars. Design is a matter of taste, but both automobiles strike me as having timelessly beautiful, understated coachwork. The 924 brochure submits that the car's "subtly rounded forms identify it as a Porsche, as does its total freedom from superfluous decoration." It gained bulges and muscle as it morphed into the 944 – just as the Mustang bulked up by 1973 – but both started with classic lines that seemed to say, "I like attention… but not too much." Granted, being born in 1971 may have biased me towards wedge-influenced designs and pop-up headlamps; like many contemporaries, favorite cars included the 308, the Esprit, and the Countach. I liked the 911, but it seemed a tad bulbous for my budding modernistic tastes. In the 924 I saw an Italianesque sleekness combined with that Porsche roundness (an objective look reveals the tub influence, as well as hood creases that evoke the 911's "headlight humps"). Forget the naysayers; I found it unquestionably cool. To some others it apparently still is: my subtly silver 924 garnered two comments on my first evening of ownership.
You May Also Enjoy:
The Porsche Panamera Is Your Family-Friendly Luxury Sports Car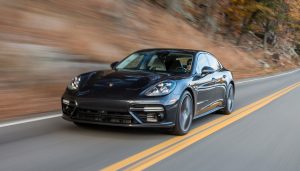 As for practical matters, those not concerned with speed may favor not only the 924's handling, but its economy and reliability. On one leg of the trip home from my 500-miles-distant purchase point I observed an estimated 25 m.p.g. My first 924 was a daily driver that I got with about 160,000 miles; I used (and sometimes abused) that car for two years with no more problems than one would expect from any 30 year-old vehicle. Neither 924 has run hot, even on 100-degree Idaho summer days. As for repairs, finding a technician has been more difficult than I'd expected, but considering that there's at least one in the nearest small city, it shouldn't prove impossible for other non-mechanics.
Overall, I feel that the 924 is considerably undervalued. While competitors like the Datsun/Nissan Z have experienced periodic renaissances, the 924 can still be had for a song. And speaking of songs: it's notable that Sally's American ride – which 40 years ago would likely have had the sounds of Foghat blaring from its windows – severely trumps at resale this svelte German whose original owners may not have ventured any further into rock territory than Steely Dan. The reasoning of pundits hasn't allayed my sense of injustice at the contrast. David Hurth of The Sports Car Guys calls the 924 a "dark horse," speculating that in order to gain value, "enough of the cars would need to rust away or be totaled so that they are very rare." That seems sensible until one considers that Ford produced nearly four times as many Mustangs in its first full model year as Porsche did 924s throughout the entire run. Recent searches at Hemmings revealed a total of five 924s for sale, compared to roughly 170 Mustang hits from 1965 alone. Despite the glut, it appears that even the lowliest Mustang can still fetch more than a well-maintained, low-mileage Porsche "pony." I've recently watched two nice examples languish at $5500, wondering what others don't see in them.
Some may argue that the 924 is hampered by its status as a sort-of VW hybrid. But a review of the Ferrari Dino's trajectory over the last decade puts those ideas to rest: a 246 GT considered "fair" by Hagerty has gone from under $45,000 in 2006 to nearly a quarter of a million today, despite its Fiat-related heritage. For that matter, witness the asking prices of Porsche's own 914 (known to Europeans as a Porsche-VW). As Patrick George of Jalopnik writes, "Some purists like to say that (the 924 is) not a 'real Porsche,' but I say that's just ignorant." I agree; the crest is on the hood!
The 914 and 912 demonstrate that the question isn't one of power; the presence of fewer than a hundred horses hasn't hurt their asking prices. With three possibilities eliminated, only the obvious one remains: the 924 is simply missing a motivated fan base. Various other models' aficionados may discuss their favorites as enthusiast cars while monitoring whether their prize is appreciating; Porsche's pony just needs more enthusiasm and appreciation. While there are periodicals and clubs devoted to the Mustang (and of course, the 911 – along with its alleged nemesis, the similarly-valued Corvette), a visit to 924.org revealed a homepage that looks as though it hasn't been updated for a decade-and-a-half, containing five registrants for the '78 model year. I wish rarity was the heart of the matter!
It's About the Perception
As with any collectible, perception is the factor limiting the marketplace's estimation of this hidden gem to its present status as a nein to fore. The 911 evokes a passion it's lent to the 912; a combination of engineering, styling, and nostalgia spurs a loyalty to the rear-engine, air-cooled models that shows no signs of waning. That's not to say that the 924 should rival its older sibling's status, but one might argue that as a family member it deserves the benefits due to blood.
The Auto Editors of Consumer Guide opined, "Never mind that it echoed the 356 in using contemporary Volkswagen suspension, brakes, and steering. Somehow… the Porsche 924 just didn't have the usual Porsche magic" (howstuffworks.com). But the fact that they weren't charmed needn't imply that no one should be. While I can't yet claim the highest level of dedication, sacrifices were made in obtaining and improving my own find: I endured a twelve-hour bus ride to acquire a 924 with one of the best interiors I've seen – along with service records dating to the original purchase, some accessories that appear unused, and a seemingly unworn vintage Porsche jacket. It features dealer-installed A/C and cruise. It was stored for about twenty years following the original owner's passing; his successor addressed fuel delivery, brake, and tire issues. Though not a proficient DIY guy, I've augmented my initial layout with roughly $800 in necessary repairs (including water pump, timing belt, hood release cable, and a fuel line fix). A raid on the one salvage car I've found yielded rear side marker lamps, lug nut covers, and a variety of other pieces. As a bonus, my car came with a cassette copy of Journey's Greatest Hits to play on the original Blaupunkt stereo. That collection includes two tracks from 1978, so the drive home was a bit of time travel indeed.
All told, I've gained a car to appreciate. For now, the 924 is still a Proles' Porsche; one that even a small-time musician can buy for enjoyment and perhaps investment. If the latter fails, my costs won't bring on buyer's remorse. I get to drive a cool car, and since I don't need it for a workhorse I hope to offer this 924 the TLC that I couldn't give to my first. I may even bump that online club registry to six.