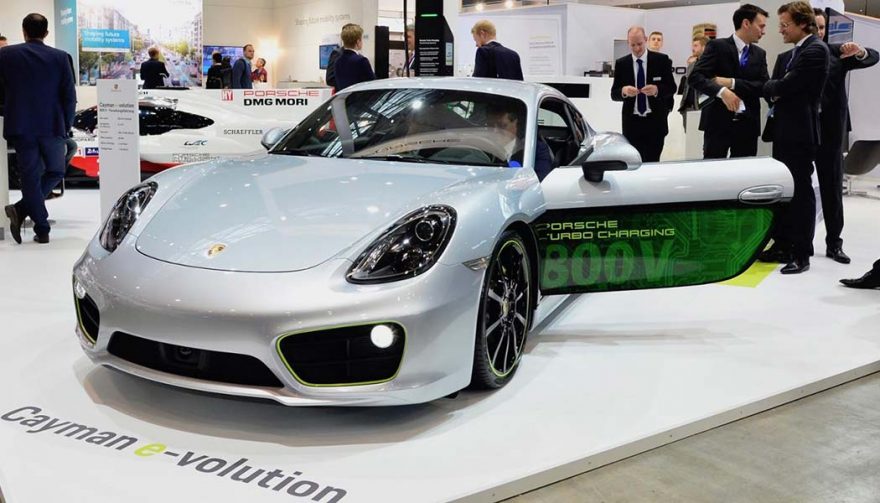 Porsche unveiled the Caymen e-volution to showcase their electric prowess
Porsche Mission E and Cayman EV Show Big Electric Ambitions
When people talk about electric cars, one of the first names out of their mouths is "Tesla." That's understandable, because the California automaker hogs the headlines. However, while Tesla basks in the spotlight, a Porsche electric car could grab the EV crown.
Remember that Porsche has a solid history of pushing tech in the automotive industry. Sure, Tesla's been doing some impressive things, but don't underestimate the ingenuity of the German automaker. What's coming down the pipeline could change the game and everything we think about EVs.
Porsche Cayman EV
Porsche showed up at the recent Electric Vehicle Symposium with a fully electric Cayman, called the Cayman e-volution. It turned heads, because the mid-mounted engine was gone, replaced by a battery array and electric motors.
The specimen wasn't a preview of a production model though. Porsche doesn't have a full-electric Cayman model in the works. At least they haven't said anything of the sort.
Instead, the car previews technologies we can expect in the Porsche Mission E. As the first production fully electric car from the company, the Porsche Mission E has a lot riding on it.
Under the skin of this Cayman is a battery array that charges at 800 volts. That's a lot, and it means in 15 minutes the batteries are 80 percent charged.
On a full charge, the car can go 200 kilometers, or 124 miles. That figure isn't super impressive, but Porsche says we can expect more like 310 miles of range or more on a single charge with the Mission E.
This Cayman EV boasts more than rapid charging technology. The car moves in a hurry, like what you'd expect from Porsche. It goes from 0 to 62 mph in a spin-cracking 3.3 seconds. For some perspective, the current Cayman S does it in about 4.5 seconds. That's a tremendous difference in raw acceleration.
Incidentally, Porsche sponsored the Electric Vehicle Symposium. This reinforces that the company is serious about driving innovation in the industry.
Porsche Turbo Charging
Just as interesting, Porsche unveiled its Turbo Charging technology at the symposium. Surprisingly to some, it's not just a better version of Tesla's Superchargers. Sure, it charges a car quicker than one of Tesla's chargers. But there are some critical differences that could give it a much-needed edge.
First off, the Turbo Charging stations are accumulator-based fast charging systems. It's an innovative solution to the problem of quickly recharging EVs in areas where the electrical voltage isn't as high
According to Porsche, the Turbo Charging stations are capable of a charging capacity of up to 320 kW per vehicle. That's impressive.
To create the Turbo Charging system technology, Porsche partnered with ADS-TEC. They worked to design a solution that would work in a variety of areas, without overloading less-developed grids.
Porsche plans to start off in the European market with its Turbo Charging stations. That's an interesting move, considering European EV demand overall has been tepid. With recent diesel emissions controversies, plus a number of European cities looking to ban internal combustion vehicles, Porsche might have the right idea.
For now, there's no word on Turbo Charging systems for North America or Asia. Surely, those will be next.
To help with the cost of building the European Turbo Charging infrastructure, Porsche has recruited Audi, BMW, Ford and Daimler. That kind of cooperation could turn into a standardization for EV charging. Some of the biggest obstacles for the adoption of plug-in vehicles, especially those that are fully electric, are issues like the variety of connectors and charging standards.
Porsche Mission E Possibilities
With the Cayman EV concept vehicle, we get a slight peek at what's in store for the Mission E. Combined with the Mission E concept, which broke cover in Frankfurt back in 2015, we can start to get a clearer picture for how Porsche will enter the EV market.
First off, the Porsche Mission E likely will be smaller than a Tesla Model S, but larger than the Model 3. It reportedly will slot in between the 911 and Panamera. Instead of four full doors, the concept featured suicide or clamshell doors in the rear, similar to the RX-8.
Originally, Porsche was saying the range would be about 250 miles. Now it's saying 310 miles or more. It's not unlikely that figure will rise even more in the next year or so.
With an anticipated price point of $85,000, the Mission E could be quite popular, undercutting most of the Model S lineup. Likely, Porsche will introduce different models in the future, which will come at a higher premium.
To whip out plenty of Mission E units, and likely future EV models, Porsche is making a huge investment. A new factory in Zuffenhausen should be able to churn out 60,000 Mission E units by 2020. Fiscal year-end sales for Porsche in 2016 almost reached 240,000 vehicles, so that kind of volume is significant.
Future EV Plans
Speaking of moving forward with more EV models, Porsche has some big plans. By 2023, it anticipates half of all sales will be electrified models. That means EVs and hybrids, to be clear. That's still a big shift.
The next fully-electric model will be the Macan, Porsche's small SUV. It's a sales juggernaut. In fact, the Macan right now is the brand's best-selling vehicle, and an EV version should be a runaway hit.
Don't expect a fully electric 911 anytime soon. Originally, that was in the works, but Porsche has since decided to sideline that project. It might be the last model to get the electric treatment. After the Macan, obvious EV candidates are the Porsche Panamera and Cayenne. Porsche could also launch new all-electric models like the Mission E.
Whatever happens, expect Porsche to become a major player in the EV market. Tesla rightfully should be nervous.