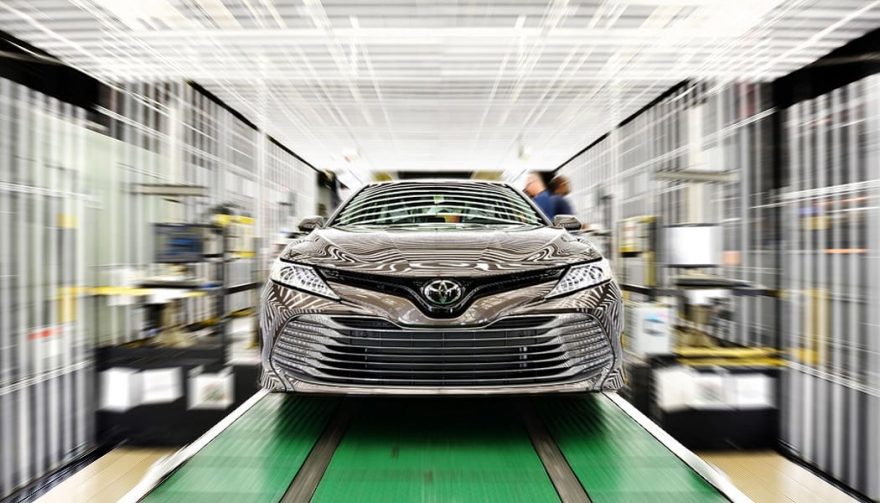 The all-new Toyota Camry begins production in Kentucky
2018 Toyota Camry Rolling off Assembly Line in Kentucky
The dawning of a new era has begun with production starting on the all-new 2018 Toyota Camry. The new Camrys are made at the Toyota Motors Manufacturing Kentucky (TMMK) plant in Georgetown, Kentucky.
Many media outlets and even the public at large were wowed when the new generation of the popular car broke cover. Instead of bland designs, the Camry has become sleeker and more aggressive than ever.
"The 2018 Camry takes it to another level," said Chad Lindon, a powertrain production team manager at TMMK. "It catches the eye. It has more horsepower, better fuel economy, and new technology that customers want. That all adds up to more job security and stability for my family."
Highly Anticipated Launch
With the demand for sedans slumping, Toyota isn't taking any chances for the best selling car. Using its cutting-edge Toyota New Global Architecture (TNGA), which is a first for North America, the company has boosted everything from handling to aerodynamics, and even interior quality.
Toyota will be taking more luxurious approach to the 2018 Camry. Engineers designed it with noise, vibration, and harshness measures you normally would find in a Lexus. These features include foam dampeners placed in strategic areas.
That means you can have a conversation on the highway without raising your voice, or listen to soft music in windy weather. Broken-up pavement won't punish your back and other joints quite as much, leading to less fatigue for everyone.
Toyota also worked hard to ditch the hard plastics. You'll find many surfaces in the cabin feature soft touch surfaces, adding to the luxurious feel. Other premium materials come in varying degrees, depending on the model.
To draw in more shoppers, Toyota focused on making the Camry more driver-focused. Often, automotive reviewers and journalists have criticized the midsize sedan for being too soft and boring to drive. It seems Toyota has listened to such feedback, and made moves to improve the vehicle accordingly.
A wider track makes for greater stability, especially when cornering hard. With two engine options, Toyota isn't following the trend of downsizing, even though both incorporate several fuel-saving designs. As a result, the 2.5-liter four-cylinder puts out 206 horsepower, an increase from 178 for the 2017 model. For even more performance, a 3.5-liter V-6 throttles out 301 horsepower, for a huge uplift.
Good for Kentucky
Of course, the community in Kentucky benefits from this new launch. Toyota has employed an additional 700 people, and invested $1.33 billion in the production plant. The largest Toyota plant in the world, TMMK has produced more than 11 million vehicles in its 31 years, including more than 8 million Camrys.
"The launch of the next-generation Camry is important for Toyota in America, and expands the company's footprint in and commitment to Kentucky," said TMMK President Wil James said. "We are proud to be the first in North America to produce a vehicle with TNGA. It's a testament to the skill and dedication of our team members."
Expect to see the first wave of 2018 Toyota Camry models hit dealerships in late summer.