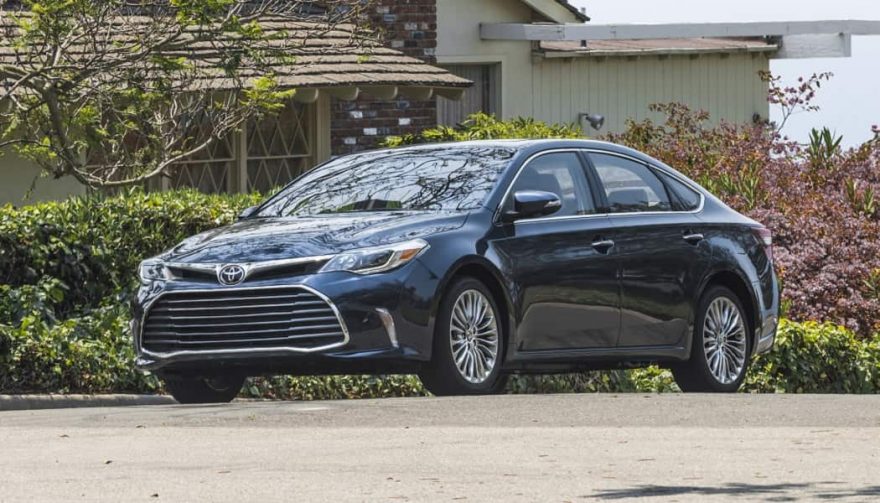 You get two engine choices with Toyota Avalon, one of which is a hybrid powertrain
Toyota Avalon: Passengers Will Love It, Probably Not the Driver
I'll be honest: I don't think of the Toyota Avalon often. The car generates little excitement. Usually, it's piloted by a person advanced in years, and the design reflects that. In other words, it's a thing of comfort, and not much else.
Is the Toyota Avalon cool? Does Toyota care? Probably not for now. However, it's one of the cars people keep the longest. But like most vehicles that have become favorites of older folk, the problem is when younger generations don't want to touch it. Add to that the fact that everybody's buying crossovers these days. Plus, full-size sedan sales are especially grim. Thing's don't look too good for the Avalon's future.
On Paper
You get two choices for the Avalon's engine. One is a fairly anemic 3.5-liter V6 engine, which pumps out only 268 horsepower and 248 lb-ft of torque. The other is a hybrid powertrain, pairing a 2.4-liter four-cylinder engine with an electric motor. That's even less powerful, putting out a net 200 horsepower.
With the V6, you also get a 6-speed automatic transmission. Hybrid models feature an electronic CVT. Front-wheel drive is standard no matter what, which is bad news if you live where it snows. Some of the Avalon's competitors feature rear-wheel drive, with all-wheel drive optional. Toyota uses MacPherson struts in the front and rear, with a dual-link setup in the back.
Plenty of interior amenities come standard, like dual-zone automatic climate control, navigation, leather upholstery, front seat heaters, a Smart Key system, and a slick device holder at the bottom of the center stack. You can upgrade the car in all sorts of ways, like with three-zone automatic climate control, a wireless device charging pad, and an auto-dimming rearview mirror, for a few examples.
The car features impressive standard safety technologies. You get 10 airbags, lane departure alert with steering assist, automatic high beams, dynamic radar cruise control, a pre-collision system and more on each model. If safety is a big priority, this can make the Avalon quite attractive.
First Impressions
If you've mistaken the Toyota Avalon for the Camry, you're not alone. Plenty of people do, which is why it's so invisible on the road. Overall, the design of the Avalon is quite similar to its sibling, that is until the Camry had a revision for 2018. That's not all bad, if you like the large grille and non-offensive sporty touches.
The one section of the exterior I hate is the rear. The taillights are so nondescript, they blend in with Hyundais, Kias and a number of other cars on the road. In other words, the car has zero personality from the behind.
Climbing into the Avalon, you'll find yourself surrounded by clean lines, premium materials and an overall high sense of craftsmanship. It's similar to what you'll find in other upper-level Toyotas, which are surprisingly nice. The dash layout is simple and straightforward, so you won't need to fumble with weird controls and other nuisances. Also, the trunk is about average size, and the backseat comes with a large fold-down center console.
On the Road
Press on the accelerator, and the Avalon moves along at a clip that won't threaten to put you into cardiac arrest. It will merge, and it will climb hills, but it won't take your breath away. Steering is numb, the brakes are smooth and handling is tight enough to not quite be classified as sporty. Nothing about the sedan is exhilarating.
I'm not saying driving the Toyota Avalon is horrible. It's a great car for dealing with horrendous traffic. Sitting and doing little for extended periods of time has never been so enjoyable in a vehicle. At the same time, you won't crave taking it on twisty backroads, because it's not engaging to whip through turns. It puts comfort before performance. Some people prefer that.
Passengers will love the Avalon. You don't feel many bumps. The excellent insulation makes the space quiet, so you can listen to music or talk on the freeway without issues. And there's no growling engine to assault the ears.
The Avalon delivers plenty more comforts. Standard ambient lighting softly illuminates some features, like the front cupholders, which is a nice touch. Thanks to several insulation innovations, you can get a power rear sunshade, which is great for the summer months. While the front seats look luxurious, they don't have quite enough padding to match their looks. Optional ventilation is nice. The rear seats are flat and not great for longer trips, to be honest. You can get rear seat heaters. Legroom on both rows is excellent, which isn't unexpected for a full-size sedan.
There are some ways the Avalon exceeds competitors, like by offering a hybrid powertrain. In other areas, it doesn't quite stack up. So, the car isn't perfect by any means. Definitely scout the competition before buying. There aren't many other options to look at, so be thorough.
One thing you need to realize is the Toyota Avalon should be classified as a near-luxury vehicle. The base XLE trim starts at $33,300. If you opt for the Hybrid Limited, it starts at $42,600. Is the car worth these prices? That depends on your budget and what you need in a vehicle. Personally, I think it's nice, but there are many other cars in that price range I'd rather own.
You May Also Enjoy:
Big Comfort, Great Mileage: 2019 Toyota Camry Review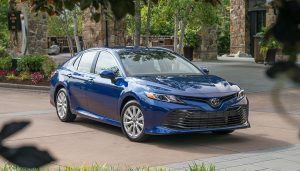 Related Search Topics (Ads)