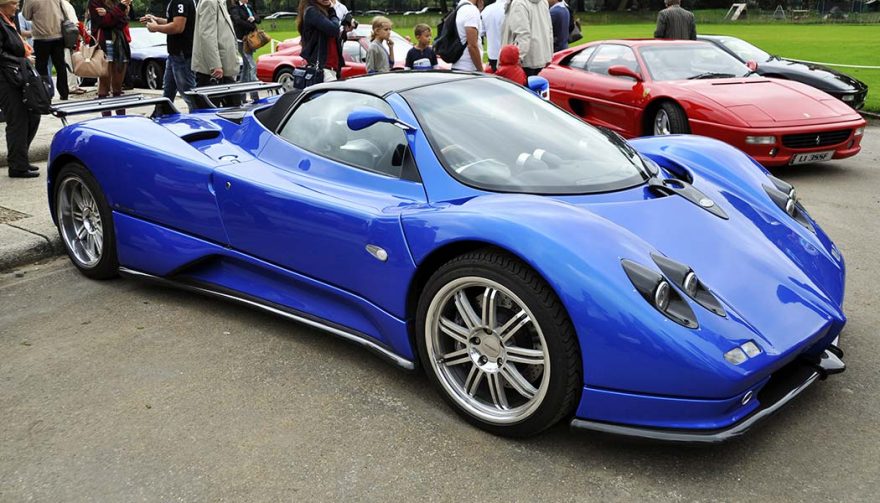 The Pagani Zonda, like the one Jay-Z drives, is a hot ride celebrities drive
What Do Celebrities Drive?
Ah, the lives of the rich and famous… There are so many benefits to being in the spotlight, aren't there? From dining at the most expensive restaurants to living in the most luxurious estates to driving the most expensive cars, living like a celebrity is high on the list of achievements for young and old alike.
The Stars behind the Wheels
What wheels do the celebs find themselves driving? Do their vehicles reflect who they are? Let's take a look at well-known stars and the vehicles they drive.
Floyd Mayweather
This dude is serious about his cars. His garage is packed with tens of millions of dollars worth of cars. It's ridiculous, really. With the total value of the equipment in his garage, he could feed the poor for a month (that's a bit of an exaggeration, but not much).
Take for example just one of his prized cars. Mayweather has a 2015 Bugatti Veyron Grand Sport Vitesse that he posted about on Instagram, worth $3.5 million dollars. The Bugatti is absolutely gorgeous – matte black with orange highlights both inside and out. The Bugatti Veyron Grand Sport Vitesse is equipped with an 8-liter W-16 engine that churns out a paltry 1,200 horsepower and 1,100 lb-ft of torque. It's only capable of a measly 2.6-second 0-60 mile-per-hour run. Barely worth a mention, right?
Well, that's just one of his many, many expensive cars. Other recent acquisitions are a Pagani Huayra and an Aston Martin One-77, both worth over $3 million as well. Must be nice.
Jay Z
The rapper turned music mogul has quite the affinity for vehicles, almost as much as for music. The Jay Z/Beyonce combo has a net worth of over $1 billion (with a B) and it's reflected in the metal in their garage. One car in particular stands out – the Pagani Zonda F.
Pagani is an ultra-exclusive Italian supercar brand, and Jay Z just simply had to have one. His Pagani is the Zonda F, not exactly the most attractive name in the marketplace. It does, however, boast incredible numbers. The 7.3-liter V-12 engine pushes out 620 horsepower to achieve a rather impressive acceleration of 0-60 miles per hour in just 3.6 seconds. Most impressive is the top speed of 214 miles per hour, undoubtedly a feat discouraged by Jay Z's insurance agent. The Pagani Zonda F comes in somewhere around the $2 million mark.
Matt Leblanc
We know the guy affectionately as the ditzy guy on Friends, but make no mistake about it "Joey" is a car guru through and through. Most people had no idea until Matt was named one of the presenters for Top Gear. What does Joey drive? A Porsche 911 GT2 RS.
He's no slouch when it comes to fast cars. He can handle speed like a champ, meaning he'll fit right in with the rest of the cast of Top Gear. His Porsche 911 GT2 RS says so. The 2011 Porsche is fully designed for real-world performance, handling acceleration, steering and braking in all conditions as if it were on the racetrack. The Porsche 911 GT2 RS has 612 horsepower and 516 lb-ft of torque, all in an enlightened package that is 150 pounds less than the regular GT2. The RS variant can pull off 0-60 acceleration in just 2.8 seconds. That should be enough for anyone, even a Friends star. Oh, and the Porsche is only a quarter million.
You May Also Enjoy:
Introducing the Most Powerful Porsche 911 Ever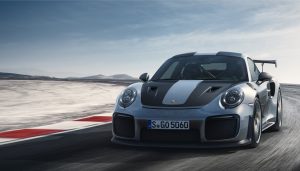 Related Search Topics (Ads)
Ryan Reynolds
A bit of a unique individual right from the get-go, Ryan Reynolds doesn't have quite the same direction when it comes to vehicles. Recently, he acquired a Triumph Thruxton, which is a motorcycle for those who aren't aware.
The 2014 Triumph Thruxton isn't your race bike or super-flashy mode of transportation but Reynolds says he loves the open air. The Thruxton was customized by Dustin Kott of Kott Motorcycles, who claims he just tweaked the bike a little. The tank was changed, the exhaust replaced, the wiring harness and ECU relocated, the steering modified and the rear wheel changed for a wider setup, so it was a bit more than just a tweak. The unique bike seems to suit Deadpool star, Ryan Reynolds, quite well.
Rowan Atkinson
'Mr. Bean' used to make quite the impression on the automotive world when he owned one of very few McLaren F1 supercars actually legal for street use. He sold that car last year for the hefty sum of $12 million, which left people wondering what he now drives. Rowan Atkinson is another star who has quite a full garage, but one that stands out is a Mercedes SLS gullwing.
The Mercedes SLS is a marvel of machinery and has been touted as the "greatest car in the world" by none other than former Top Gear host Jeremy Clarkson. Its 6.3-liter engine has roughly 600 horsepower and is mated to a seven-speed dual clutch semi-automatic transmission. It pounds the pavement from 0-60 mph at a pace of 3.7 seconds and has a top speed of 197 miles per hour. Best of all, it has those trademark gullwing doors. Oooh, fancy.
Mark Wahlberg
The singer-turned-movie star used to steal cars, and now he's on a list for celebrity cars. Go figure. He makes the list as a bit of a quirky entry as he's been photographed regularly bombing around town in a Toyota Sienna minivan. He owns the 'soccer mom' styling, reclining the seat slightly for a gangsta look and blacked-out rims on the wagon. His other car, though, is just slightly more noteworthy.
Wahlberg has also been seen toting the kids around in the backseat of is Bentley Mulsanne. It's one of the most luxurious cars you can imagine, and dropping the kids off at school hardly seems like its purpose, but to each his own. The Mulsanne has a 6.75-liter twin-turbo V-8 under the hood, packing a punch with 505 horsepower and mated to an eight-speed automatic transmission. It's a heavy car so performance isn't the focus, but it can handle its own, even with Mark Wahlberg behind the wheel.
Kanye West
It's painful to even add this name to the list, but he does have a cool car (if it hasn't been repo'd yet). West has a Mercedes-Benz SLR McLaren Stirling Moss worth $1.7 million and it's one of only 75 made. The car is pretty special-looking, manufactured minus a roof and even a windshield, instead molding in a wind deflector. The car is capable of 220 miles per hour, but the looks might detract from its popularity.
Since his announcement that he's $53 million in debt, Kanye might be better served driving an older, slightly less expensive car that he can afford. Maybe a '93 Geo Metro would fit the bill?