A Speedster and Shooting Brake join the Aston Martin Vanquish Zagato family
Aston Martin Vanquish Zagato Speedster and Shooting Brake Join the Fold
If you thought the Aston Martin Vanquish Zagato was the beginning and end of blazing excitement out of Gaydon, you were wrong. That incredibly dramatic body, wrapped around a powerful core was popular enough the Aston Martin followed up with the Vanquish Zagato Volante.
Now, we're getting even more Vanquish Zagato goodness in the form of Speedster and Shooting Brake models. What a time to be alive.
Vanquish Zagato Speedster
The rarest of the growing Vanquish Zagato lineup, the Speedster, will no doubt become an instant classic. Aston Martin has announced it will make only 28 of them, to be shared among the well-heeled around the globe.
Oh, and if you're wondering how to order one, you're too late. All 28 Aston Martin Zagato Speedsters are spoken for. That's what you get for being slow.
Even though this is a car you'll be lucky to see with your own eyes, it's amazing to learn about. All body panels are made of lightweight carbon fiber. That means the Zagato Speedster isn't exactly a porker, even though it has a huge V12.
At first glance, you'll be able to identify this as a Zagato. The Speedster's topless, so there's no chance of a double bubble roof. Aston Martin got a little creative and designed dual speedster humps over the rear portion of the car. It works.
Like all Vanquish Zagato models, it uses the same platform as the Vanquish S. That means excellent handling, thanks to re-tuned dampers, increased spring rates, a beefier rear anti-roll bar, as well as improved hydraulic steering when compared to the Vanquish that came before.
Taking things a step further, Aston Martin decided to tweak the damping further, improving performance marginally, which is saying quite a bit at this level.
Under that sculpted hood is the 6.0-liter V12 engine we all know and love. Sure, it's getting old, but Aston Martin has unleashed more potential. That means owners get a fire-breathing 592 horsepower. As you can imagine – because that's all you're going to do with this car – that really gets the Speedster moving in a hurry. Mated to the engine is a Touchtronic III transmission with paddle shifters.
Finally, Aston Martin has kept things pure in the drivetrain. You won't see any all-wheel-drive versions of the Vanquish Zagato Speedster. It's rear-wheel drive or nothing.
You May Also Enjoy:
Spectre Aston Martin DB10 Sells for 3.5 Million at Auction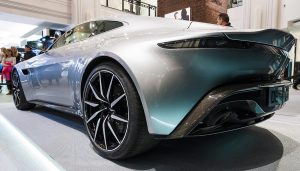 When you see one of these things blast past you on a track, the final impression will be the blade tail lights. Those have been borrowed from the Vulcan, and fit the car's persona. If you see one sitting still or just cruising around, you might notice the Zagato badges on the front grille, which are a very British detail.
Shooting Brake
Often confused with wagons, shooting brakes are a distinctly European flavor. Without getting too technical, shooting brakes only have two doors, not four, plus the liftback. They look sporty, but provide a utility you just can't get with a coupe. Yes, they even beat out the Corvette for practicality mixed with tire-blazing fun.
The Aston Martin Vanquish Shooting Brake matches the Roadster in technical specifications, save for the roof and additional cargo area. That means you can still kick up sick clouds of tire smoke with the monstrous 6.2-liter V12, and benefit from a well-balanced suspension.
We only get to see the Shooting Brake draped with a red cloth, for dramatic effect, of course. Aston Martin has released a sketch, but it no doubt doesn't show every last detail perfectly.
Still, what we've learned is that the hatch is powered. Who would pay so much for a vehicle, and then go through the physical exertion of lifting a piece of carbon fiber and glass?
Even with the additional interior space, Aston Martin decided against adding a backseat. Some might think it was a poor choice, but that's why owners will have a Bentley Mulsanne, or some other luxurious SUV for picking up the children from boarding school.
Shooting brakes are all about being able to hit the open road in a well-handling car. Aston Martin hasn't forgotten that fact. The company says it will offer a matching luggage set for this Zagato model. That's not an unusual move for an automaker. Traditionally, such luggage matches the color and finishes on the car. They also fit in the cargo area perfectly, so you're not playing Tetris like commoners.
If you want one of these, better act quickly.
Is Zagato Still Special?
With two new Zagato models, some hand-wringing individuals are worrying aloud that the Zagato name is getting watered down. After all, they could become the next Honda Civic, right?
Aston Martin has been clear: only 325 Vanquish Zagato models will be produced in the entire world. That means the 28 Speedsters, plus 99 Volantes, 99 Coupes and 99 Shooting Brakes. Yeah, that's still pretty exclusive.
To put any other worries to rest, even Andrea Zagato approves of this latest move.