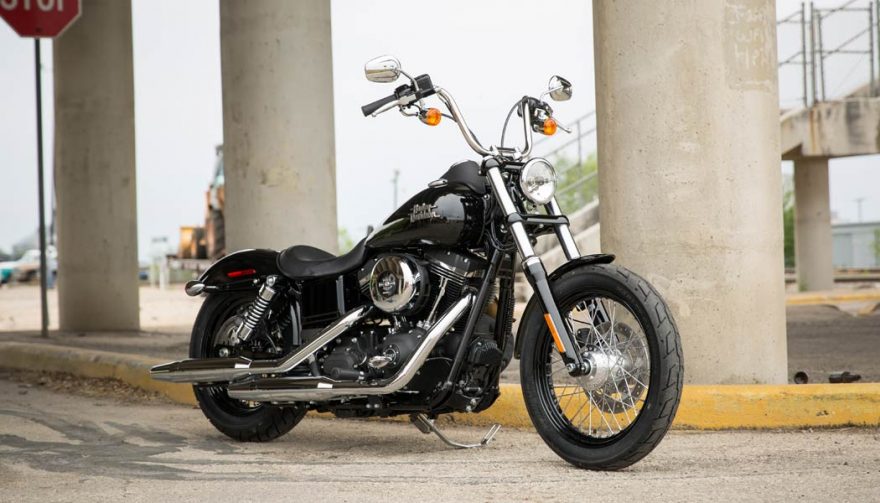 The Harley Davidson Dyna Street Bob the highest rated cruiser motorcycle on the market today.
10 Best Cruiser Motorcycles of 2017
There's no way to top a gorgeous summer day than cruising down the interstate on one of the best cruiser motorcycles. It's the freedom of riding without restraints, the fresh air whistling through your helmet, the mingling smells of rich exhaust and leather, and the vibrations in the handlebars that make your fingers tingle. Most of all, it's the throttle tweak that makes the engine roar a little louder and jump forward. So what are you waiting for? You want the best cruiser motorcycle.
If you have an extra half-spot in your garage you want to fill this summer, think about a cruiser motorcycle. There are some great ones on the market today – much more than just the Harley Davidson lineup. These are the 10 best cruiser motorcycles of 2017.
2017 Harley Davidson Dyna Street Bob
It's the highest rated cruiser motorcycle on the market today. It takes you back to Harley's roots with its basic nature. If it's not required, it's not part of the HD Dyna Street Bob.
It looks fantastic with a cutback rear fender, mini-ape handlebars, and classic sizing, styling, and ride position. The HD Dyna Street Bob has an air-cooled Twin Cam 103 engine that makes the mirrors shake just enough. And in true cruiser fashion, its single seat means you don't have to worry about your passenger sliding off when you twist the throttle. Easily considered one of the best cruiser motorcycles, if not the best.
2017 Victory High-Ball
The Victory bike lineup runs sexy to start. The Victory High-Ball is the truest incarnation of its intent – an honest, no-frills cruiser that's a blast to drive and a real looker too.
The mini-ape handlebars are powdered black, as is the exhaust, the engine, and much of the suspension too. It's what Victory calls a sinister style, and it fits the High-Ball. The matte paint is available in black or nuclear sunset orange, and that's choice enough for us. A 106 cubic-inch V-Twin engine pumps out 110 ft-lb of torque to rumble your hands numb or peel the rubber from the rear tire.
View on One Page