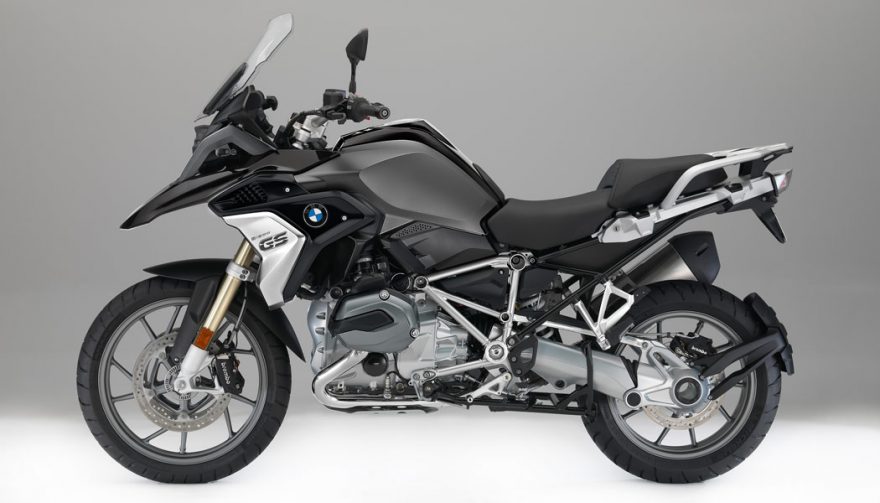 The BMW RS1200GS is one of the best motorcycles for tall riders
Here You Go, Stretch: The Best Motorcycles for Tall Riders
Finding  the best motorcycles for tall riders isn't the easiest task in the world. Many bikes are designed for those on the shorter end of the tape measure.
Despite current development trends though, there are still bikes that fit the taller among us with ease. Here's a handful of the best motorcycles for tall riders.
BMW R1200GS
Adventure bikes are some of the best motorcycles for tall riders. Their upright seating positions and ergonomics developed for long road trips make these comfortable choices on the road. A generous 33- or 35-inch seat height leaves plenty of room to let the legs stretch out.
Distance from the ground to the seat is only one aspect of feeling comfortable on the bike. Luckily, the R1200GS also has a cloud for a seat, and smart handlebar design keeps fatigue from creeping in too soon. A 130 mph top speed will make sure you get where you're going.
This is a go-anywhere bike which regularly experiences all corners of the globe, carrying people of all shapes and sizes. It's more than capable enough to handle your larger frame on the evening commute.
Ducati Multistrada
Another adventure bike, but unlike the Beamer, Ducati's upright tourer is asphalt-focused. So while it might not be designed to go the long way round, or down, most riders keep to the pavement as it is.
This environment is where the Italian bike shines. Available in both 950 and 1200cc displacement, it's the 1200 that makes heads turn and crowds flock.
Possibly the most tech-focused adventure-tourer, the papa Multi includes a six-axis Inertial Measurement Unit which supports in-corner ABS control to improve traction, stability and performance.
Seat height is comparable to the Beamer's at 32 inches. With a wet weight of just over 500 lbs, the Ducati is incredibly nimble, and the 160 horsepower powerplant means you won't be left behind. Just be careful if it's raining.
Combining comfort for larger riders and an immensely playful attitude makes the Ducati Multistrada one of the best motorcycles for tall riders.
View on One Page