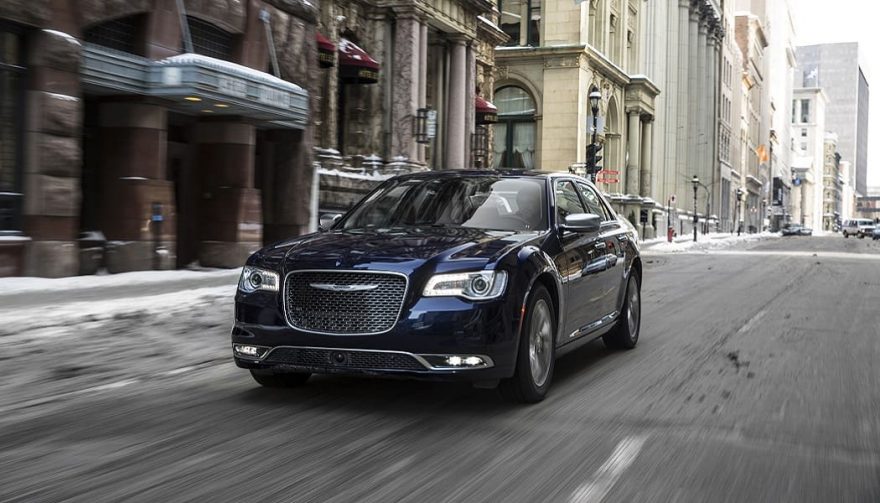 The Chrysler 300 is marked by a wide stance and intimidating grille
Chrysler 300: Check Out the Big, American Sedan
With a distinctively American look, the Chrysler 300 straddles the line between family ride and entry-level luxury sedan. Big and bold in appearance, the Chrysler 300 demonstrates why not all four-doors have succumbed to crossovers.
The 300's impressive appearance includes a wide stance, massive grille, strong lines that square off at the corners, and a profile that somehow captures that "don't mess with me" persona normally associated with Dodge products.
It is nice to look at, but this ride's beauty is much more than skin deep. It is loaded with features, packs muscle under the hood, and can be as sedate, sporty or luxurious as you want it to be. Top it off with a base MSRP of less than $33,000 and you have a car that coaxes you up the trim lines until you have found exactly what you want.
Unpacking the Basics
The Chrysler 300 comes in four trims: the 300 Limited, 300S, 300C and 300C Platinum. Each has its own personality, but they all share an impressive list of standard equipment.
The 3.6-liter V6 that puts out 292 horsepower and 260 ft-lb of torque is the default engine. It gets a bit of a boost in the sporty 300S to 300 horsepower and 264 lb-ft. The 300 is a RWD vehicle (with optional AWD) and funnels power via an eight-speed automatic transmission.
The car looks big on the outside because it is big on the inside. This ride comfortably seats five normal-sized adults.
In the back seat it has class leading 37.9- inches of  headroom and 40.1 inches of legroom. Up front the cabin has an upscale appearance with leather upholstery, leather-wrapped steering wheel and well thought-out instrument cluster.
You May Also Enjoy:
How the Pacifica Is Making Chrysler Relevant Again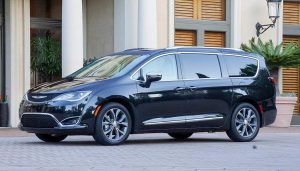 Related Search Topics (Ads)
Big cars typically mean big trunks, and the Chrysler 300 doesn't disappoint. Get groceries for a month or drive the foursome to the golf course. With 16 cubic feet of cargo space you have hauling options.
And then there are features, lots of standard features. Keyless entry and ignition, heated mirrors, rear view camera, and dual zone climate control lead the list of the standard equipment.
Heated power front seats and an auto-dimming rear view mirror are nice touches. The Uconnect infotainment system has been given a reboot and is now pleasingly quick and crisp. The passenger can easily navigate the 8.4-inch touchscreen even if they have never seen it before.
The all-important Apple CarPlay and Android Auto are included. A six-speaker audio system, Bluetooth technology, two USB ports, and HD and satellite radio round out the standard list.
Putting Some Kick in the Ride: Chrysler 300S
For the performance minded there is the Chrysler 300S. This trim comes standard with the same 3.6L V6 as the Chrysler 300 Limited but tuned to pump out 300 horsepower.
If you need more punch you can opt for the 5.7L V8 with its 363 horsepower and 394 lb-ft of torque. As a bonus you get a sweet rumbling sound from under the hood when you idle.
The 300S comes standard with a sports-tuned suspension and steering calibration. If you want to take it to the next level there is an optional performance suspension available.
Other sporty touches include 20-inch wheels with performance tires, an awesome blackout styling scheme, and LED fog lamps. A zero-to-60 time of 5.8 seconds, sports seating up front and 10-speaker audio system put the finishing touches on the 300S.
Big, Bold and Classy 300C Platinum
At the top of the line the 300C takes a distinctively luxurious turn. This is the ride for those who value comfort and convenience over performance stats.
If you are looking for a luxury car, and your budget can handle it, go for the Platinum trim.
You are going to know you are in a special space when you slide into the two-tone leather driver's seat and everything seems to fit. The interior space is beautiful, all curves and organic shapes.
Comfort and convenience rule the day. LED cabin lighting, a power-adjustable and heated steering wheel, heated and ventilated front seats, and heated rear seats are just the beginning.
The sunroof is double pane and runs almost the entire length of the roof. Drinks are kept hot or cold in a special cup holder compartment. A robust navigation system, special safety features and the easy-to-use Uconnect infotainment system (with WiFi hot spot) add confidence to the ride.
A 19-speaker Harmon Kardon system turns the cabin into a concert hall.
The Platinum exterior features a special grille treatment, striking 20-inch polished aluminum wheels, and HID headlamps. The Platinum trim is upscale treatment for less than an upscale MSRP.
On the Road
When you drive a Chrysler 300 there is no question that you are driving a big car. You will not be intimidated on the highway or interstate by SUVs or full-size pickups.
It is a big car and it has a soft ride, but nothing like the "bouncy plush" suspensions of big sedans of yesteryear. The car's steering handles nicely, but you will feel its size in tight curves.
All trims have incredibly quiet cabins. There is no road noise resulting in an exceptionally civilized ride. The net result is a roomy, substantial vehicle with more than adequate power that focuses on passenger comfort.
Competitors in this class are rare these days. While big, American sedans have their flaws, the roominess, power and price point of the Chrysler 300 make it a serious contender.