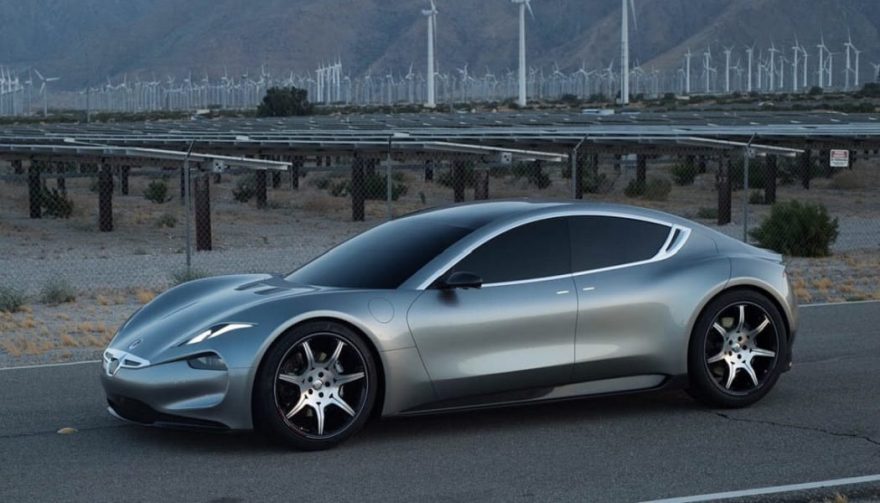 The Fisker EMotion will supposedly have a 400-mile driving range
Fisker EMotion Charges Up the EV Scene
As if we haven't had enough reminders lately, the Fisker EMotion emphasizes two things. One: electric cars can be cool. Two: electric cars can be obnoxiously expensive.
This could be a car that shakes up the electric landscape. Tesla keeps dominating the conversation, but Fisker has a chance to disrupt that, at least a little.
A Solid Comeback
Last year, Fisker made waves just by announcing it was back. The company was a mess before it sunk into the black hole of bankruptcy. That was particularly shocking. After all, Fisker used to be the company everyone compared to Tesla.
Now Fisker is back, and it's finally unveiled the car that supposedly will launch a glorious new era: the EMotion. Will it make a huge splash in the market? Or is it too little too late?
The EMotion launches in 2019. While that's only a couple of years away, some big changes are coming down the pipeline. Several other luxury all-electric sedans will launch by then, mostly from traditional automakers like Jaguar. How will it stack up? Let's check out what we know so far.
Thrilling Performance
To have a shot at capturing a piece of the electric market pie, the Fisker EMotion must be compelling. So far, it should turn enough heads to do well enough. Owners will get a nice mixture of efficiency and performance, which can sometimes be a tricky balance to achieve.
On the performance side of things, the car can hit 161 mph. You might wonder why that matters, because the EMotion really won't be a track car. Some people could try to do hot laps with it, but it needs to be ready for Autobahn duty. However, these little details help prove electric cars can be competitive with traditional vehicles.
We don't know how much power the EMotion produces, but it's probably an impressive figure. Acceleration from 0 to 60 mph remains a mystery for now.
Fisker created the EMotion as a completely new vehicle from the ground up. The company says the layout nets more headroom and legroom than in competing vehicles. An aluminum and carbon fiber chassis provides plenty of strength, and cuts down on curb weight. The automaker worked with Dymag to create ultralight wheels made of the same materials, cutting rotational mass by 40 percent.
For too many people, range is a drawback for electric vehicles. The EMotion can go an estimated 400 miles on a single charge, an impressive number.
You May Also Enjoy:
All Electric Lucid Air Prototype Hits 235 MPH in Latest Speed Test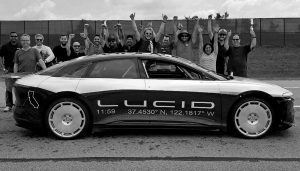 Fisker says a patent is pending for the battery and cooling system. The battery chemistry is supposed to be a key innovation, boosting power and longevity. Fisker is lightweighting the battery, too, with materials it won't say anything about yet.
Thanks to the exclusive UltraCharger tech, owners can replenish over 100 miles of driving range in nine minutes. That's not quite as quick as refueling a traditional car, but it's getting closer.
Now, for the letdown. All these performance details are theoretical. While Fisker is working on hammering out the EMotion's design, we know for now it's not ready to present a working prototype. That will come later, maybe in July, if the company doesn't push that back.
Futuristic Looks
Of course, the Fisker EMotion looks futuristic. What else do electric cars look like? It would've been refreshing if the vehicle looked a little more traditional or mainstream. Most automakers believe people who want electric cars like something that looks zany and different, so everyone knows they're an innovator. Maybe they're right, for now.
Many people already have pointed out that there's something undeniably Tesla-like about the EMotion's exterior design. That disappointing, because Henry Fisker is an inspiring car designer. After all, this is the same guy who designed the Aston Martin DB9.
The front end looks more original, but the rest of the EMotion, especially in side profile, is like a stretched Tesla Model 3. The short overhang in the rear and the lines of the windows are almost exact copies.
Modeling cars after competitors happens all the time in the automotive industry. Considering all the buzz around this EV, it's more disappointing.
Speaking of the front, it narrows into almost a smirk. A LIDAR setup is housed in there, and that's supposedly why the weird shape, but it's far from attractive. While the front of the Model 3 looks incomplete, this may be worse.
More impressive is how cameras in the side mirrors are hidden from plain view. Surely Fisker could've figured out an equally eloquent front-end design. For an extra wow factor, those two cameras give drivers a 360-degree panoramic view of everything around the car. Other vehicles can only do that with four cameras.
The EMotion wears some carbon fiber aero bits, like a sporty rear diffuser. Fisker says these design flourishes mimic modern racecars.
Despite looks that line up with the Tesla Model 3, the Fisker EMotion is supposed to compete with the Model S. Which one you prefer is definitely a matter of opinion.
Get Your Fisker EMotion Now
If you can't wait to get in line for the EMotion, Fisker will open sales on June 30. Likely, the company will want a healthy deposit to hold you place, because the car retails for $129,900. Shoppers will need to buy the car through the website or the Fisker experience centers that will be popping up in various states.
Buyers will get something missing from Tesla: a white glove concierge service. The Hybrid Shop will handle all maintenance and repairs. According to Fisker, EMotion customers will have a day "free of interruption" when their car needs to go into the shop.
Exactly what that means remains to be seen, but it sounds potentially innovative.