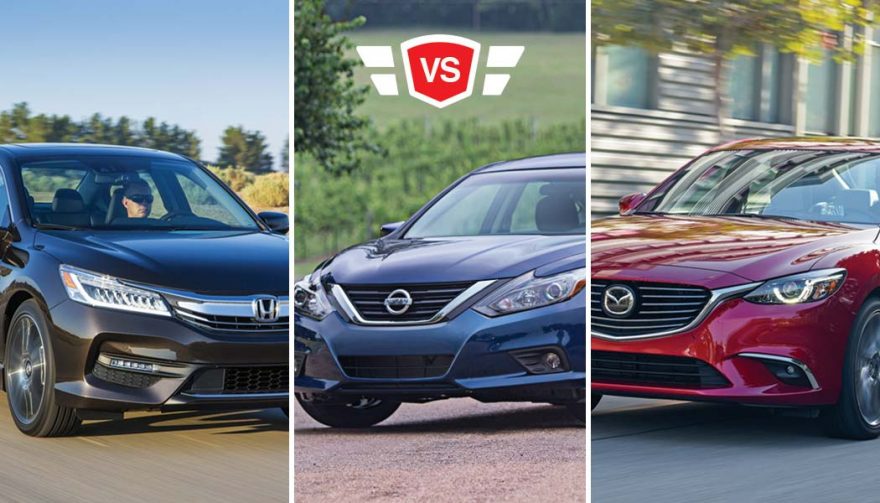 Which model is the best midsize sedan
Midsize Sedan Face-off: Mazda6 vs Honda Accord vs Nissan Altima
Midsize sedans are going the way of the buffalo in no slow fashion. But some models are still going strong. Let's see what happens in the Honda Accord vs Nissan Altima vs Mazda face-off.
Carmakers have to make exciting cars, but what defines a good midsize sedan? There are three standards with which all need to be ranked: spaciousness, power and efficiency. How do these three models fare in these categories?
At First Glance
If you were to put these three sedans side by side by side, you'll notice none of them look like a rental car anymore. Each one has developed attitude and style in their most recent incarnations, particularly for the Mazda6. Both the Honda Accord and Mazda6 are quite attractive – swooping curves for the Mazda and sharp angles for the Honda. The Nissan Altima stays more reserved, opting to stay inconspicuous in the crowd.
And what you don't see is also of some importance. Safety features will be mostly ignored here. That's simply because each one is fantastic in that department. No matter which one ends up on top, you'll find airbags galore, ABS brakes and traction control, and available driver-assist features like Blind Spot Warning and Rear Cross Traffic Alert. We'll call it a tie for safety stuff.
Let's get to the important factors.
Space, Space, Ridiculous Space
Comfort and cargo capacity are important in the midsize sedan segment. Let's compare our three competitors by the numbers to determine which one cranks up the volume.
Honda Accord
The 2017 Honda Accord knows what it takes to keep its occupants happy: passenger compartment volume and room for junk in the trunk. On the inside, the Accord tops out with 103.2 cubic feet of interior volume. When a sunroof is involved, that cuts down on headroom, resulting in a decrease to 100.8 cubic feet.
Around back, there's 15.8 cubic feet of trunk space to haul your gear. That's the equivalent of five medium-sized suitcases if you're heading on a road trip. Not bad.
Nissan Altima
The 2017 Nissan Altima is much of the same. The cabin space tops out at 101.9 cubic feet without a sunroof, dropping to 100.5 cubic feet when equipped with a glass roof. The difference is negligible.
The trunk space is a little smaller than the Accord, though you might not notice until the trunk is full. It has room for 15.4 cubic feet of cargo.
Mazda 6
There's only 2 cubic feet of difference from the Accord, but there's a good chance you'll notice it. The 2017 Mazda 6 loses this challenge with 99.7 cubic feet of interior space. The trunk space is smaller too, at just 14.8 cubic feet.
You May Also Enjoy:
Nissan Altima Redesign Leaves You Saying "Altima Who?"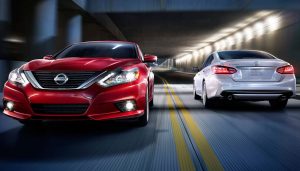 By the numbers, the Honda Accord is tops in cargo and passenger volume. That indicates more legroom, head and shoulder room, and a more comfortable seating position for everyone.
Power and Efficiency
Higher horsepower usually equates to lower fuel mileage. Somewhere in the middle would be a great compromise, so let's see how our three contenders stack up.
Mazda 6
This car is easy to review for power and efficiency as there's only one powertrain option. It's a 2.5-liter SKYACTIV-G 4-cylinder engine that produces 184 horsepower and 185 lb-ft of torque. Those numbers aren't exactly outstanding, and there's no upgrade available. We'd love a turbo option.
The trade-off should definitely be noticeable in fuel efficiency. The 2017 Mazda 6 has an EPA rating of 24 city/34 hwy/28 combined mpg with a manual transmission and 26 city/35 hwy/29 combined mpg with the 6-speed automatic. A little lackluster in efficiency too.
Nissan Altima
The 2017 Nissan Altima has two choices: a 2.5-liter 4-cylinder and a 3.5-liter V6. The 2.5-liter 4-cylinder is underwhelming, especially paired with a CVT transmission, with only 179 horsepower and 177 lb-ft of torque. The 3.5-liter V6 kicks it up several notches to 270 horsepower and 251 lb-ft of torque, although also equipped with a sloppy CVT.
What does that mean for fuel mileage? The Altima's four-banger gets an impressive 39 mpg hwy and 27 mpg city, and that's respectable. The V6 option won't be too thirsty either, with 32 mpg highway and 22 mpg city.
Honda Accord
The 2017 Honda Accord is similar in numbers to the Altima. The 2.4-liter 4-cylinder has 185 horsepower and 181 lb-ft of torque while the 3.5-liter V6 amps it up with 278 ponies and 252 lb-ft.
Fuel efficiency calculates a little different for each setup, whether 4-cyl or V6, CVT, 6-speed auto, or 6-speed manual. The gist of it is this: around 27 mpg city, 34 mpg highway, and 30 mpg combined for the 4-cyl and 21mpg city/33 mpg hwy/25 combined mpg for the V6.
What's clear in this power struggle is there's a gap to be filled, somewhere in the 225-horsepower range. As it stands currently, the best mix of power and efficiency is the Altima – whether you want a 4-cyl or V6.
Find an Enjoyable Experience
What's the point in driving if you can't have a little enjoyment from it? Handling and standout features enhance your experience. Which of our midsize sedan competitors has it all wrapped up?
Mazda 6
Here's where Mazda always excels. The 2017 Mazda 6 has all the standard features you want and expect, but there are a few standout options.
You have an available 6-speed manual transmission. Maybe you don't have a ton of horsepower, but rowing through the gears on your own steps up the experience. Mazda's SKYACTIV Vehicle Dynamics with G-Vectoring Control keeps your car moving in the direction you point the steering wheel, helping you to maintain control in almost any road conditions.
And then there's the interior. An 11-speaker Bose Surround Sound system is music to your ears. But the standout is definitely the Active Driving Display, a head-up display so you aren't constantly glancing away from the road to your instrument cluster.
Nissan Altima
The Nissan is less impressive in its experience. Unfortunately, it still drives like a rental car. Active Understeer Control activates the brakes to keep you on course, and you can set your course with Intelligent Cruise Control (aka adaptive cruise control). The electric power-assisted steering feels dull also.
Inside, you'll have an available nine-speaker Bose sound system, but perhaps the most appealing feature is interior mood lighting. That should tell you how bland the rest of it is.
Honda Accord
It's the little things that add up for the 2017 Honda Accord sedan. First off, the 6-speed manual transmission is an excellent option to maintain the thrill of the drive. The Accord also has one of the best steering feels for a car equipped with electric power steering.
The audio system is less awe-inspiring with just seven speakers and 360 watts available at most. That's compensated for by the sing-song exhaust note in the V6 model. You'll also really appreciate the intelligent Multi-Information Display in the cluster, although a head-up display would be nice to add.
In the driving experience category, the Accord and Mazda 6 both show well. The Accord eeks out the win simply with the available V6 options.
Overall, the Honda Accord comes out as the winner in our head to head to head. But depending on what you like, any of these three could be a good addition to your driveway. Even the slightly mundane Altima.