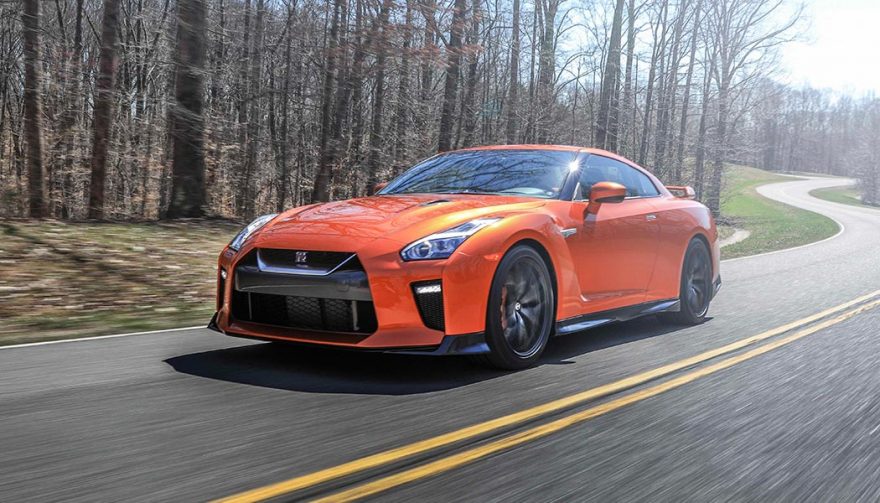 This year's Nissan GT-R will meet or exceed the 2.7-second 0 to 60 time from the previous year.
2017 Nissan GT-R Owns the Spotlight at NY Auto Show
Sitting on stage, dressed sharply in Blaze Metallic, the 2017 Nissan GT-R was unveiled at the New York International Auto Show. The 2017 GT-R isn't a new model but the latest revamp on the halo model for Nissan. And it's sweet.
The supercar killer known as 'Godzilla' doesn't change much in appearance, but the touchups it did receive are as functional as they are sexy. The front grille gets a wider trademark "V-motion" grille in matte chrome that increases airflow under the hood to improve cooling and the hood has sharper creases to increase stability at high speeds. The front lip and bumper gives the GT-R an even more aggressive look while enhancing downforce at speed.
Under the hood, its horsepower rating has been bolstered up to 565 ponies, an increase of 20 hp over last year's model. It's courtesy of the hand-built 3.8-liter twin-turbo V-6 under that reshaped hood. The gearbox is still a six-speed dual-clutch design along with its stellar all-wheel drive system. Although the official specs haven't been released, there's no question this year's Nissan GT-R will meet or exceed the 2.7-second 0 to 60 time from the previous year.
Just when you thought the Nissan GT-R was all performance, Nissan goes and redesigns the interior as well. More so, they refined the interior. The dashboard is now a single piece of supple nappa leather with luxurious touches throughout. The console has been cleaned up immensely with HVAC controls and radio controls alike masterfully integrated into the widened color touchscreen display.
The quality of the 2017 Nissan GT-R's driving experience should be much improved as well. A titanium exhaust system dampens the sound further (and sings a sweet song to boot), and the cockpit is further quieted with better sound insulation, acoustic windshield glass, and Active Noise Cancellation. The ride quality is enhanced further with retuned suspension to complete the overall refinement.
Amid the amazing display of vintage GT-R models that accompanied the 2017 release at the New York International Auto Show, four of Nissan's master craftsmen put on an engine-building display, showing off the product their skillful hands places under the redesigned hood of the GT-R.
The 2017 Nissan GT-R will be available at Nissan dealerships in North America this summer.