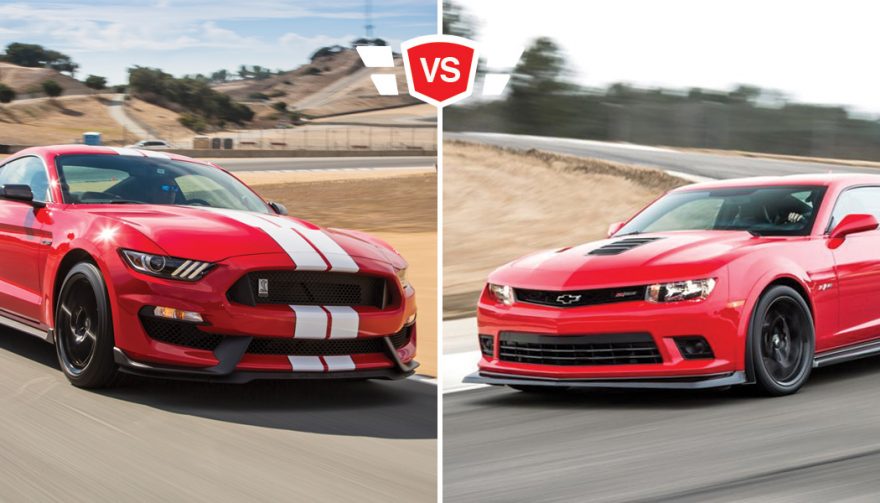 Both the Shelby GT350 and Camaro Z28 are great for cruising around town or whipping through some hot laps on the local track.
Shelby GT350 v. Camaro Z28
When you think of American muscle, the immediate imagery is of two cars ripping down a drag strip. Maybe you call up images of NASCAR races, but that's probably about as far as your mind wanders at first.
The fact is that American muscle is increasingly becoming adept at carving up twisty, winding tracks. At the same time, the powertrains are only growing in their peak output, making these cars a blast to drive pretty much anywhere.
The 2016 Shelby GT350 is an especially good track vehicle. There are few other cars that would make for a good comparison. While it might not seem quite fair to stack it against a 2015 Chevrolet Camaro Z28, we don't know enough about the upcoming 2017 model to use that. Both cars are great for cruising around town or whipping through some hot laps on the local track.
Let's Compare
If you're trying to make a judgment call between the two and aren't into the whole one-brand-is-automatically-better-than-the-other nonsense, this guide is for you. We'll take a look at the pluses and minuses of the two vehicles.
Nurburgring Times
Everyone was wowed when the 2015 Camaro Z28 achieved a 7:37.47 lap time on the famed Nurburgring. It's a challenging track, with big straightaways, tricky turns and sudden elevation changes that are enough to give even the most experienced drivers fits.
Then the 2016 Shelby GT350 whooped its rival with a 7:32.19 lap time. Of course, the Ford crowd flogged their rivals like crazy, but what does this mean?
It means that two professional drivers with two separate cars got around a challenging track at different times. The average driver wouldn't be able to flog either vehicle through the course in even close to the same span of time, so in a way the numbers are not too much more than marketing fluff. After all, driver ability could be the difference between a Mini Cooper beating a Dodge Viper at the local track.
Powertrain
At the heart of the Z/28 is the mighty LS7, a 7.0-liter small block V-8 that can push out 505 horsepower and 481 lb.-ft. of torque. This is all done without any forced induction, making it the most powerful naturally-aspirated Chevy small block V-8 ever. Is it enough to hold off the competition?
Ford decided to go with an interesting engine configuration, taking a page out of the Ferrari playbook. That means a 5.2-liter flat plane crank V-8 motivates the rear wheels. Like the Camaro, the engine is naturally aspirated. Peak output tops out at 526 horsepower and 429 lb.-ft. of torque, so the Ford wins on one figure and loses out with the other.
Ford loves enthusiasts, or at least that's what the standard Tremec six-speed manual transmission says. You can't get an automatic for the Shelby GT350, proving the car is made for purists, as it should be. Thankfully, the Camaro Z/28 also only comes with a Tremec 6-speed manual.
You May Also Enjoy:
First Camaro Built On Display At Dream Cruise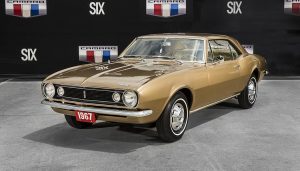 Handling
One of the main thrusts for these two cars is handling ability. After all, it does no good to have all of that power if you can't keep either one on the track. Chevrolet uses a helical limited-slip differential for continual torque biasing, helping maintain optimal traction as the vehicle blasts through turns.
Aerodynamics are a big part of the handling equation, and Chevy focused heavily on that. At 150 mph, the Z/28 produces 410 pounds more downforce than the Camaro SS, which adds considerable stability when you're taking on long straightaways. Among the key aero parts is a huge front splitter and rear spoiler. The car can be outfitted with an adjustable rear wickerbill.
Part of the Ford solution is a 3.73 Torsen limited-slip rear axle. Like all new Mustangs, the car has an integral link rear suspension, boosting handling by quite a bit. As a result, it doesn't squat or lift up like the older versions of the pony car, which leads to better control when whipping through turns.
Ford also focused on aerodynamics, but it doesn't make as big of a deal about it. The GT350 wears a blade decklid spoiler.
Where the GT350 outshines the Z/28 is its adjustable electric power-assist steering and MR suspension, which make the car more comfortable and less punishing to drive. This is especially true on roads that aren't exactly smooth as glass. The Camaro, on the other hand, is kind of a brute.
Wheels
Hardcore enthusiasts, who are the target market for these two cars, know that wheels are more than just jewelry on a car. The Camaro Z/28 rides on 19-inch forged aluminum wheels, which are smaller than the 20-inch wheels on the SS. That drops the car's center of gravity by 33 millimeters, plus reduces unsprung weight and rotational inertia.  The lightweight design sheds about 42 pounds.
Ford has also gone with a lightweight design, using 19-inch aluminum wheels. If you want to upgrade to the GT350R, a carbon-fiber wheel is available, which Ford loves to point out is the first mass-made wheel to be made of the material, providing big weight savings and improving rigidity at the same time.
Interior
The interior of the Camaro Z/28 is pretty stripped down. Air conditioning is optional. The Recaro front seats are supportive but padding is minimal. There's also only a single speaker, so forget about jamming out to any tunes, if you could even hear them over the roar of the engine.
Even though the GT350 has its roots in motorsports, the interior is still fairly comfortable. The Recaro front seats are covered with a nice Miko Suede Sport insert and leather, which feels great and should wear fairly well.
The Ford Track Apps are a great feature for the Shelby GT350. They're packed with all kinds of goodies that make any excursion to a closed course plenty of fun, like an electronic line-lock, launch control, and performance metrics such as longitudinal g-forces and an accelerometer shown right on the message center. Drivers can set different timers to measure acceleration to a certain speed or best lap, or even set a countdown.
There are other amenities in the GT350, like an auto-dimming rear-view mirror, air conditioning with dual-zone climate control, two cup holders, and more. It's the kind of vehicle you could enjoy driving around town, not just on the track, making it a little more diverse and weirdly practical.